Ten years after the start of the U.S. invasion in Iraq, doctors in some of the Middle Eastern nation's cities are witnessing an abnormally high number of cases of cancer and birth defects. Scientists suspect the rise is tied to the use of depleted uranium and white phosphorus in military assaults.
On the war's ten-year anniversary, Democracy Now! spoke with Dahr Jamail, an Al Jazeera reporter who recently returned from Iraq. Jamail recounts meeting Dr. Samira Alani, a doctor in the city of Fallujah focusing on the issue of birth defects.
She said it's common now in Fallujah for newborns to come out with massive multiple systemic defects, immune problems, massive central nervous system problems, massive heart problems, skeletal disorders, babies being born with two heads, babies being born with half of their internal organs outside of their bodies, cyclops babies literally with one eye -- really, really, really horrific nightmarish types of birth defects.
Jamail says that the current rate of birth defects for the city of Fallujah has surpassed those of Hiroshima and Nagasaki after the nuclear attacks at the end of World War II.
Echoing Jamail's findings, a September 2012 study published in the Bulletin of Environmental Contamination and Toxicology that focused on maternity hospitals in the cities of Basra and Fallujah recorded a devastating number of birth defects in the past decade. The study also indicated that childhood leukemia and other types of cancers are on the rise.
Between October 1994 and October 1995, the number of birth defects per 1,000 live births in Al Basrah Maternity Hospital was 1.37. In 2003, the number of birth defects in Al Basrah Maternity Hospital was 23 per 1,000 livebirths. Within less than a decade, the occurrence of congenital birth defects increased by an astonishing 17-fold in the same hospital.
As David Kenner notes in Foreign Policy, the numbers of miscarriages and birth defects are much higher than before the start of the war and are also "wildly out of proportion" to numbers collected in the rest of the world.
Mozhgan Savabieasfahani, one of the lead authors of the 2012 study and a toxicologist at the University of Michigan, told The Independent in 2012 that there is "compelling evidence" to connect the growing number of defects at birth to the military assaults in Basra and Fallujah.
In a new op-ed for Al Jazeera, Savabieasfahani writes that the cancer and birth defect "epidemic" constitutes an "extraordinary public health emergency in Iraq" and that large-scale testing of the environment in the affected cities is of utmost urgency.
Watch Democracy Now!'s interview Dahr Jamail in the video above, and see the Democracy Now! website for more coverage.
Related
Before You Go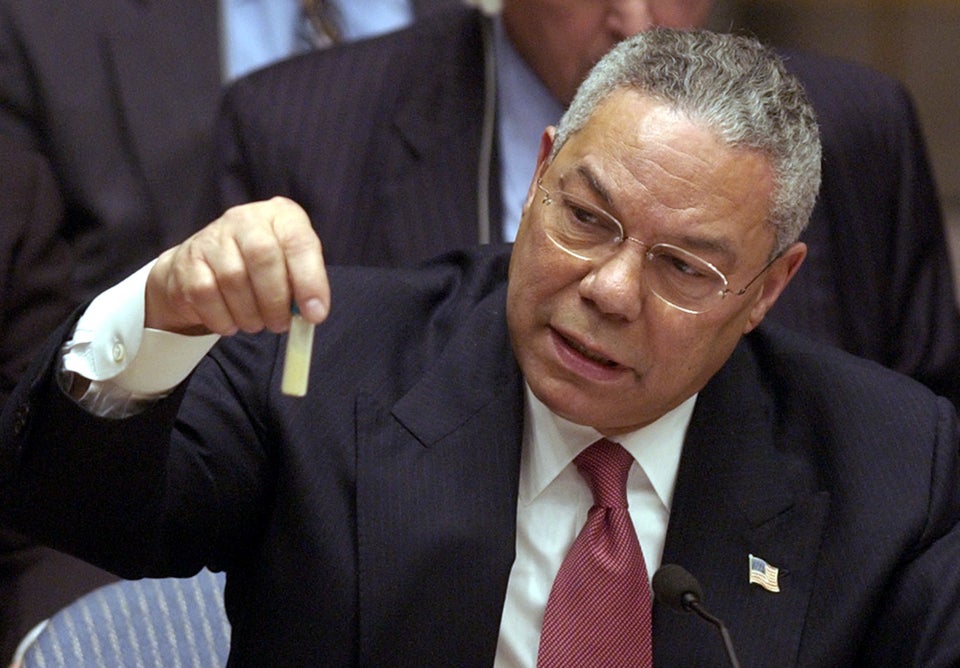 Iconic Images of the Iraq War
Popular in the Community