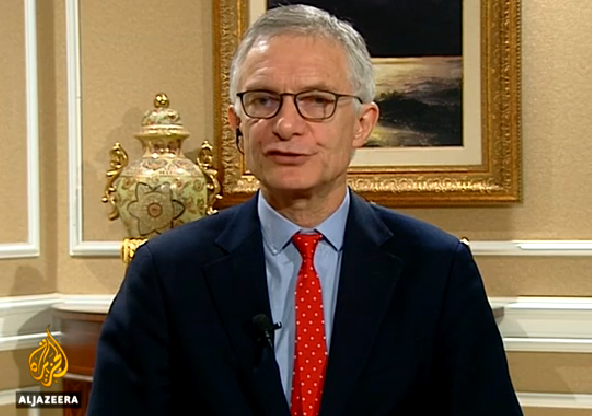 A former head of counterterrorism at Britain's foreign intelligence service, M16, is urging Western leaders to apply the lessons of the Iraq War to their fight against the self-proclaimed Islamic State.
Former British spy chief Richard Barrett said heads of state should determine what will replace ISIS before seeking to defeat the group militarily. He noted that the U.S. and its allies failed to do so when they decided to remove former Iraqi leader Saddam Hussein from power, with catastrophic results.
Barrett, who also served as a United Nations monitor on al Qaeda and the Taliban, contrasted the risks of trying to vanquish Islamic State militants in combat with the risks of a more modest containment strategy.
"Trying to decrease the amount of territory [ISIS] controls is good," Barrett said, "but unless you have a clear idea of what step two is, then I think taking step one may be, could be delayed."
In the case of the Iraq War, Hussein's removal led to a power vacuum that brought about the rise of al Qaeda in Iraq, progenitor of the self-proclaimed Islamic State. The threat prompted Western nations to consider escalating military intervention in the region.
"There is certainly a link between the Iraq invasion and ISIS, because what began as al Qaeda in Iraq in 2003 has grown now into ISIS," Barrett noted. "There's a clear linear progression from one to the other."
Barrett also said that a military victory over ISIL, as the militant group is sometimes called, could drive the group underground. He emphasized that eliminating the root causes of ISIS and other extremist groups "requires much more work and a much longer-term, much more generational type struggle" than a military effort would entail.
Barrett did not elaborate on what that work would consist of. But elsewhere in the interview, he argued that extremism and violence appeal most to "disaffected" people, who "feel alienated from the state," implying that addressing those grievances might make the biggest impact.
In the nearer term, however, Barrett said the best way to protect the world from ISIS would be to achieve a political resolution for the Syrian civil war.
"The main thing to do to solve the problem of the Islamic State in Iraq and Syria is to try and resolve the problems of Syria," he said.
Barrett's assessment of the apparent futility of defeating ISIS with military force echoes the opinions of many other top national security experts. Richard Clarke, a former White House counterterrorism chief, shared a similar analysis.
"Get into the target audience and teach them at an early age that this stuff is wrong: social media, training in mosques, training and youth organizations," Clarke told The Huffington Post. "Unless you do that, unless you beat them at the recruitment game, then you will constantly and forever be fighting counterterrorism."
PHOTO GALLERY
Muslim Leaders Condemn Terrorism
Calling all HuffPost superfans!
Sign up for membership to become a founding member and help shape HuffPost's next chapter