 On the eve of a potential confirmation battle for secretary of defense nominee Chuck Hagel that may hinge on his opposition to the Iraq war, most Americans continue to think the war was a mistake and was not worth fighting, according to a new HuffPost/YouGov poll.
According to the survey, 52 percent of Americans think it was a mistake for the U.S. to send troops to Iraq in 2003, while 31 percent say it was not. In addition, 55 percent of respondents said the war was not worth fighting, and only 27 percent said it was.
Both questions found a big partisan divide on support for the war, with 74 percent of Democrats and 22 percent of Republicans saying it was a mistake to send troops in the first place, while 16 percent of Democrats and 56 percent of Republicans say the war was worth fighting.
Several surveys conducted in December of 2011, as the US was withdrawing the last of its troops from Iraq, found similar levels of opposition to the war, but polling on the war since then has been scarce.
According to the survey, 57 percent of Americans are unable to rate Hagel, while 25 percent have a favorable opinion and 18 percent have an unfavorable opinion of the former Nebraska senator. Twenty-eight percent of respondents said they favor Obama's nomination of Hagel as secretary of defense, 20 percent say they are opposed, and 52 percent aren't sure. Some have said Hagel's past opposition to the war in Iraq is a major sticking point for Republican critics.
Thirty-one percent of respondents said that the possibility of Iran gaining a nuclear weapon would be the most important challenge facing the new defense secretary, while 23 percent said it was the size of the military's budget. Nine percent said the biggest issue was the conflict between Israel and Palestine, 8 percent said North Korea, and 4 percent said Afghanistan, while 5 percent said that something else was the biggest issue.
Republicans were much more likely than Democrats to say that Iran gaining a nuclear weapon would be the most important issue facing the next defense secretary, at 45 percent, and less likely to say that the size of the military budget was the biggest issue, at 16 percent.
The HuffPost/YouGov poll was conducted Jan. 7 and Jan. 8 among 1,000 U.S. adults and has a margin of error of plus or minus 3.7 percentage points, though that inherent variation does not take into account other potential sources of error, including statistical bias in the sample. The poll used a sample selected from YouGov's opt-in online panel to match the demographics and other characteristics of the adult U.S. population. Factors considered include age, race, gender, education, employment, income, marital status, number of children, voter registration, time and location of Internet access, interest in politics, religion and church attendance.
The Huffington Post has teamed up with YouGov to conduct daily opinion polls. You can learn more about this project and take part in YouGov's nationally representative opinion polling.
Before You Go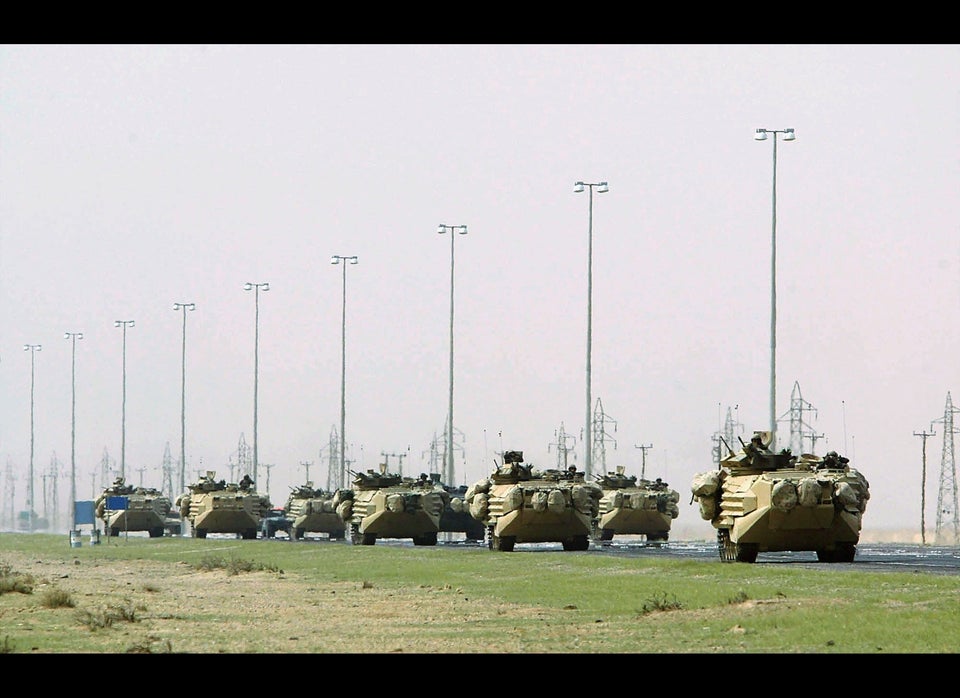 Iraq War Timeline
Popular in the Community