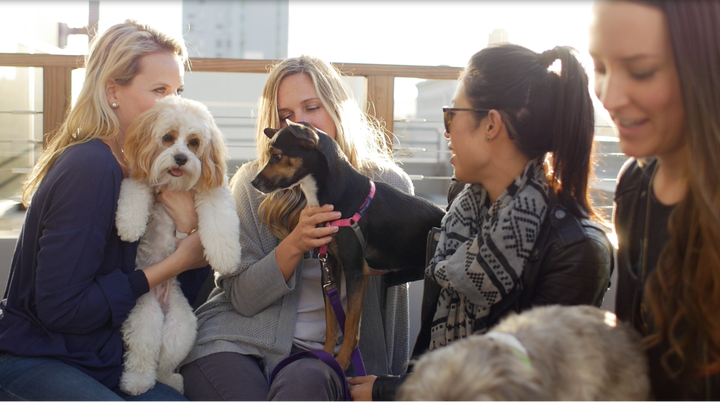 One woman is taking a unique approach in supporting her female counterparts by connecting women through a shared passion for their dogs.
Theresa Piasta is the Founder and CEO of Puppy Mama, Inc., a San Francisco-based startup that is leveraging technology and social media to connect a community of women who want to create a more pet-friendly world.
Theresa was inspired to create Puppy Mama during her own healing journey from severe migraines and neurological issues, which were later diagnosed as Post Traumatic Stress Disorder (PTSD), an illness incurred during her military service.
Theresa served four years in the Active Duty U.S. Army, which included a 14-month tour in Iraq. In Iraq, Theresa was promoted to Captain and led a team to defend thousands of soldiers and contractors residing on Forward Operating Base Delta in Al-Kut near the Iranian border. And although she was awarded the Bronze Star Medal for her service, Theresa was also left with severe chronic pain.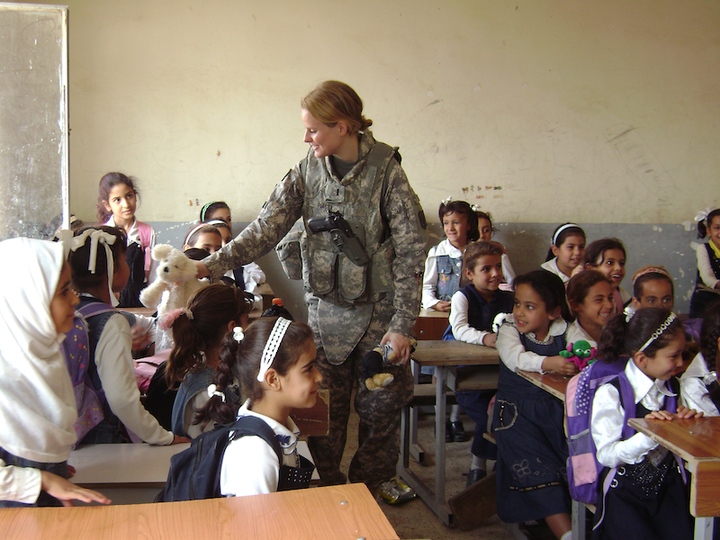 Theresa eventually transitioned into a Wall Street career in hopes of a new beginning. Wall Street, however, left her feeling exhausted, over-worked and challenged as a minority in another male-dominated industry. Simultaneously, Theresa was battling to find relief from the painful symptoms associated with her PTSD illness.
To help manage her chronic pain, Theresa and her husband eventually welcomed a puppy named Waffles into their home.
"Waffles, a 13-pound ball of furry puppy happiness, was there every moment to help me get through significant pain. She comforted me when I needed it the most, and never failed to put a smile on my face. Her love is contagious - she spreads laughter and happiness to anyone she meets. She reminds me every day to embrace life and search for love and joy," Theresa explained.
Theresa soon discovered that she wasn't alone in the support and love that she receives from Waffles.
"I have met many women around the world who are as passionate about their dogs as I am - women who want to include their 'best friends' in everything that they do. I've also learned that canine therapy has been very helpful for women combating many illnesses in addition to PTSD," Theresa said.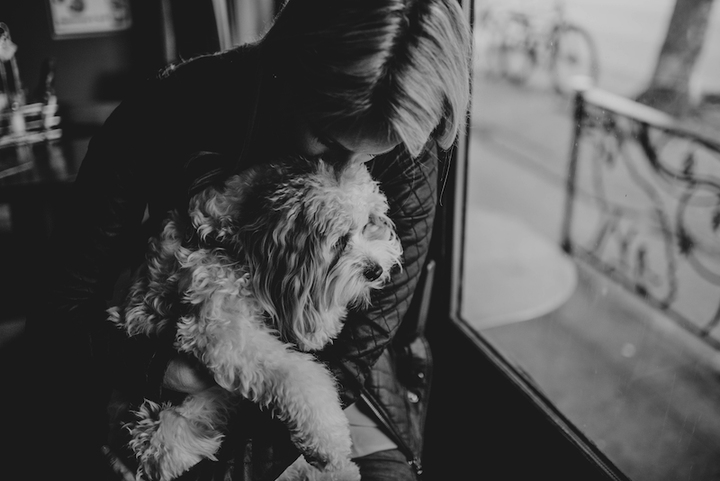 Puppy Mama started by providing women with a platform to share their stories on social media; this platform quickly grew to include over 10,000 followers across several channels. Currently, Puppy Mama is raising funds on Kickstarter to finish a web app that will bring users together to create a more pet-friendly world, allowing dog owners to find and rate dog-friendly hotels, businesses, and restaurants, share experiences, and arrange meet-ups for puppy playdates and "yappy hours." The first version of the app will launch on March 18th.
While Theresa was building Puppy Mama, she noticed how positive the community members were in supporting one another, and how much that contrasted with the tsunami of negativity across other social media channels.
"Although social media is a powerful tool, without real 'community', social media can easily become a platform that fosters negativity," Theresa said.
After discovering the vast numbers of dog lovers around the world on social media, Theresa realized that Puppy Mama could build a platform to connect dog parents and unify them to advocate for pet access cohesively. After all, data shows that the passion toward canines spans countries, religions, languages, genders, ages, and economic statuses. The hashtag for "dog" (#dog) in just the English language on Instagram has 124.9 million posts, while #dog in Japanese (#犬) has 6.5 million posts. According to the APPA's 2015-2016 National Pet Owners Survey, 77.8 million dogs have owners in the U.S.
The key was uniting this passionate global community,
"Through connecting dog parents around the world on the Puppy Mama app, we will gather strong metrics and data to educate more businesses of the economic benefit of adopting pet-friendly policies, and help persuade local and state governments to ease restrictions regarding pet access," Theresa said.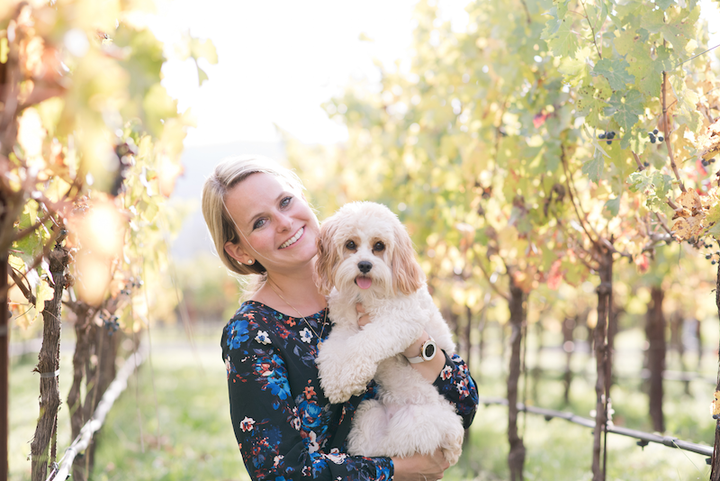 To build the community, Theresa started reaching out to women "dog moms" on Instagram, inviting them to share their stories.
"I asked for a couple sentences, but received so much more. These women opened up with deeply personal stories," she said. "We've received more than 200 stories from women about how their dog helped comfort them through cancer, depression, sexual assault, a difficult divorce, or the loss of a loved one. These women's daily contributions are inspiring. After thanking one Puppy Mama for her compassionate comments, she wrote back saying, 'I have never found such a group of wonderful and supportive people. I love being a part of the Puppy Mama community.'"
Another Puppy Mama member recently wrote,
"Puppy Mama is sending a message that women are never too maternal, too damaged, or too emotional to succeed is so desperately needed and it's great to meet someone else fighting these stigmas."
Just as Waffles helped heal Theresa, the Puppy Mama community is sure to create change for women and their furry companions everywhere. Sharing stories and pictures via social media allows women to connect with one another and inspire each other daily.
Puppy Mama expects that community sharing will fuel the crowdsourcing effort - enabling us all to learn where dog parents are welcome.
"I saved her once, but she saves me every day," a Puppy Mama member remarked about her pup. Through this unique community, more women will continue to encourage one another, and together they will create a more pup-friendly world.
Join the movement - Share your Puppy Mama story at puppymama.com
Related
Popular in the Community