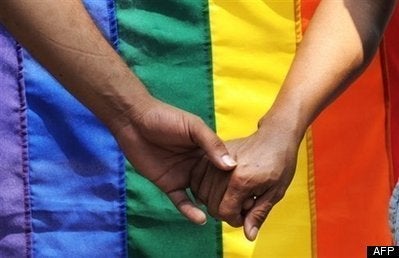 The number of deliberate attacks against homosexual men in Iraq has risen precipitously this year at the hands of Iraqi militias and death squads, according to a report released today by an international human rights organization.
New York-based Human Rights Watch (HRW) interviewed nearly 50 gay Iraqi men for the report, publishing their harrowing stories about the crackdown on gays and documenting the wide-reaching campaign of targeted executions, kidnappings, abductions, death threats and torture of gay men and men suspected of homosexual conduct.
The 67-page report, entitled "They Want Us Exterminated: Murder, Torture, Sexual Orientation and Gender in Iraq," says the killings have spread from the Baghdad neighborhood of Sadr City to many cities across the Middle East country, with Baghdad experiencing the most severe "killing campaign." Human Rights Watch estimates several hundred men have died from homosexual targeted attacks.
HRW says Iraqi police and security forces have done little to investigate or quell the violence against Iraqi homosexuals and many Iraqis doubt the government's sincerity and success to purge key officials with militia ties. According to the report, no arrests or prosecutions have been announced and the human rights watchdog says it has heard of accounts of police complicity in abuse, which ranges from harassing "effeminate" men at checkpoints, to possible abduction and extrajudicial killing.
"Iraq's leaders are supposed to defend all Iraqis, not abandon them to armed agents of hate, said HRW's Scott Long, Director of the Lesbian, Gay, Bisexual, and Transgender Rights Program, in a statement. "Turning a blind eye to torture and murder threatens the rights and life of every Iraqi."
The men interviewed by HRW described how corpses have been dumped in the garbage or hung as warnings on the street. According to testimonies, the attackers invaded homes, abducted men and interrogated and brutalized them to extract names of other people suspected of homosexual conduct. The doctors who spoke with HRW researchers said they have found mutilated bodies with their anuses glued shut.
HRW says many of the Iraqis interviewed in the report believe the Mahdi Army, the militia led by Moqtada al-Sadr, the radical Shiite religious cleric, bears primary responsibility for the murders and spearheaded the killings earlier this year. Mahdi Army spokesmen have "promoted fears about the 'third sex' and the 'feminization' of Iraq men, suggesting that militia action was the remedy," according to the report.
Iraqi men who have acclimated to Western fashion trends are viewed as less "manly" and often singled out as homosexuals by religious and militia groups. Iraqi men who wear their hair long, shave their facial hair or dress in tight, fitted clothing become targets by religious militias. Cafes and barbershops once frequented by homosexuals have also come under attack. According to Hamid, an Iraqi interviewed in the report, murderers and thieves are respected more than gay people.
Consensual homosexual conduct between adults is allowed under Iraqi law but illegal in all countries surrounding Iraq except Jordan and Turkey. Islam forbids homosexuality. HRW says the targeted killings were committed without evidence or trial.
Iraqi homosexuals did not live in fear or feel forced to leave their homes and villages when former president Saddam Hussein ruled the country, says Hossein Alizadeh of International Gay and Lesbian Human Rights Commission. Homosexual men faced death threats and warnings after the 2003 U.S. invasion, Alizadeh said, because Saddam's ouster left power vacuums for religious militias.
"Saddam was a political dictator but not a religious leader," said Alizadeh. "Homosexuals were tolerated under Saddam because he didn't feel threatened from that section of society."
Homosexuality remains a forbidden, even taboo, topic for many Iraqis and the lack of understanding and sympathy from the public allows militias to kill effeminate men with tacit approval, says Alizadeh. Many Iraqi homosexuals, or those perceived to be, are an embarrassment to their families and tribes and are killed by the hands of loved ones, he said.
"Iraq is a religious and traditional society and killers of homosexuals are very proud of what they do...they see it as a social service, a cleansing of society," he said.
The United States government has recently begun to address the plight of homosexual Iraqis after the media and international human rights organizations brought awareness to the problem. In June, U.S. State Dept. Spokesman Ian Kelly told reporters the U.S. condemned violence and abuse against homosexuals in Iraq.
"In general we absolutely condemn acts of violence and human rights violations against individuals in Iraq because of their sexual orientation or gender identity," he said.
"Our training of Iraqi security forces includes instruction on the proper observance of human rights. Human rights training is also a very important part of our and other international donors' civilian capacity-building effort in Iraq."
U.S. Congressman Jared Polis (D-Colorado), who toured Iraq in April and spoke with men sentenced to death for being members of an Iraqi organization known as Iraqi LGBT, has written letters to the U.S. Embassy in Iraq and U.S. Ambassador Christopher Hill, demanding an investigation of human rights abuses.
Rep. Polis said the U.S. has a responsibility to address these allegations of persecutions of gays.
"The U.S. should take a strong stand for human rights and exert its influence for human rights - for all Iraqis," he said by phone. "The U.S. has a heavy involvement in Iraq, has a close relationship with the Iraqi government and billions of taxpayers' money are there."
Rep. Polis said about five percent of the Iraqi population is homosexual, however, there are no official aggregate statistics for this group. The numbers used by international human rights organizations are based on known individual cases.
In April, London-based Amnesty International expressed its concern about the Iraqi government's failure to address and publicly condemn the killing of young men because of their sexual orientation to the Iraqi government, but said its letter written to the Iraqi Prime Minister Nuri al-Maliki has remained unanswered.
Amnesty International's Said Boumedouha says Iraqi gay men have to hide their homosexuality or flee their neighborhoods in fear that neighbors will report their names to religious militia groups. Boumedouha says the majority of killings take place in Shiite-dominated areas of Iraq and the state simply cannot protect this minority anymore.
"The policemen, the security forces are turning a blind eye to the killings, they are sympathetic with the militias," he said. "Nothing has been done to stop the violence. The 'so-called' investigations have brought no one to justice."
Some homosexual Iraqis have sought asylum in other Middle Eastern countries such as Jordan, Lebanon and Kurdistan with the financial assistance of NGOs. Human Rights Watch, like other international organizations, has called on the United Nations High Commission for Refugees as well as other governments that accept Iraqi refugees to offer rapid resettlement to homosexual and transgender Iraqis.
Popular in the Community