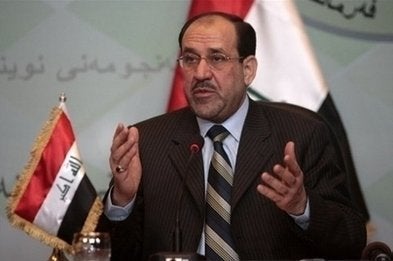 Alusi is a member of the Iraqi Parliament and founder of the Democratic Party of the Iraqi Nation (DPIN), a grassroots Iraqi political party advancing human -- including women's -- rights, religious pluralism, a free press, and cooperation among democracies in fighting terrorism. As far as Alusi is concerned, the new Iraq should extend that cooperation to democratic neighbor Israel, which Alusi has called, "a modern state and an important part of the middle east." A bold progressive, Alusi has been courageous in advancing the view that Iraq should normalize relations with Israel. In September 2004, while serving in Iraq's interim government as director general of the national commission on de-Ba'athification, he traveled to Israel to attend a counterterrorism conference. Upon his return, terrorist "insurgents" murdered Alusi's two sons, Ayman, 30, and Gamal, 22, who were helping their father to champion democracy and human rights in Iraq.
Refusing to be intimidated, Alusi stayed in Iraq, continued building his party, and in December, 2005 was elected to Parliament despite an unrelenting campaign of propaganda waged against him by Islamist parties who branded him a "Zionist agent."
He also refused to back down from his position that continued enmity between Iraq and Israel is not in the interest of the Iraqi people, and to that end, has visited Israel more than once since his sons' murders. Following a visit to Israel in September, the Iraqi Parliament stripped him of his legal immunity and threatened him with prosecution for the "crime" of visiting Israel -- which they alleged was punishable by death under a law that dated from Saddam Hussein's rule.
When I spoke with Alusi last month, he emphasized a point that today's good news illustrates: despite superficial appearances, he does have the support of many of his fellow Iraqis. When we spoke, he stressed the support for his positions, and pro-human rights, progressive attitudes in general, among the common people of Iraq.
"They can't control the street 24 hours a day," he said, referring to Islamist parties who dominate the Parliament and who he has told me more than once he believes to be funded, in many cases, by Iran. He added, "The Iraqi street is free."
He cited a poll conducted by an Iraqi news outlet reporting that a majority of Iraqis disagreed with the Iraqi government's decision to prosecute him for visiting Israel and even agreed with his decision to visit Israel.
When we spoke, Alusi mentioned that his legal defense was to include the argument that according to Iraq's new Constitution, an Iraqi citizen is free to travel anywhere in the world.
I am not sure on what legal basis the Iraqi court ruled, nor whether this is the end of Alusi's legal troubles. Also, this courageous man continues to face assassination attempts, a situation Iraqi Prime Minister Nouri al-Maliki made worse in September by slashing funding for Alusi's bodyguards. While most of these bodyguards decided to stay by his side out of honor and love for this great man, his security situation is extremely precarious as it is unclear how much longer his bodyguards will be able to stay with him. As Alusi told me in October, "They are poor; they have to live. But we are continuing."
So again, while today brings good news, it is not time to celebrate, as it is unclear whether Alusi's bodyguard protection will be restored and whether legal threats against him from his own government will cease.
But today's news suggests it is not just a silent majority of common people in Iraq who may agree with Alusi but also members of the Iraqi judiciary who have a basic respect for human rights, including the right to travel freely.
Whatever one's views about the war and whether the invasion/liberation of Iraq should have taken place, today all sincere supporters of human rights and rule of law should support Alusi and those who seek to build a progressive future in Iraq.
Calling all HuffPost superfans!
Sign up for membership to become a founding member and help shape HuffPost's next chapter