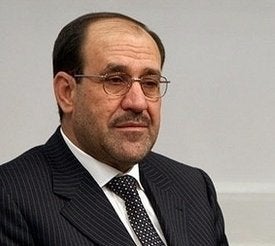 ***UPDATE*** 7/20, 11:50pm ET A spokesman for al-Maliki has said the Prime Minister's comments were "mistranslated", but Der Spiegel is standing by its story:
Maliki was quick to back away from an outright endorsement of Obama, saying "who they choose as their president is the Americans' business." But he then went on to say: "But it's the business of Iraqis to say what they want. And that's where the people and the government are in general agreement: The tenure of the coalition troops in Iraq should be limited."

A Baghdad government spokesman, Ali al-Dabbagh, said in a statement that SPIEGEL had "misunderstood and mistranslated" the Iraqi prime minister, but didn't point to where the misunderstanding or mistranslation might have occurred. Al-Dabbagh said Maliki's comments "should not be understood as support to any US presidential candidates." The statement was sent out by the press desk of the US-led Multinational Force in Iraq.

A number of media outlets likewise professed to being confused by the statement from Maliki's office. The New York Times pointed out that al-Dabbagh's statement "did not address a specific error." CBS likewise expressed disbelief pointing out that Maliki mentions a timeframe for withdrawal three times in the interview and then asks, "how likely is it that SPIEGEL mistranslated three separate comments? Matthew Yglesias, a blogger for the Atlantic Monthly, was astonished by "how little effort was made" to make the Baghdad denial convincing. And the influential blog IraqSlogger also pointed out the lack of specifics in the government statement.

SPIEGEL sticks to its version of the conversation.
The New York Times reports that US Embassy Officials contacted Maliki's office to "explain" how the Prime Minister's comments were being interpreted:
The interview prompted immediate concern from the Bush administration, which called to seek clarification from Mr. Maliki's office, American officials said.

Scott M. Stanzel, a White House spokesman with President Bush at his ranch in Crawford, Tex., said that embassy officials explained to the Iraqis how the interview in Der Spiegel was being interpreted, given that it came just a day after the two governments announced an agreement over American troops.

"The Iraqis were not aware and wanted to correct it," he said.
The Washington Post confirms that the tepid retraction came after a call from Embassy officials:
The statement by an aide to Iraqi Prime Minister Nouri al-Maliki calling his remarks in Der Spiegel "misinterpreted and mistranslated" followed a call to the prime minister's office from U.S. government officials in Iraq.
Iraqi Prime Minister Nuri al-Maliki told a German magazine he supported prospective U.S. Democratic presidential candidate Barack Obama's proposal that U.S. troops should leave Iraq within 16 months.

In an interview with Der Spiegel released on Saturday, Maliki said he wanted U.S. troops to withdraw from Iraq as soon as possible.

"U.S. presidential candidate Barack Obama talks about 16 months. That, we think, would be the right timeframe for a withdrawal, with the possibility of slight changes."

It is the first time he has backed the withdrawal timetable put forward by Obama.
Dr. Susan Rice, senior national security advisor to the Obama Campaign, issued this statement in response to al-Maliki's declaration of support:
Senator Obama welcomes Prime Minister Maliki's support for a 16 month
timeline for the redeployment of U.S combat brigades. This presents an important opportunity to transition to Iraqi responsibility, while restoring our military and increasing our commitment to finish the fight in Afghanistan.
Joe Klein, writing on the Time Magazine website, said that Maliki's position is a bad omen for the McCain campaign:
In short, what Maliki is saying is: Please leave, as soon as possible. He may be saying this for local, political reasons, in the runup to the regional Iraqi elections, but he's saying it.

In the U.S., this is all bad news for the McCain campaign. Yes, McCain was right about the Surge, but that is a small, tactical truth too complicated to be understood by most Americans. Maliki Endorses Obama Withdrawal Plan is a headline everyone can understand. Maliki is also endorsing another position favored by Obama and opposed by McCain: no long-term (100 year) bases.

With this happening in the same week that the Bush Administration not only has agreed to sit down with the Iranians but also (and even more significant) is exploring the possibility of establishing a U.S. diplomatic Interests Section in Tehran, another of McCain's foreign policy pillars--the nonrecognition of Iran--seems to be cratering as well.

It will be interesting to see how McCain responds to all this. But it does seem that real events in the real world are endorsing Obama's foreign policy vision, not McCain's.
Marc Ambinder at The Atlantic declares Maliki's move a possible game-changer:
This could be one of those unexpected events that forever changes the way the world perceives an issue. Iraq's Prime Minister agrees with Obama, and there's no wiggle room or fudge factor. This puts John McCain in an extremely precarious spot: what's left to argue? to argue against Maliki would be to predicate that Iraqi sovereignty at this point means nothing. Obviously, our national interests aren't equivalent to Iraq's, but... Malik isn't listening to the generals on the ground...but the "hasn't been to Iraq" line doesn't work here.

So how will the McCain campaign respond?
Update: McCain campaign finally releases a statement:
ARLINGTON, VA -- Today, McCain 2008 Senior Foreign Policy Advisor Randy Scheunemann issued the following statement:

"The difference between John McCain and Barack Obama is that Barack Obama advocates an unconditional withdrawal that ignores the facts on the ground and the advice of our top military commanders. John McCain believes withdrawal must be based on conditions on the ground. Prime Minister Maliki has repeatedly affirmed the same view, and did so again today. Timing is not as important as whether we leave with victory and honor, which is of no apparent concern to Barack Obama. The fundamental truth remains that Senator McCain was right about the surge and Senator Obama was wrong. We would not be in the position to discuss a responsible withdrawal today if Senator Obama's views had prevailed."
Calling all HuffPost superfans!
Sign up for membership to become a founding member and help shape HuffPost's next chapter