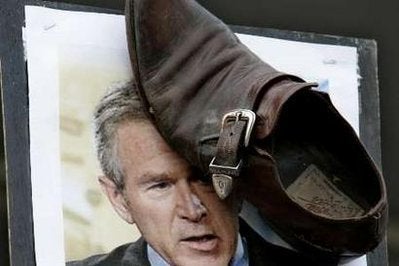 The Iraqi journalist who shocked the world by throwing his shoes at the US president reportedly says he would do it again if given the opportunity.
"In a letter to Iraqi prime minister, Muntadhar al-Zaidi has only apologized to Nuri al-Maliki himself," Fardanews reported, citing comments by an Iraqi source familiar with the case.
"He said that he felt no remorse for throwing his shoes at the 'Great Satan', George Bush, and added that he would repeat his actions if he sees him again, because Bush's forces have killed many of Iraq's children," added the source.