On International Women's Day Wednesday, thousands of vanguards went on strike to urge the repeal of Ireland's Eighth Amendment, which broadly outlaws abortion unless the woman's life is at risk.
Around 4,500 people gathered at Dublin's O'Connell Bridge and proceeded to march in the streets, while sister strikes took off in other Irish cities, according to local media reports and strike organizers. The protesters, many donning thunderbolts as a solidarity symbol, shut down both the landmark bridge and several other major thoroughfares to cars in Ireland's capital.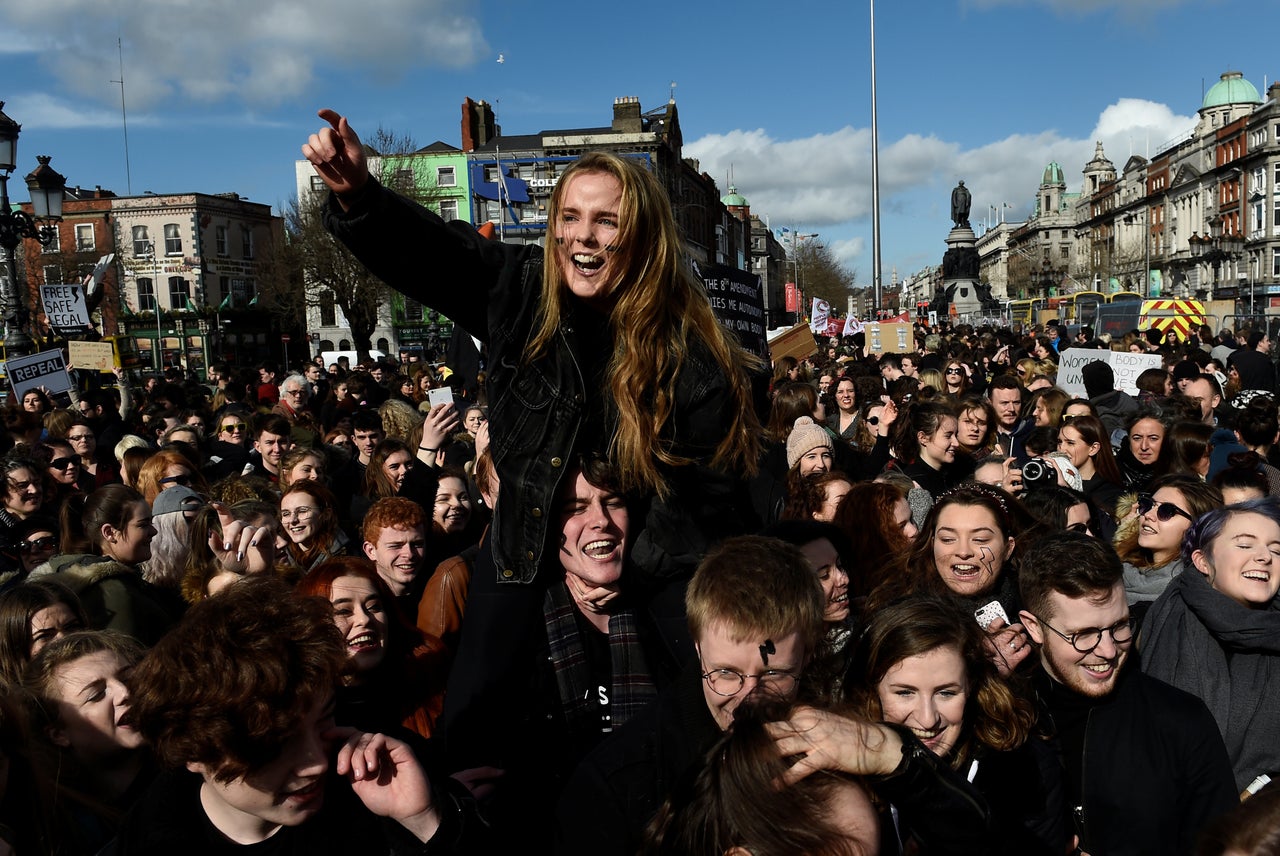 In Ireland, one of the developed world's last countries with a near-total ban on abortion, reproductive rights activists say hope for change hinges on those determined to break the stigma.
Doherty discovered she was pregnant at 27, eight weeks into her term. She decided she wasn't ready to have a baby: She had been seeing her partner for only a few months, she didn't have much money saved and her contract job wouldn't offer maternity leave.
Like all Irish women seeking to end a pregnancy, Doherty faced two options: travel to a state or country where abortion is legal or obtain abortion pills. To get the pills, women typically have them shipped to an address in Northern Ireland, where abortion is also outlawed but imported pharmaceuticals are less likely to be seized.
Because the pills may not be effective after nine weeks of pregnancy, Doherty scheduled an abortion at a clinic in Liverpool, England. The cost of the procedure plus airfare, lodging and other travel accommodations for her and her partner cost between €1,700 and €2,000 at the time (about $2,250 to $2,650).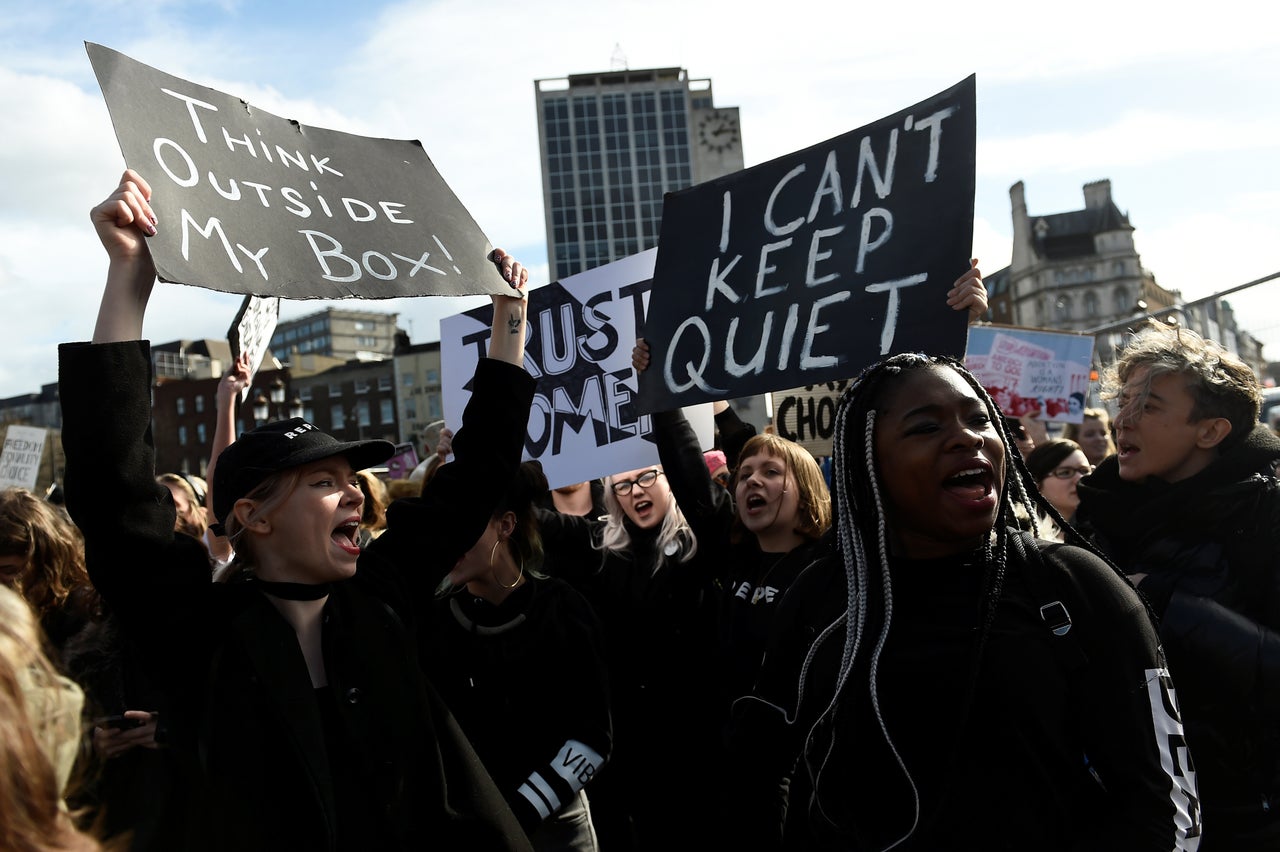 "I was so anxious. It was like someone had pressed pause on my life," she said of the five weeks it took her to save the money to have the procedure. "You're just waiting for your abortion so you can go back to making plans for yourself and your future. It really did negatively impact my mental health at the time, but I knew there was an end in sight .... I can't imagine what it would be like for someone who was pregnant and didn't want to be and was trying to find some way to access abortion and couldn't," she said of women can't bear the financial weight of the ordeal.
The Roman Catholic Church still wields heavy political influence in Ireland, and the country has has long been very conservative on family planning and contraception ― access to divorce and contraception became available only in recent decades. But opinion polls and research over the last decade show a clear shift toward increased access to abortion, the Irish Family Planning Association says.
"I was so anxious. It was like someone had pressed pause on my life"
A recent Irish Times survey found that 74 percent of people were in favor of more liberal abortion laws, with 55 percent of citizens believing Ireland should allow limited access to abortion in the cases of rape and fatal fetal abnormalities, and 19 percent saying it should allow abortion in all cases requested. That's up 10 percentage points from another survey in 2013 that found 64 percent of people in favor of more liberal abortion laws.
Activism around the issue had grown "massively," Doherty says.
"When I first got involved in 2012, my first protest I helped organize there were about 400 people," she recalled. In 2014, an estimated 5,000 women marched in the Irish capital. In 2015, there were 10,000.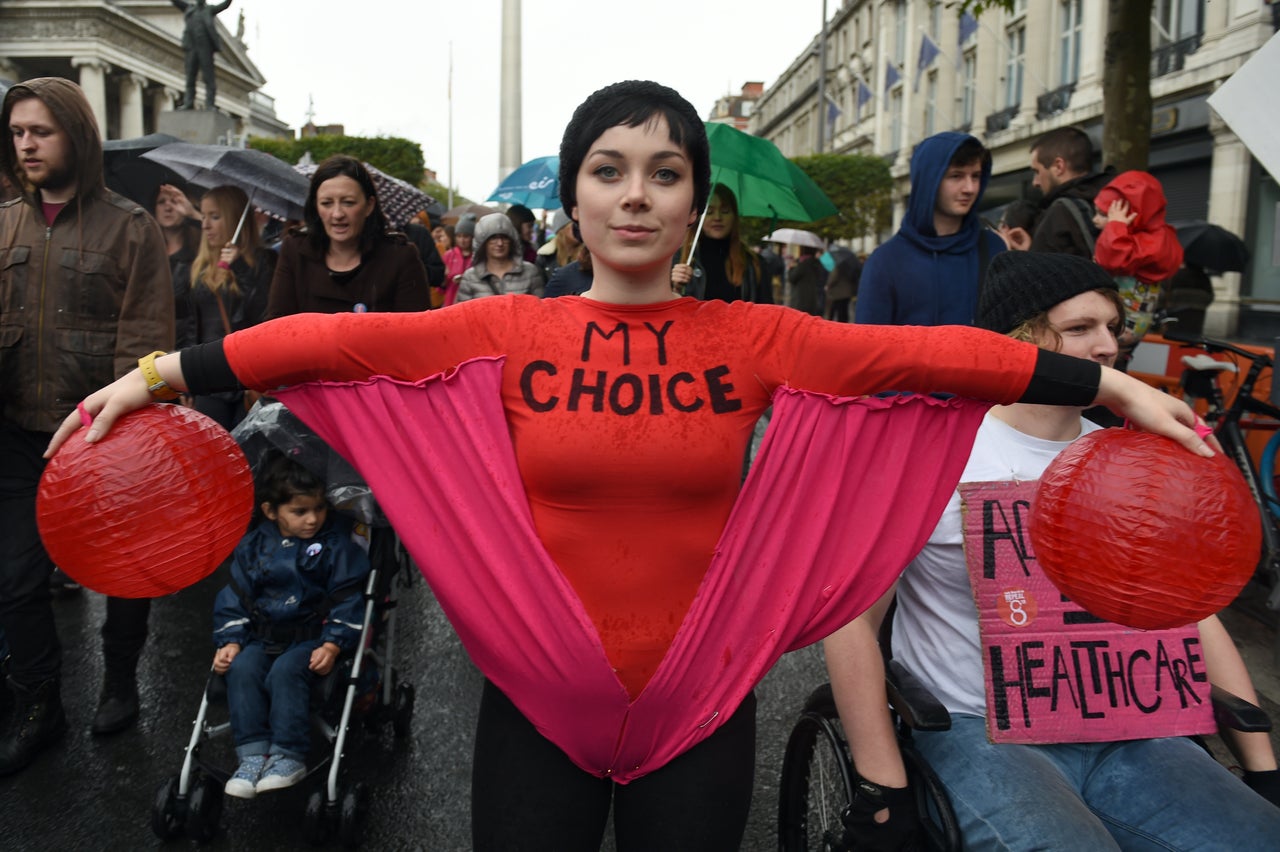 "We had 20,000 at the March for Choice last year," Doherty said.
Today, Doherty helps lead the Abortion Rights Campaign's workshops for reproductive rights activists in more rural areas. She has also helped the ARC gather the stories of Irish women to share with Ireland's ongoing Citizen's Assembly, a type of focus group in which 99 randomly selected citizens deliberate on specified political issues. The assembly is expected to deliver a report to parliament by the end of the year outlining public opinion on abortion, climate change and a handful of other concerns.
More Irish women who've traveled for abortions are going public with their experiences. X-ile Project, an online photo gallery, features portraits of people who've left Ireland to have an abortion abroad in an effort to break the stigma.
"The women in our gallery, and throughout the pro-choice movement, are truly at the vanguard of women's rights in Ireland and Northern Ireland, X-ile founding member Paula Cullen wrote in an email to The Huffington Post. "The stigma is deeply embedded, but has begun to be eroded because of the actions of people speaking out against the suffering caused by the exceptionally and unduly restrictive abortion laws in this country."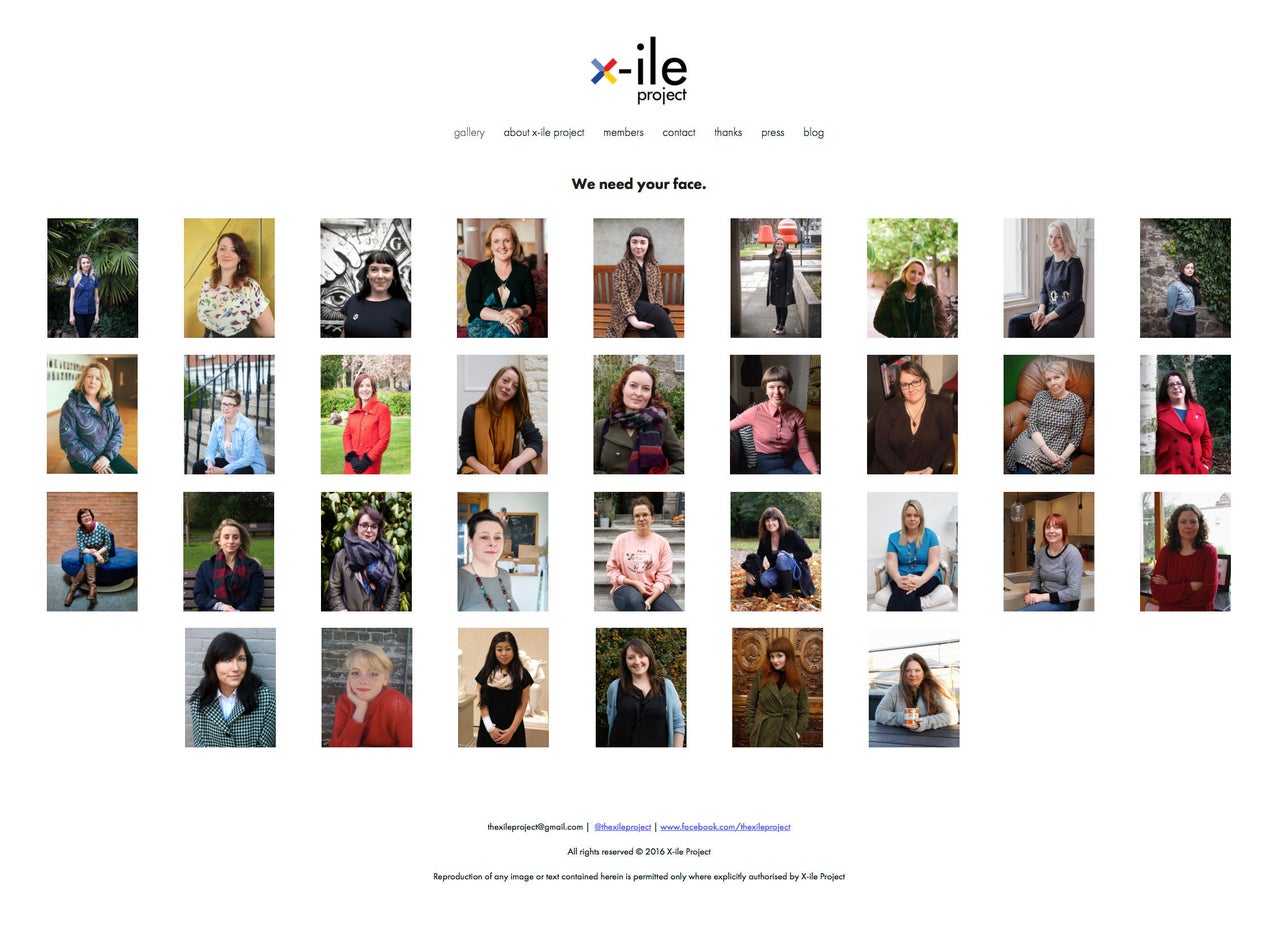 "We hope the visibility of X-ile Project makes women feel supported in their decisions about the course of their own lives in circumstances where their government turns a blind eye to their needs and experiences."
Cullen finds optimism in the United Nations human rights committee's recent ruling on abortion in Ireland, which found in June that Ireland's restrictive abortion legislation subjected a woman to cruel and inhuman treatment. The case was brought forth on behalf of Amanda Mellet, a pregnant Irish woman who was denied an abortion in 2011 despite doctors telling her the fetus would die in the womb or shortly after birth.
Despite these wins and signals that attitudes are changing, activists say legal progress has been minimal.
"As a younger woman coming into activism, I was just so full of hope that we would have this change, that we would have it soon, and soon women would be able to access abortion," Doherty said. "Five years later, we haven't really moved very far at all."
"As a younger woman coming into activism, I was just so full of hope that we would have this change, that we would have it soon, and soon women would be able to access abortion. Five years later, we haven't really moved very far at all."
A step forward on the issue may come with two steps back. The 2013 act that permitted abortions in cases where pregnancy threatens a woman's life also introduced a maximum penalty of 14 years' imprisonment for anyone who receives or helps someone get access to an abortion, though Doherty says there's no one serving a sentence for it.
While the act does include pregnant women at risk of suicide, they must go through the anguishing process of convincing three medical professionals of their state of mind.
The change in the law didn't come in time to save Savita Halappanavar, who died of infections in 2012 after an Irish hospital denied her an abortion to end her life-threatening pregnancy.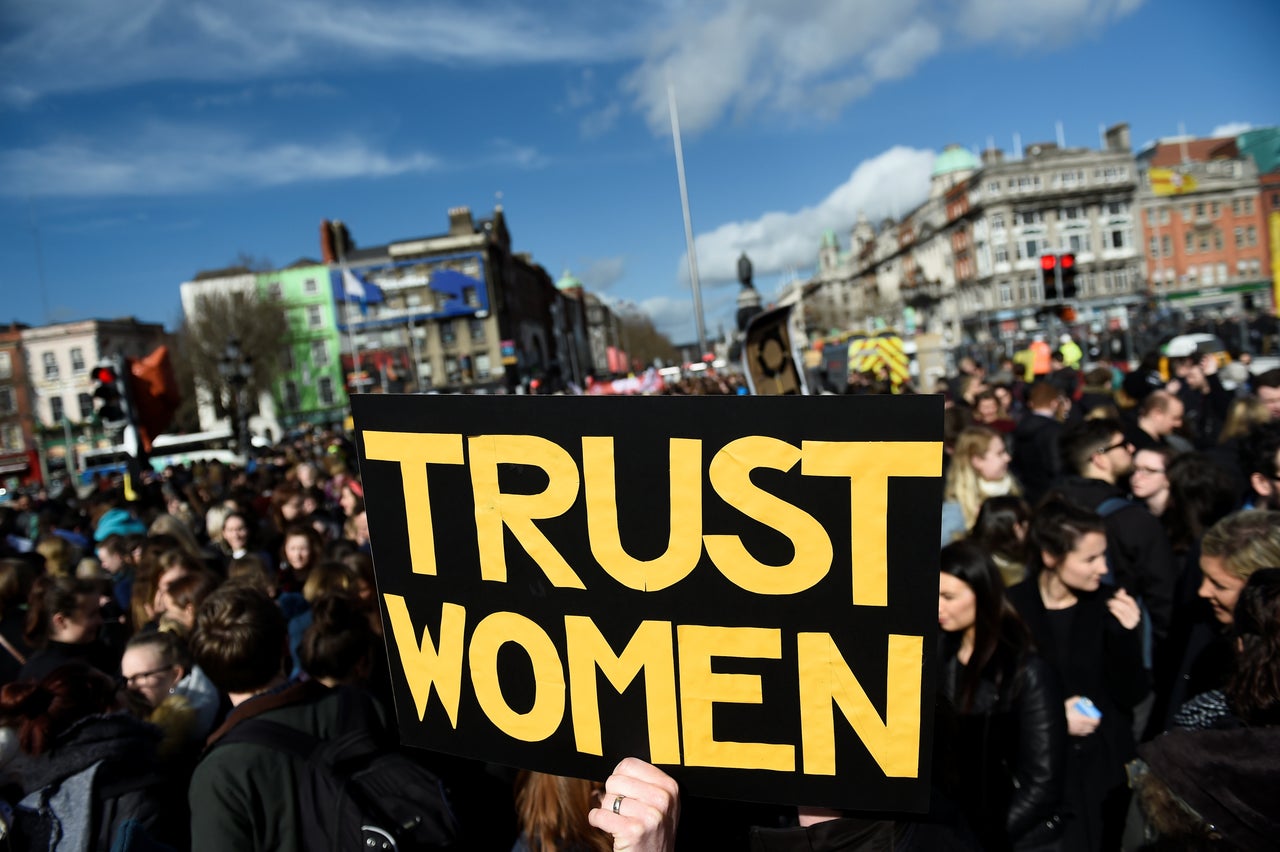 In 2014, a hospital prevented the family of brain-dead woman from removing her from a life-support machine because she was 18 weeks pregnant with a fetus that was not viable. A court had to intervene and permit her death, with one of the judges stating that doing otherwise would "deprive her of dignity and subject her father, her partner and her young children to unimaginable distress."
Those are among the most heartbreaking stories of denied abortions, but distress is common.
"There is a lack of meaningful leadership and action from those in power, and this has led to suffering and tragedy for people in Ireland and Northern Ireland," Cullen said.
Doherty recalls the distress of another, younger Irish woman she met in the Liverpool clinic.
"She was just so young and so alone." she said. "I just really felt for her. I'm sure there are women like that in English clinics every day."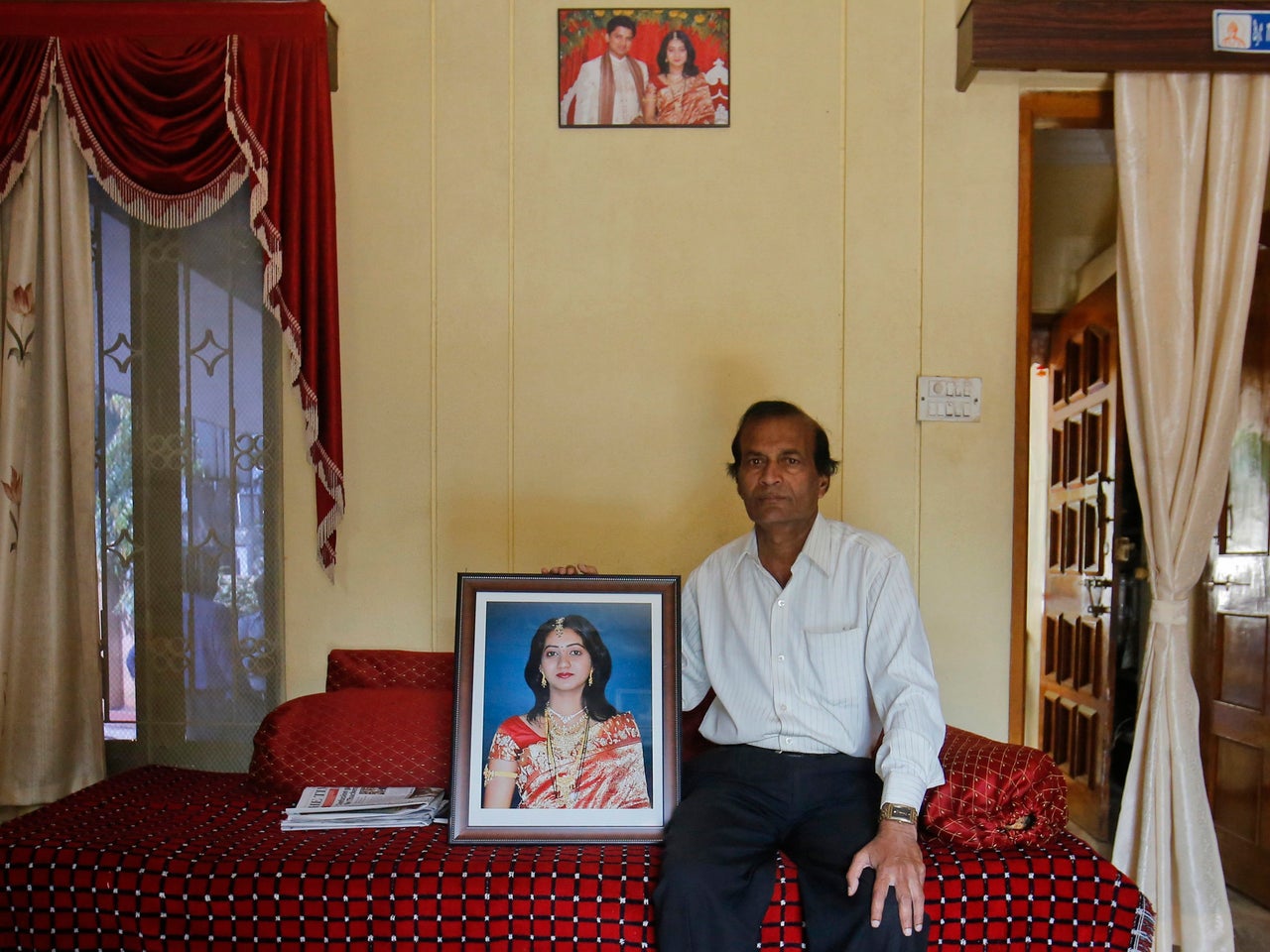 Continued access to abortion services in the U.K. is uncertain with Britain's recent decision to exit the European Union. The move is expected to establish stricter borders and make travel into the country more difficult and more expensive.
And already, major U.K. abortion provider Marie Stopes is turning away Irish patients because it's overwhelmed with demand.
For now, Doherty has her eye on the Citizen's Assembly, but she's bracing for disappointment. If the assembly does recommend that the government let citizens vote on a referendum to the Constitution's abortion amendment, the government is under no obligation to do so.
If there is a referendum, she doesn't expect it will allow for unlimited abortion access just yet but rather will expand options to women who face specific circumstances.
"If we make suicidal women sit in front of panels of doctors, what are we going to do to women who say they've become pregnant through rape?" Doherty asked. "We'll be constantly working to highlight the impracticalities of all this .... We're in it for the long haul."
This article has been updated with details on the International Women's Day action.
Sign up for the HuffPost Must Reads newsletter. Each Sunday, we will bring you the best original reporting, long form writing and breaking news from The Huffington Post and around the web, plus behind-the-scenes looks at how it's all made. Click here to sign up!
Related
Before You Go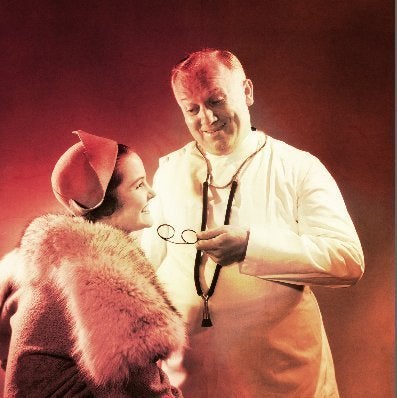 Myths About Abortion That Need To Be Busted
Popular in the Community