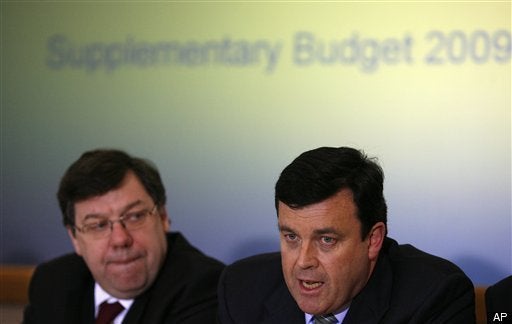 Aid would be available for Ireland's banking sector or the state itself, a top European policymaker said on Monday after a report suggested Dublin could seek money for its stricken banks from an EU emergency fund.
Dublin reiterated that it will not need a bailout from the European Union or the International Monetary Fund although EU sources have said talks on a possible bailout are under way and it is unlikely to hold out without assistance.
The Irish Independent newspaper said Dublin was considering asking for money for its banks, an option that could be less risky politically than asking for a bailout of the state.
It said Finance Minister Brian Lenihan could raise the issue this week in Brussels.
Finance ministers from euro zone states hold monthly talks on Tuesday and ministers from other EU states join them for what is called an ECOFIN meeting on Wednesday.
European Central Bank Vice President Vitor Constancio said aid would be available whether it was for Ireland's banks or the state and confirmed talks were under way.
"The Irish state is financed until part of next year, but it is also a problem of the banks that are at the centre of the problems in Ireland and considerations have to be pondered," he told a news conference in Vienna.
"There has been dialogue with European institutions ... but so far no formal request," he said.
Constancio said such help, if needed, could involve the 440 billion euro European Financial Stability Facility (EFSF) set up after Greece was forced to seek help in May.
The EU wants Ireland to accept aid, sources have said, to avert a Greek-style scenario where budget problems in one country plunge the entire euro zone into crisis -- even though its debt requirements are funded until mid-2011.
"Unless Irish spreads compress considerably in the near term, we believe that an EU-IMF program could become necessary," Barclays Capital Research said.
Ireland -- and others -- says Germany has aggravated problems by pushing the idea of asset value reductions or "haircuts" for private bondholders under a permanent euro zone rescue mechanism it wants in place from 2013.
Germany, the EU's chief paymaster, has said it is not exerting pressure on Ireland to accept aid now.
Greek Prime Minister George Papandreou said Berlin's demand that banks and bond markets share the pain of a sovereign debt default could force some euro zone economies toward bankruptcy.
"It created a spiral of higher interest rates for countries that seemed to be in a difficult position, such as Ireland or Portugal," Papandreou said during a visit to Paris.
"This could create a self-fulfilling prophecy ... This could break backs. This could force economies towards bankruptcy."
Such has been the market turmoil the leaders of France, Germany, Italy, Spain and Britain issued a statement at a G20 summit in Seoul last week, confirming that holders of existing euro debt would not take a hit.
"We expect an appropriate reaction by the Irish authorities -- as well as the clarification by the ministers ... (will) help to calm markets," Bank of Spain Governor Miguel Angel Fernandez Ordonez said.
Ireland's borrowing costs shot to record highs in the past week on concerns over a deficit set to hit 32 percent of gross domestic product this year and spiraling borrowing costs.
The cost of insuring Irish debt against default fell on Monday, and the yield on premium 10-year Irish government bonds above benchmark German government bonds dropped, but pressure on Dublin remained strong.
It has not ruled out the possibility it may have to seek help but says no application had been made for assistance.
Lenihan has promised to pump up to 50 billion euros ($68 billion) into the banks and has promised a four-year debt-cutting plan will be published before the month is out, with a full 2011 budget following early in December.
But pressure is mounting to produce concrete plans sooner.
Irish Junior Minister for European Affairs Dick Roche said "continuous talks" were under way on the level of Ireland's debt but talk of a bailout was irresponsible.
"The argument that Ireland is about to go banging on the door of the IMF or needs to go to go into the EU bailout is simply wrong but if it gets more legs, it could be very, very dangerous," Roche told Newstalk radio.
EU sources say aid under discussion ranges from 45 billion-90 billion euros ($63 billion-$123 billion), depending on whether Ireland needs support for its banks.
Some banks, such as Royal Bank of Scotland and Germany's Hypo, are heavily exposed to Irish sovereign debt and Dublin may have no choice but to seek aid if it comes under renewed attack in financial markets.
Calling all HuffPost superfans!
Sign up for membership to become a founding member and help shape HuffPost's next chapter