Ireland held a historic referendum on same-sex marriage on Saturday, with a resounding majority of voters backing legalization. The result makes Ireland the first country in the world to adopt gay marriage through popular vote.
Around 62 percent of citizens who headed to the polls voted yes to legalization, amid the highest turnout the country has seen in two decades. The vote reflects the changing nature of Ireland's once-conservative Catholic society, which only decriminalized homosexuality in 1993.
Supporters of the Yes campaign celebrated in the streets of Dublin as the ballots were counted, breaking into the national anthem when the official result was announced. The photos below capture the crowds outside Dublin Castle as they cheer, cry and take in a landmark moment in Irish history.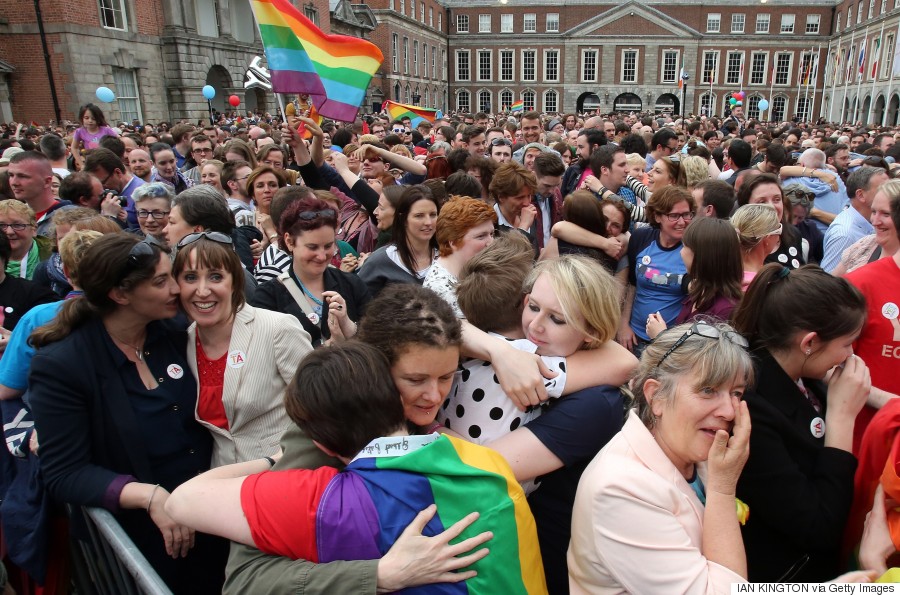 Supporters react outside Dublin Castle following the announcement of the result of the same-sex marriage referendum in Dublin on May 23, 2015. (Ian Kington/AFP/Getty Images)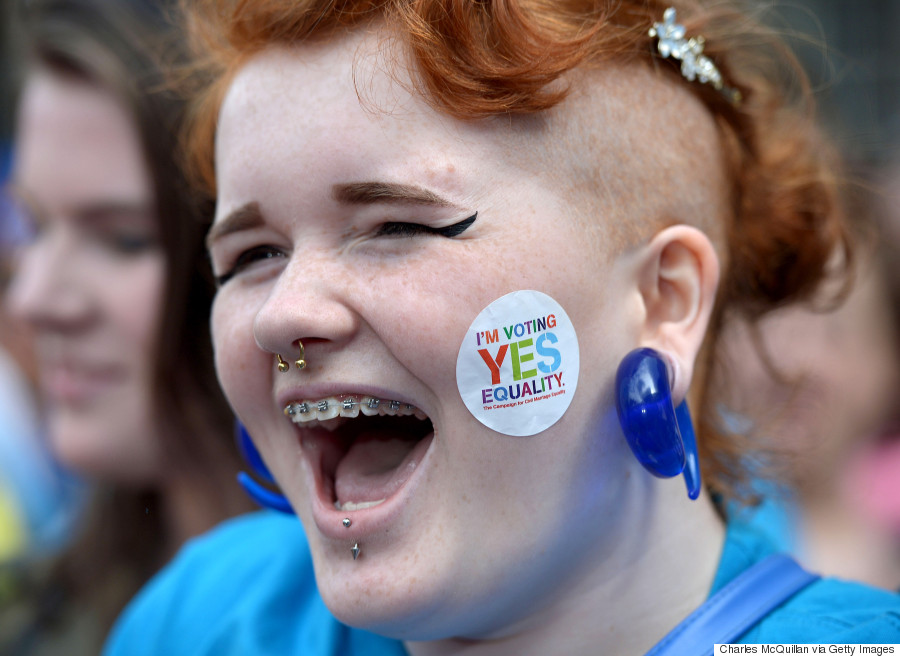 Supporters of same-sex marriage celebrate and cheer as thousands gather in Dublin Castle square awaiting the referendum vote outcome on May 23, 2015 in Dublin, Ireland. (Charles McQuillan/Getty Images)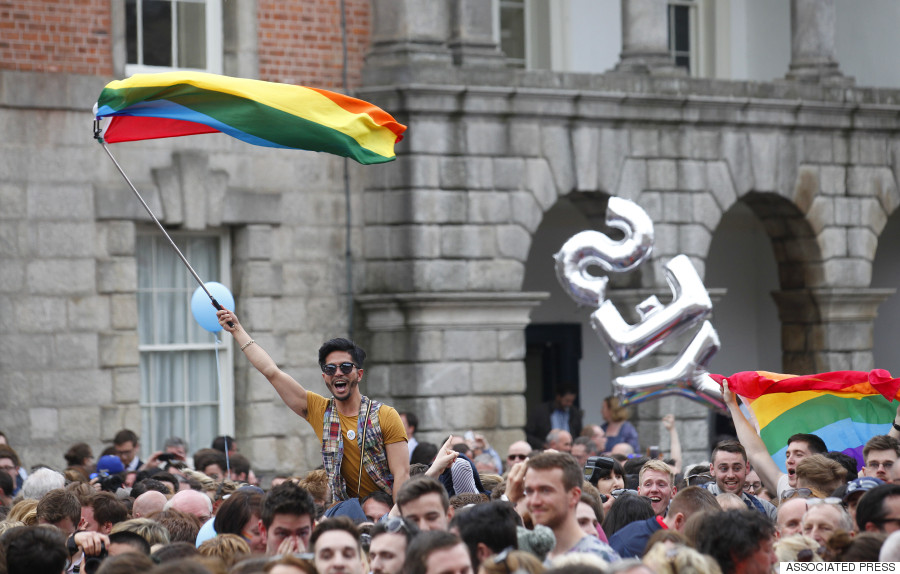 Yes supporters celebrate at Dublin Castle, Ireland, Saturday, May 23, 2015. (AP Photo/Peter Morrison)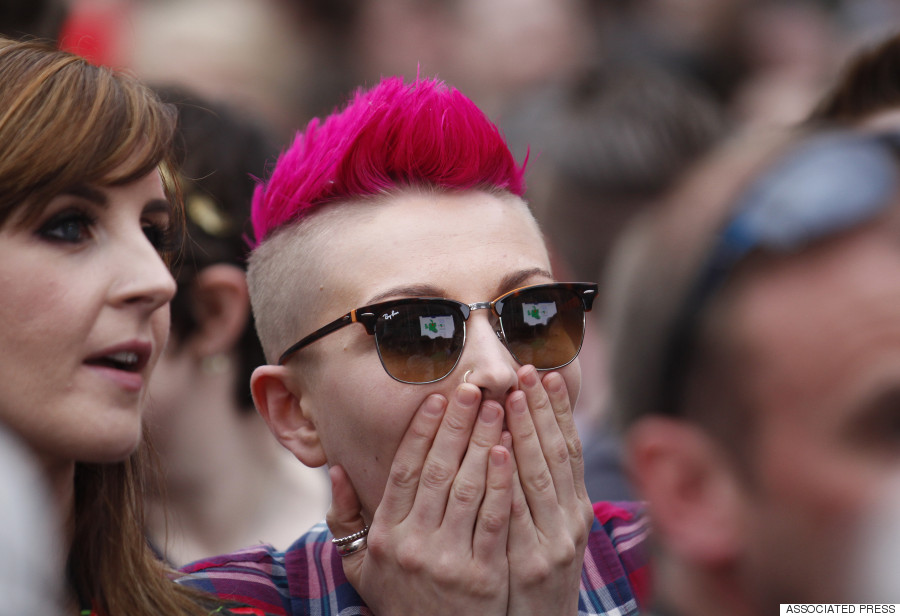 Yes supporters react at Dublin Castle, Ireland, Saturday, May 23, 2015. (AP Photo/Peter Morrison)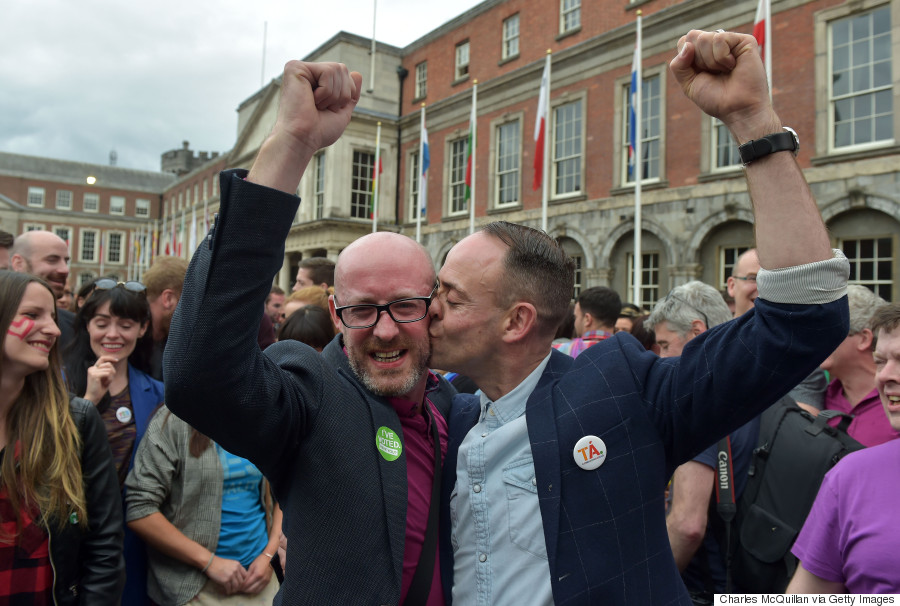 An emotional gay couple celebrate in Dublin Castle Square as the result of the referendum is relayed on May 23, 2015 in Dublin, Ireland. (Charles McQuillan/Getty Images)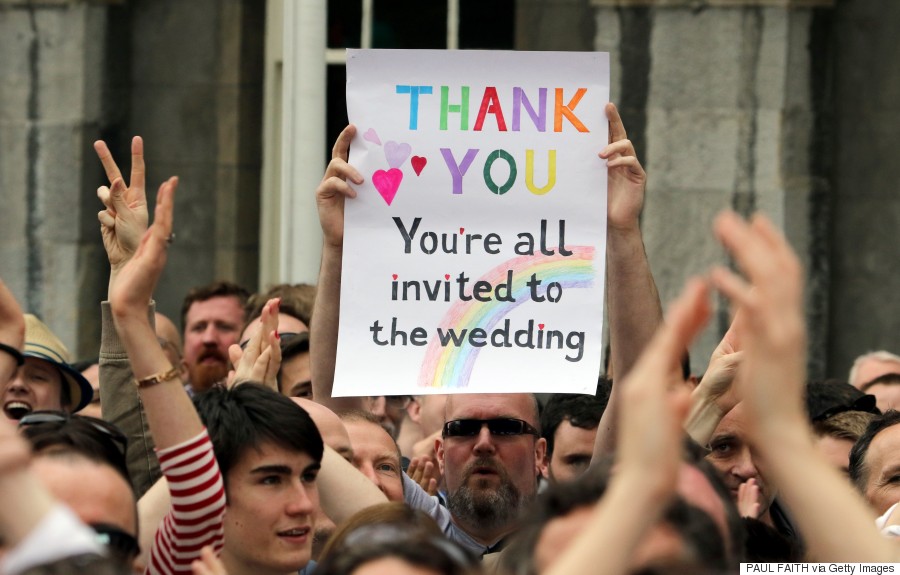 A supporter holds a sign reading 'Thank You - You're All Invited to the Wedding' as he celebrates outside Dublin Castle following the result of the same-sex marriage referendum in Dublin on May 23, 2015. (Paul Faith/AFP/Getty Images)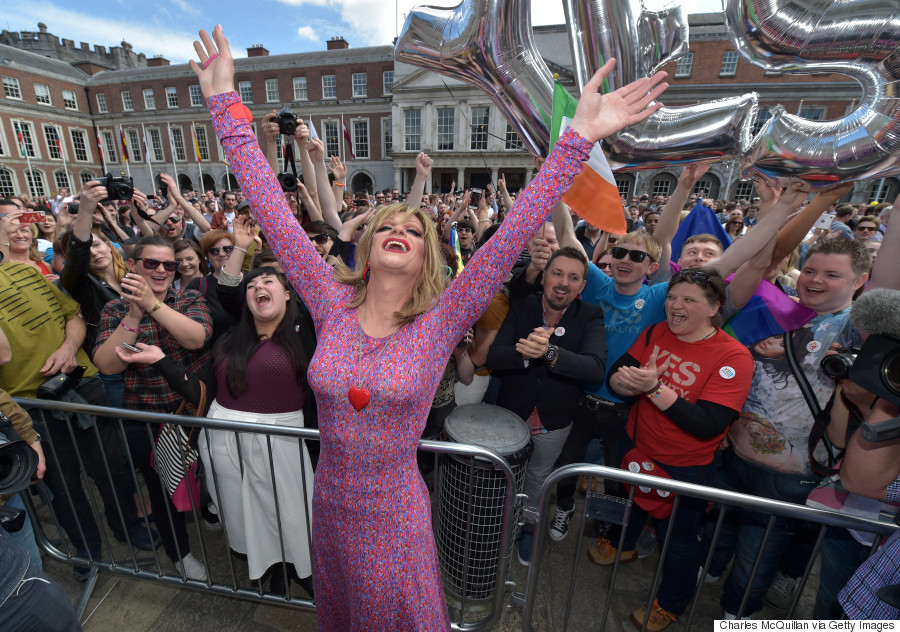 Drag queen and Yes campaign activist Panti Bliss joins supporters in favor of same-sex marriage on May 23, 2015 in Dublin, Ireland. (Charles McQuillan/Getty Images)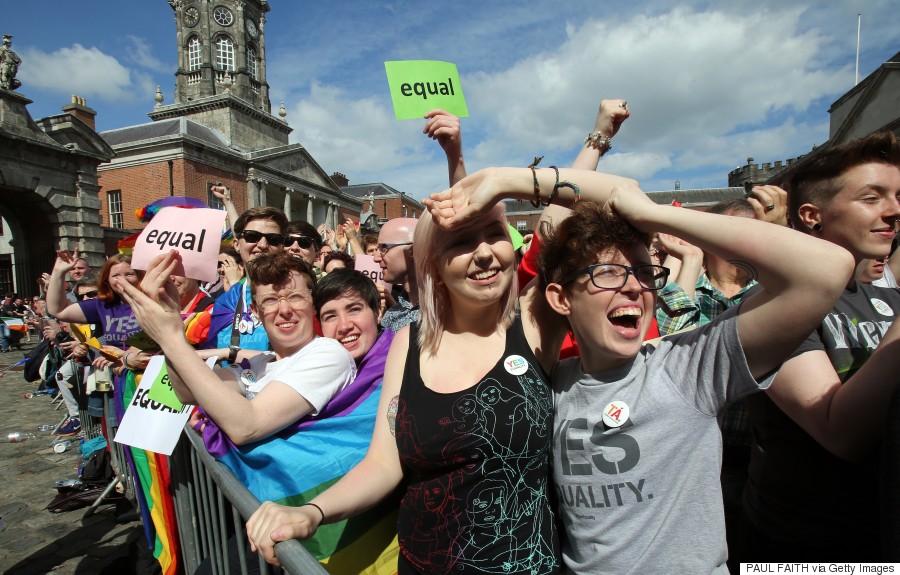 Supporters for same-sex marriage raise a cheer at Dublin Castle as they wait for the result of the referendum on May 23, 2015. (Paul Faith/AFP/Getty Images)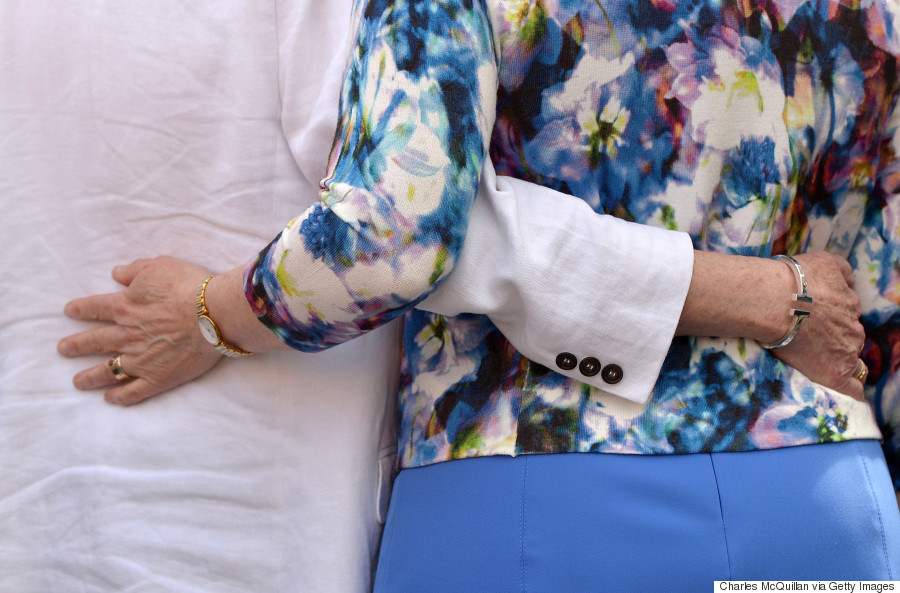 A lesbian couple link arms around their waists as thousands gather in Dublin Castle square awaiting the referendum vote outcome on May 23, 2015 in Dublin, Ireland. (Charles McQuillan/Getty Images)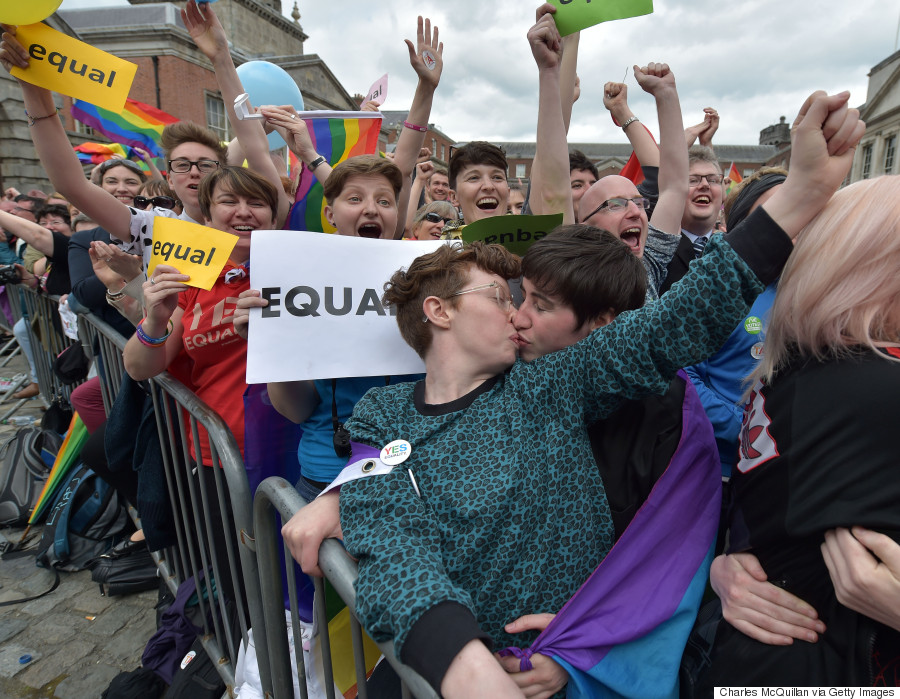 A gay couple kiss in Dublin Castle Square as the result of the referendum is relayed on May 23, 2015 in Dublin, Ireland. (Charles McQuillan/Getty Images)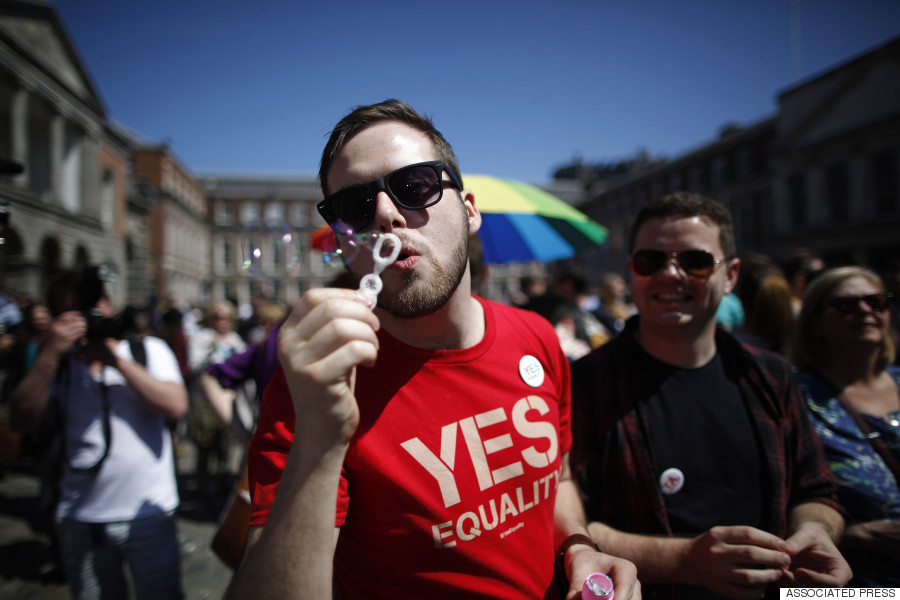 A yes supporter waits at Dublin Castle for the final result in the referendum in Dublin, Ireland, Saturday, May 23, 2015. (AP Photo/Peter Morrison)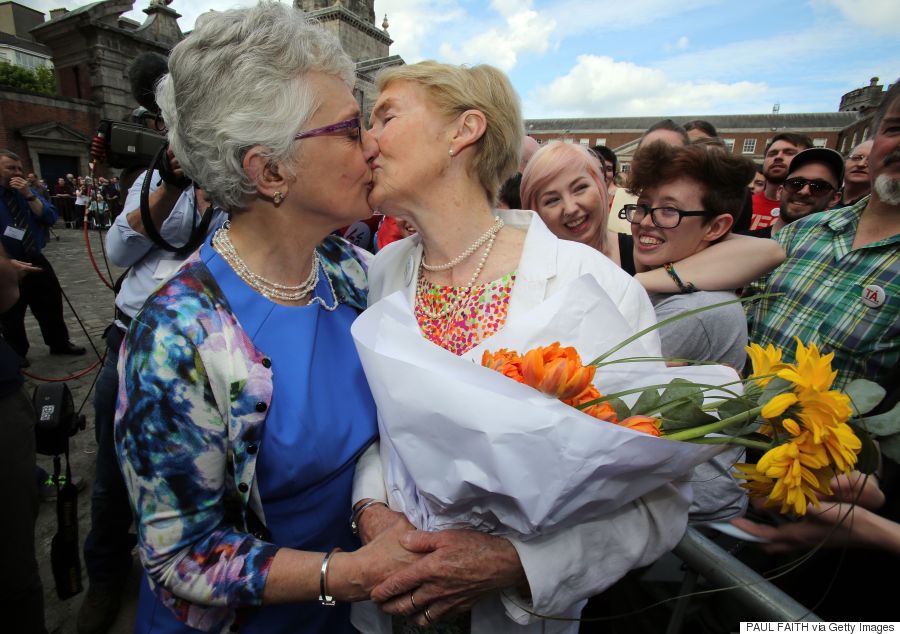 Irish Senator Katherine Zappone (L) kisses her partner Ann Louise Gilligan as supporters for same-sex marriage wait for the result of the referendum at Dublin Castle on May 23, 2015 in Dublin. (Paul Faith/AFP/Getty Images)
BEFORE YOU GO
PHOTO GALLERY
Ireland Votes Yes On Gay Marriage