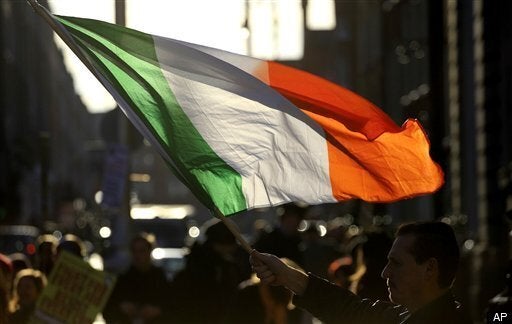 In the midst of traumatic upheaval, it can be hard to take stock of opportunities and positive trends in the hands of the Irish people. Yet as the rest of the world looks with shock at what went wrong in Ireland and as Irish anger grows, it is time to refocus discussion on what Ireland can do for itself -- what lessons Ireland offers the rest of the world.
Ireland is, of course, stuck, because if it had not taken the EU/IMF bailout, it would now be insolvent. Yet the bailout, initially at 5.83 percent over 7 years, is not about helping Ireland -- it is about containing Ireland's crisis and sending strong austerity signals to Spain and Italy. Even a now reduced rate of 4 percent and an extension to15 years only raises the firewall around Ireland and kicks the can down the road -- while requiring Ireland to be a constructive negotiator on EU-wide corporate taxation. Regrettably, neither Brussels nor the Irish government is directly addressing the structural problem confronting Ireland -- its lack of domestic growth and still crushing debt, and thus its role in the eurozone crisis persists.
Draconian budget cuts are having a disastrous impact on growth in the Irish domestic economy, which fell by 4.3 percent in the first quarter of this year -- even before the real pain of the new and deeper cuts have been felt, while unemployment stands at over 14 percent. Meanwhile, the likelihood of more drawdowns on the EU/IMF loans is high. It should be no surprise to anyone, especially the Department of Finance in Dublin, that Moody's recently downgraded Ireland to junk rating.
Yet there is also legitimate frustration that Ireland is doing what it has been asked to do, and it is not working. For its part, the Irish government will nonetheless be happy to take a rate cut back to its people, claiming what may yet amount to a pyrrhic victory.
Ireland seems to have completely run out of ideas on what to do. Some people call for default and others call for leaving the eurozone -- none of which are realistic moves. Meanwhile, the government seems to be hoping it will just somehow all go away while keeping its head low. Now, however, is the time to take big risks and to set ambitious goals for a positive future -- it might be Ireland's last best hope. There are four positive steps that Ireland can take immediately to begin the long road towards a better future.
First, Ireland urgently needs a comprehensive restructuring of public and private debt consolidated into a package that would span several decades at a much lower interest rate -- likely 30 years and 2 percent. This approach means generations of flat growth, unless accompanied by innovative and targeted investments. However, a priority of stability is far preferable to the unthinkable consequences of default or leaving the eurozone -- outcomes that would make today look like the good old days.
Second, Ireland should raise its corporate tax rate beyond the cherished 12.5 percent. It should, however, be done as a strategic choice, not some concession to France or others. A comprehensive debt repackaging that raises the corporate tax rate modestly to 17.5 percent would keep Ireland at the low end of European rates.
Moreover, while Washington, D.C., looks aggressively for job creation, incentives are likely to grow for American companies overseas to return home. If Ireland only has its 12.5 corporate rate as its selling point, this will not suffice. The corporate tax rate is important, but holding onto it jealously is to fight the last battle when new challenges confront the nation. The biggest threat to foreign investors in Ireland today is not the corporate tax rate -- it is the status quo.
Third, a grand bargain is needed, which tells foreign investors that a modest corporate tax increase would be targeted specifically to major infrastructure projects, especially in the area of wave and wind energy technology, communications and transportation. This would create a win for everyone. Foreign companies no longer face high labor costs and thus remain productive. But, they do have major infrastructure inefficiencies operating in Ireland. A deal that invests in reduced operating costs would be good for business, create jobs and stimulate domestic growth.
Crucially, Ireland cannot grow its domestic economy for the long haul unless it is creating indigenous manufacturing for export. Engaging the public and private sectors in partnership with other nations on large-scale research and development of renewable energy can put Ireland on the map as a leader of global progress. There are enormous obstacles inherent in the capture and distribution of wind and wave energy -- but this could be Ireland's "moon shot" -- for which the nation can rally a sense of common purpose, develop and export.
Fourth, it is vital to recall that Ireland begins its renewal on a far better platform than any time in its history. Its people are deeply engaged in how politics and economics affect them and are demanding essential transparency and accountability. Ireland is grappling honestly and directly with its crisis in the Catholic Church while other countries have not. Ireland is succeeding at embracing multiculturalism -- whereas Britain, Germany and France have all admitted failure. Ireland innovates in foreign policy, advancing food security initiatives at the United Nations that can be good for Irish farmers and save millions of lives around the world. The combination of transparency, trust, diversity and goodwill are all essential to a good business climate -- especially given the prevailing worldview that greed drove Ireland to ruin.
The Irish are able to show the world that growth is good, but sometimes slow and steady wins the race. The early years of the Celtic Tiger tell us that economic progress is achievable when a creative and spirited people are given the opportunity, and that opportunity exists now. The collapse of the Celtic Tiger, however, also teaches that obsession with growth for growth's sake combined with politics and deregulation detached from the people's interests serves no one. There are solutions to the challenges confronting Ireland as its people embark on the million small steps towards a better future. The question is not, however, one of "Yes We Can!" as President Barack Obama called out recently in Dublin -- it is really: "Will We?"
Sean Kay, professor of politics at Ohio Wesleyan University and fellow at the Eisenhower Institute in Washington, D.C., is the author of Celtic Revival? The Rise, Fall, and Renewal of Global Ireland.
Calling all HuffPost superfans!
Sign up for membership to become a founding member and help shape HuffPost's next chapter