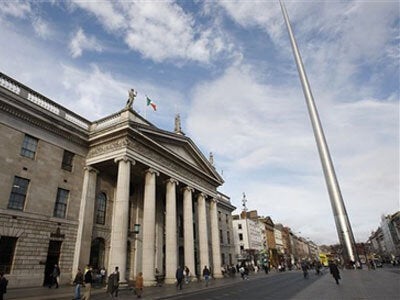 DUBLIN -- The Lonely Planet Guide to Dublin lists Reynards nightclub on South Frederick Street as Colin Farrell's "favorite den of iniquity." The movie star and other prominent Irish personalities, such as Bono, have been known to enjoy the "difficult access" upstairs bar in this posh establishment.
Night-clubbers turned away by the Reynards bouncers could always try Pal Joey in Temple Bar, which according to www.dublintourist.com "indulges the hedonist in us all," or Tram Co. in the upscale suburb of Rathmines, which promises a "cool experience over three floors."
These trendy night spots, which epitomized the "roaring naughties" in Dublin, have one thing in common: They have all just closed. The doors have been padlocked, the rope lines taken away and the bouncers paid off.
For Ireland the party is over. The glitzy playgrounds of the Celtic Tiger are deserted. The recession has forced a number of the most expensive clubs and restaurants out of business. (Late-night joints have also been hit by new licensing restrictions.)
This time last year Dublin was a top destination for Irish and European celebrities, and was enjoying a newly secured international reputation for the quality of its cuisine. High-end diners had to brush up on their French as coq au vin and blanquette de veau replaced the traditional meat and two veg on restaurant menus.
Some 25 of the 550 restaurants belonging to the Restaurants Association of Ireland have now shut down because of the recession, according to the body's chief executive, Adrian Cummins.
"The corporate market has shrunk and we will see more contraction, unfortunately," said Cummins, who also blames steep value added tax (VAT) rates and minimum wages that are higher than in other European countries, as well as high rents, and the excessive cost of importing foodstuffs.
Most catering businesses are operating on a knife edge because cash and credit in Ireland are in historically short supply. The country has been in recession since the second quarter of 2008 and Ireland's Economic and Social Research Institute predicts the economy will contract by 14 percent by the end of 2009.
Everyone is suffering. The country's biggest spenders, the property developers, owe billions of euros. Building contractors, architects and realtors sit idly in their offices. The over-extended banks aren't lending money. Thousands lose their jobs every week. High earners in the government, the media and business are being forced to accept pay cuts of up to 20 percent. Every worker and pensioner in the country is subject to a punitive government "levy" on top of higher taxation, all to pay for a multi-billion-euro bailout of Irish banks.
Disposable income in Ireland is almost an oxymoron, and few people can afford to continue splashing out on overpriced pink champagne or tiny masterpieces of French cuisine on oversized plates.
Adrian Cummins says he wants the government to help the catering industry survive by lowering the VAT and minimum wage rates, and taking other measures. Otherwise many more establishments will go the way of Reynards night club, unable to pay their debts and keep their doors open.
The cash-strapped government is unlikely to heed his appeal, though the top politicians this month nearly lost one of their own favorite eating places, the Town Bar & Grill on Kildare Street, a few paces from the parliament building. Suppliers of the popular restaurant revealed on a radio call-in show that they hadn't been paid. The Town Bar & Grill was saved at the last minute by a regular diner who invested 500,000 euros (he must really like the food), but under the rescue package the suppliers will still only get 20 percent of what they are owed.
There are still scores of good restaurants and clubs in Dublin, and old reliables like Roly's Bistro near the American embassy in Ballsbridge continue to pack them in every evening. But nothing is certain anymore. Dublin's largest pub chain, Thomas Read Group, which owns a dozen popular bars including Lincoln's Inn, which is known for its connections to James Joyce and Nora Barnacle, is in receivership -- the Irish equivalent of Chapter 11 of the U.S. Bankruptcy Code. People are buying cheap booze in supermarkets and drinking at home.
The summer tourist who does have a few extra dollars and wants a high-end meal might be tempted to accept the recommendation of www.tripadvisor.com to head out of the town center to Mint in the suburb of Ranelagh, a really top-end joint which under Dylan McGrath, winner of the "Best Chef in Ireland" award for 2008, gained a coveted Michelin star last year. Alas, Mint failed to reopen after the Easter break in April, leaving a fistful of unpaid bills, despite the high prices it charged. (I went there once for a special occasion and was billed the equivalent of $25 for a glass of champagne.)
Lonely Planet is also having a hard time keeping up with the changing Irish restaurant scene. Its Dublin restaurant website continues to recommend Rhodes D7 on Capel Street for its cheddar rarebit and roast cod with lobster champ, but if you go there and peer through the windows, all you will see is a locked dining room and a few empty and dusty wine bottles.
Popular in the Community