DUBLIN — Three weeks before Ireland's historic vote on whether to legalize abortion, which happens Friday, I sat in a noisy pub here with Gavin Sheridan, an Irish data journalist and transparency campaigner who has closely followed the referendum. Sheridan fancies himself something of an election-whisperer, having predicted Donald Trump's 2016 victory after a road trip through West Virginia, Pennsylvania and Ohio, and he spoke with an ominous urgency about the coming vote.
The conventional wisdom may have it wrong, he worried. The polls suggest the referendum will be an easy walk for abortion rights supporters. A recent survey showed 56 percent of voters said they'll vote "yes" to repeal the 8th Amendment ― a near total ban on abortion, except to save the life of the mother ― while roughly a quarter (27 percent) said they'll vote to keep the ban in place.
But Sheridan wasn't convinced. The "no" side, he explained, was running a much stronger and better-funded digital operation. Money was pouring into its coffers from God knows where. Irish voters were being bombarded with anti-abortion ads on Facebook and Youtube, some of which were carefully targeted at undecided voters. If you knew where to look, you could discern the fingerprints on the "no" side of American anti-abortion groups and some of the same firms who contributed to the surprise outcomes in the Trump election and Brexit.
He walked me through one example. An anonymous Facebook page and website called "Undecided on the 8th" purported to offer voters neutral information on the referendum. But its purpose was to entice undecideds to identify themselves so that anti-repeal groups could target them before the vote. Sheridan traced the origins of that page and was able to link it to at least two U.S. Catholic groups ― The Community of St. John and New York Franciscan Friars of the Atonement.
Facebook and Google tried to crack down on foreign influence in the Irish referendum last week, banning all ads on the issue from outside Ireland to "help ensure a free, fair and transparent vote." But those decisions haven't stopped U.S. groups from helping out behind the scenes. Storyful, a Dublin-based social media intelligence agency where Sheridan used to work, reports that only 37 percent of digital ads for the anti-abortion rights campaign are being managed solely from inside Ireland, compared with 81 percent of ads on the abortion rights side.
Sheridan was nervous, and so were the leaders of the pro-repeal campaign.
"I'm a very optimistic person, and I always think we'll win this if we do the work," said Colm O'Gorman, executive director of Amnesty International Ireland, in an interview before Facebook and Google handed down their bans. "But there's a lot of concern about the impact of a very, very, very well-resourced and targeted digital campaign being launched by the other side, and we're really anxious about it. There has been a big concern here, understandably ― given what we saw in the last U.S. general election and in the Brexit campaign ― about influence, and how influence might be exacted online in quite disingenuous ways."
"The indication is that there are huge amounts of money now being spent by the 'no' side online, both by the official campaign but more significantly by people outside the country."
The pro-repeal campaign in Ireland has had to raise money largely from inside the country, especially after the country's electoral regulator earlier this year forced the "yes" effort to return a $23,450 donation from U.S. billionaire George Soros' group, Open Societies Foundation. Ireland has a law against foreign spending on local political causes. But so far, the Standards in Public Office Commission has yet to ask the anti-abortion side to return any foreign donations or to stop the flow of help from foreign groups.
"The indication is that there are huge amounts of money now being spent by the 'no' side online, both by the official campaign but more significantly by people outside the country," O'Gorman said. "They've done a huge amount of work over the years raising money in the U.S. We're looking at what we can do, and how we can scale up what we're doing online, but we would never have that kind of money. It's just not going to happen, because we are generally much more transparent, accountable and open about our funding. We don't fundraise unethically, and that does put us at a disadvantage."
The "Save the 8th" campaign leading the anti-repeal effort in Ireland did not respond to a request for comment.
Steven Aden, general counsel for Americans United for Life, said U.S. activists are meddling in Ireland's vote because the country is considered the crown jewel of the global anti-abortion movement.
"We don't want to see Ireland go down the road of elective abortion like the United States has," Aden told me. "Ireland is at the top of a very slippery slope, and we're at the bottom, unfortunately. We're concerned this would accelerate a trend of imposing abortion-on-demand on unwilling nations in the name of women's health."
When I asked him how exactly AUL is involved in Ireland's referendum and how much money it's spending, Aden hesitated to answer. "There's not a lot I can tell you," he said. "Most of it goes on behind the scenes. But we're certainly encouraging our friends in the Irish Republic to vote wisely."
Offline, even three weeks before the vote, the referendum had a physical presence in Dublin. It was impossible to walk 20 feet here with encountering both a "Vote Yes" and a "Vote No" poster on every street corner, often stacked one on top of the other.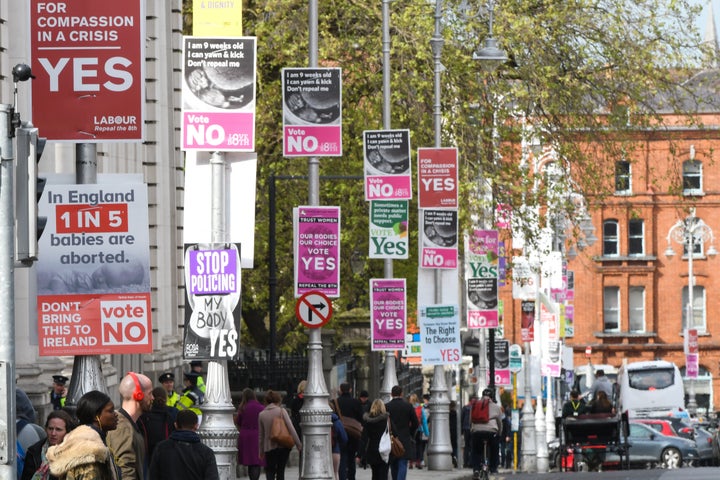 On a gray and misty afternoon earlier this month, a handful of students from Trinity College wearing "Tá" pins — the Irish word for "yes" — stood on the sidewalk of the city's main thoroughfare asking passersby if they were registered to vote.
Drivers would occasionally beep their horns and flash a supportive thumbs-up. An elderly man waited for a break in traffic and crossed the street to approach the volunteers. "I know you're presuming I'm going to vote 'no,'" he confided in a low voice. "But I have daughters, granddaughters. I'm voting yes."
The referendum campaign was unfolding on an intimate personal terrain. The amendment banning abortion almost entirely passed in 1983 by a 34-percentage-point margin. Thirty-five years and 10 governments later, Irish women are still forced to travel to the United Kingdom for abortions or illegally obtain abortion pills online.
While the campaign to repeal the amendment has been ongoing since its passage, these latest efforts were born in the aftermath of Savita Halappanavar's 2012 death, from a septic miscarriage; doctors had denied her an abortion, figuring that her life was not in danger.
One of the Trinity students I met on the sidewalk, Kevin Keane, 23, noted a recent report that three Irish women a day order abortion pills illegally to induce the procedure on their own.
"That's the big thing for me, that three women today are having abortions in their bedrooms and bathrooms, and no one knows this is happening," he said. "They'll go to work tomorrow in excruciating pain, mental anguish, and we're just pretending it's not happening."
Two of his best friends had traveled to Liverpool to get abortions, Keane said.
"It just seems a bit absurd to me that we essentially have abortion in Ireland already," added Aisling Grace, 20. "The 8th Amendment is a continuation of this Irish culture of burying our heads in the sand and ignoring social issues."
"Sometimes a private matter needs public support."
Not everyone was so eager to speak about the issue. It was difficult to find a "no" voter or even an undecided one willing to speak to me about the referendum. One 65-year-old, who asked that I leave out his name, told me he is still emotionally conflicted about which way to vote.
"There are so few things that make Ireland unique anymore," he said. "We don't allow abortions, and our policemen don't carry guns. If you start changing those things, what incentive would people have to come visit our country?"
Ireland's alleged uniqueness may be on the ballot, but the dynamics of the campaign itself were anything but novel. In addition to foreign influence and a sophisticated digital targeting effort, Sheridan saw other parallels to the U.S. presidential election. The abortion rights side seemed to be struggling with messaging, in the same way that Hillary Clinton's "Stronger Together" failed to resonate with voters in the same way as Trump's "Make America Great Again."
The pro-repeal campaign had struggled to come up with a slogan that's as simple and effective as the inflammatory messages being used by the other side. Framing abortion as murder in a deeply Catholic country is an easy way to tell the story.
"If killing an unborn baby at six months bothers you," read one poster I saw, "vote no."
"Six months is horrific," read another.
The "yes" posters are far less direct.
"Vote yes for compassion in a crisis," said one. "Sometimes a private matter needs public support," said another.
Progressives had little problem legalizing same sex marriage in Ireland's 2015 referendum using the message "love is love." Explaining why people should be compassionate toward women who don't want to continue their pregnancies and should value a woman's life over a developing life, O'Gorman said, "is a more complicated story to tell. And in a referendum, it's the more simple stories that can pull through."
The anxiety on the left may simply be a hangover from 2016. But having lived through Brexit, no one is taking a win for granted.
"There is undoubtedly overwhelming public support for a legal and medical framework for abortion that would require the repeal of the 8th Amendment," said O'Gorman. "Whether or not the 'no' side will between now and then manage to confuse and frighten and disrupt people's commitment to understanding that remains to be seen."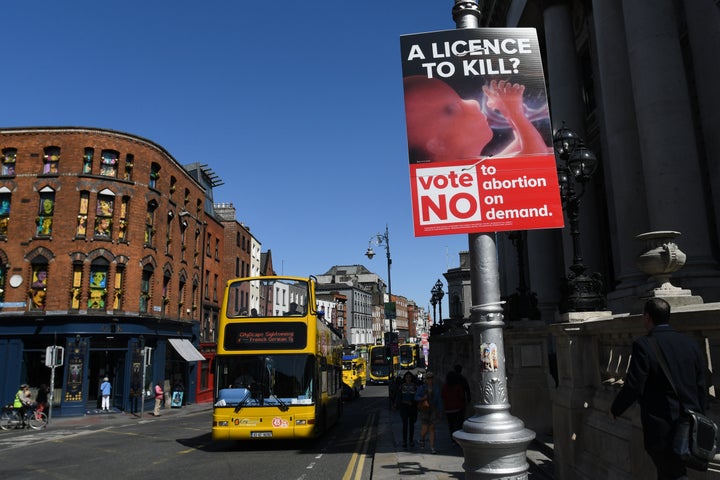 CORRECTION: A previous version of this story misstated Colm O'Gorman's last name as O'Gordon.
Popular in the Community