This article comes to us courtesy of InternationalLiving.com, the world's leading authority on how to live, work, invest, travel, and retire better overseas.
For over 300 years only the locals knew the secret. Even now, despite being recently opened to the public, the deserted medieval town of Newtown Jerpoint is an off-the-trail gem.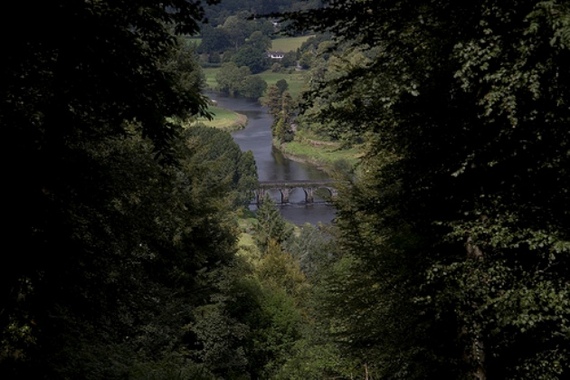 You'll find what remains of the town near the grassy banks of the River Nore in County Kilkenny, Ireland.
Photo by Hugo Guiara, InternationalLiving.com
On the grassy banks of the River Nore in County Kilkenny, Ireland what remains of the town lies across the road from the imposing ruins of Jerpoint Abbey. The abbey has been a big attraction for years, with its elaborate carvings and intact cloister (entry $4). But the town was a mystery...until now.
Founded in the year 1200 by conquering Norman lords, the town had 27 houses, a court house, a woolen mill, a tannery, a brewery, and a church where the bones of St. Nicholas of Myra (also known as Santa Claus) are reputed to lie. Pilgrims came to pray at his shrine and wet their whistles in the town's 14 taverns.
The story goes that two knights called Den and De Frainet took the saint's bones from the basilica in Bari, Italy, on their way home from the Crusades. They buried the remains in Newtown Jerpoint, where the ivy-clad church still stands. In its shadow you'll find a grave slab with the saint carved full length, and on either side of him, the faces of the two knights who brought him here.
Joe O'Connell is the best man to tell this story and the many others associated with the site. He and his wife Maeve live in the 18th-century Belmore House above the town's remains. After Joe's entertaining tour ($10 per person), you'll find Maeve on hand in the house tea rooms with home-baked scones. Joe also has his collie, Cap, trained to herd geese, and it's worth asking for a demonstration.
It wasn't always so civilized around here. This was frontier territory in the 14th century, and in its heyday the town was fortified. Irish clans like the Kavanaghs and Kennedys regularly swooped down from the Blackstairs Mountains.
As well as the Irish, the Black Death ravaged the town. But it was the dissolution of the monasteries by Henry VIII in 1540, and the loss of the bridge in a flood, that left it deserted. It became a hamlet and finally died out altogether.
Today the street plan, house foundations, and the remains of a wealthy merchant's tower house are among the most obvious remains. See: Jerpointpark.com for more information.
Popular in the Community