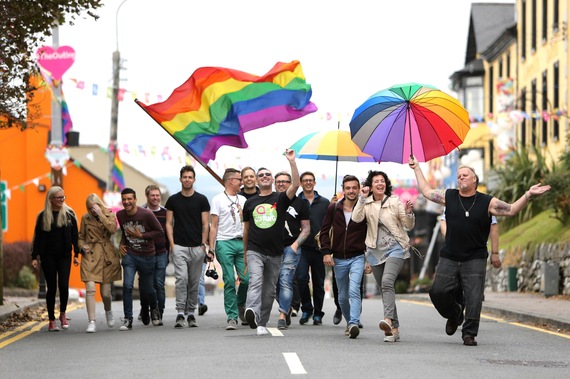 Karel (far right) and Eddie McGuinness (center) lead off a group of GLBT media figures from across the globe to begin The Outing in Lisdoonvarna, Co. Clare, Ireland Photo: Failte Ireland

They say love can be found in the most unlikely of places; well, if that's the case, then Ireland has a festival for you if you happen to be a member of the LGBT community. Called The Outing, this music and matchmaking festival in the Lisdoonvarna, Co. Clare, in the West of Ireland, a town of 800, and it is the last place one would expect to find gay men, women, trans, drag queens -- all sorts of people from all around the world having a ball and looking to fall in love.
Yet that's exactly where I found myself Oct. 2-4 with a group of other members of the international LGBT press for what is quickly becoming one of the most offbeat, and festive, LGBT events in the world. Started by entrepreneur, PR maven, chat-show host, presenter, and publisher (yes, he's done it all) Eddie McGuinness, along with Rory O'Neill (the European drag sensation known as Panti) it's quickly become the place to be for single people from all over the world looking for love. So, how, exactly, did we end up here marching down the street with a 10' rainbow flag?
Well prior to getting to the West, we began in California; myself and my two-man film crew of Brandon Riley Miller and Steven Lynn. We will be filming the premiere episode of Season Two of my Free Speech TV show Karel: Life In Segments.
This trip begins as any other, trying desperately to fit broadcast and play clothes into one bag, one carry-on and one personal item since airlines now think we should be naked everywhere we go or buy stuff when we arrive. I even have a hand-held baggage scale so there's no $100 or more surprises at the airport for an overweight item.
It's United from LAX to SFO, a quick and easy enough flight, and then Aer Lingus from SFO all the way to Dublin nonstop. It's a 10-hour hop, and while the airline does what it can, or at least the staff, let's be real, anything other than Business or First Class is steerage these days on almost any airline: the seats are always too small, there's never enough overhead space or legroom, the person in front is too close... very few airlines care about the true comfort of their coach passengers anymore and most treat them almost like a bother. Aer Lingus is a little better than many, the food is nicely presented, the entertainment options varied, the staff courteous and it maintains affordable pricing, but space is what most people need more of in coach -- not ginger ale -- and no airline, save Virgin (which is premium) really provides it. It's the price we pay for the experience, the journey. And the price we pay for not demanding better from all air carriers, who all seem to be on an austerity package these days; life behind the most classist curtain in the world, the one that separates the nice part from the rest, is now just something to endure as best as one can no matter the airline.
But it doesn't matter, because you're going to Ireland and once there the 10 hours is quickly forgotten, wiped away by one of the most welcoming cultures and beautiful islands in the world.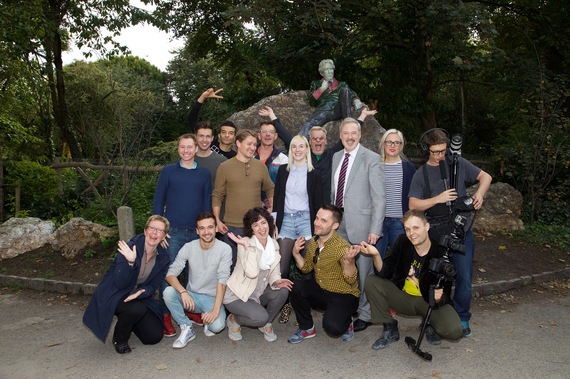 A Group of LGBT media figures from around the world arrive in Dublin for a historic walking tour, starting at the monument to Oscar Wilde. Photo: Failte Ireland
We land in Dublin and are whisked to the Morgan Hotel in the Temple Bar. It's a lovely boutique style hotel, right in the thick of the party. Now, if you like being right in the thick of the party, this is the place; the rooms are elegantly appointed, the breakfast / bar dining area trendy but beautiful, it's almost like a modern art museum that functions as a hotel.
Temple Bar is the place for drinking and dining, definitely the most popular in Dublin. I tend to visit once or twice while in town but stay out of it for the most part. I'm 52 now, and drinking age starts at 18 in Ireland; don't get me wrong, I can club with the best of them, but this is the place youth from all over Europe come to watch a match, have a pint or four, and be in Ireland. It gets crazy beyond belief, while just around the edges are other hotels, eateries and pubs that still have the feel but not quite the crowd. Even Bono co-owns one right across the River Liffey, The Clarence Hotel, and we were taken to it for the Liquor Rooms, a downstairs speakeasy-type bar one would expect Bono to co-own.
Avenue is the latest restaurant from Nick Munier. Mr. Munier is co-presenter of Master Chef Ireland as well as one of the stars of Hell's Kitchen in the UK. The food is presented like it's right off of television, yet affordably priced for the quality and style of the cuisine. And the waiters are easy on the eye as well.
Panti joined us at dinner to discuss the Outing and what we could expect in the West.
"Lisdoonvarna has been doing the matchmaking festival for, well, forever," he laughed. "People would come down from the surrounding hills or in from the other counties in the west each year for a matchmaking festival that lasts six weeks. Well, three years ago Eddie (McGuinness) and a few others decided it's time to take over the last weekend and focus on matching up members of the LGBT community!"
That's a big jump for the West and big jump for a country that just decriminalized homosexuality in 1993. Since then, there's been the marriage referendum, in which McGuinness and Panti would play an enormous part, where the country voted and became the first in the world to legalize same-sex marriage by such a vote.
In fact, Ireland's gay history is a violent one, plagued with violence against members of the LGBT community; it's a story that's played out in country after country, and one activist Tonie Walsh witnessed firsthand.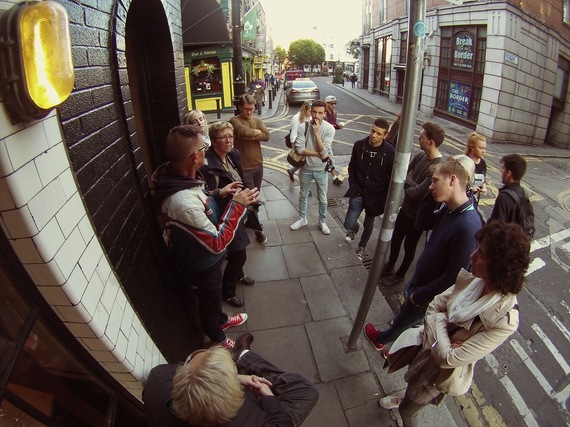 Tonie Walsh gives visiting media figures a historic GLBT history tour of Dublin. Photo: Brandon Riley Miller
"I think the thing that perhaps is closest to your Stonewall would be the Declan Flynn murder in September of 1982," Walsh told the group of journalists as we walked around Dublin on a LGBT walking tour headed by Walsh. "He was brutally murdered and the defense of the assailants was basically we were doing the city a favor by cleaning up the perverts from the park," he went on, the pain of the memory evident. "The judge accepted the defense, issued suspended manslaughter sentences and in response, we had a rally, The Fairview Park Protest March on March 19th, 1983, the following year, one of the first of its kind; this march is where we rallied through the streets, right past the assailants, to show our outrage. That incident sparked, and continued to fan the flames that had been burning and helped lead up to the decriminalization, after over 330 years, of being gay in Ireland finally in 1993."
Walsh was quick to point out another friend, Charles Self, an RTE Employee, was also stabbed to death in 1981; his murder is unresolved to this day but led to the founding of the Dublin Lesbian and Gay Men's Collective.
Walsh is a survivor of the movement, someone who, along with a small group of others, helped start community centers, helped raise awareness and helped begin showing to Ireland, and the world, that there is a heritage, a GLBT heritage in Ireland, of Irish gay men, women, trans and more.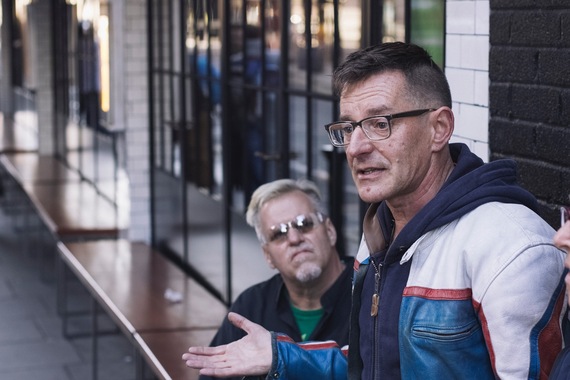 Tonie Walsh with Karel in background in Dublin on the GLBT Historic walking tour. Photo Brandon Riley Miller
"The idea that we are going out West tomorrow to the Outing, well, it's just incredible," Walsh continued. "Before, you just weren't visible in rural Ireland if you were gay. You just couldn't be. You stayed hidden. This now gives those people a place to go, to be, to come out and to be recognized," he added.
Our fight is like so many other in so many other countries, then, and now. And as Ireland begins to come into the new age of LGBT rights, we must remember those in Russia and other places that are still horribly oppressed, remember what it was like for us, here, and stretch out our hand in support, friendship and even in offers of asylum for those that need it based on gender or sexuality issues.
Yes, he still very much has a mission, this marvel of activism in Ireland.
Panti has opened a club on Capel St., so many go off for a night cap. My Day One ends with the crew and I checking in and calling it a night. In the morning, it's on the coach to Lisdoonvarna and The Outing, with a few sights along the way.
I sit at the Morgan and reflect on all Walsh, McGuinness and Panti have told us just in one day. I look at Dublin, a city I've seen 13 times over 20 years, and I think, right under my nose, as I was coming here, this place changed greatly, quickly, positively for the GLBT community. As the Pope is meeting with Kim Davis in my country, the sign of bigotry, in my country, here, the spirit of welcome has been sent to the world's gay community, and a sense of home and acceptance is being felt by the members of Ireland's GLBT community because of all this movement. It's a miraculous thing to be not only a witness to history, but to be experiencing it firsthand.
I turn on the TV and hear all the news America isn't: How we are basically responsible for the refugee crisis in Syria and Afghanistan that Europe is facing, how our Middle East Policy has failed and how the "era of American exceptionalism" is coming to an end. I hear bewilderment about our gun laws as they report on yet another mass shooting in my nation and I turn it off, knowing all those topics will be there later.
But tomorrow, it's going to be #AllAboutLove and one crazy bus trip to the West.
Next: The Celtic Rider to the West and Lisdoonvarna's The Outing !
To hear this or other interviews get the FREE Karel Cast App, subscribe in Spreaker to the Podcast or simply go to the most incredible website on all the planet, save this one, karel.media
Popular in the Community