"IREX never imagined that anyone could construe our program in Iran to be inconsistent with any interest of the Iranian government," said Paige Alexander Vice President of the U.S.-based non-profit regarding the arrest and imprisonment of the organization's employee, Silva Haratonian, last year in Iran.
Silva Harotonian, an Iranian citizen of Armenian descent, held a modest position with the International Research & Exchanges Board (IREX), which focuses on international education, academic research, professional training and technical assistance.
Her work and life were interrupted on June 26, 2008 when she was detained by Iranian authorities and charged with participating in an effort to overthrow the Iranian government through a ''velvet revolution." On January 19, 2009, she was sentenced to three years in jail.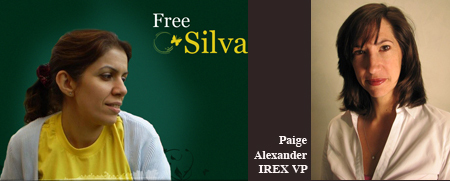 In an interview with me for the Huffington Post, Paige Alexander explains the details of IREX's activities in Iran, the organization's efforts to have Haratonian released and IREX work in the Middle East.
What was Silva's position in your organization? For how long? Silva was hired in December 2007 to work for IREX on a Maternal and Child Health Education Exchange programs called the MCHEEP program (see http://www.irex.org/programs/mcheep/index.asp) She responded to an open advertisement in the Yerevan papers and was chosen as the administrative person to work on this project. She began her work in December and has remained employed with us while she sits in the Iranian jail.
What have you done to support Silva so far? Legal support? Sending letters to the Iranian authorities?
IREX has been working closely with the family and has taken responsibility for and supported all elements of Silva's legal and outreach efforts. We have coordinated with a number of different lawyers on this case and we have been working tirelessly to bring attention to Silva's plight through the formulation of the www.freesilva.org website, press outreach and other public, private, religious and diplomatic efforts. Unfortunately, to date, no responses have been received from any of our letters sent over the last 9 months to authorities in Iran but we remain hopeful that one of the avenues we have all worked to open might be able to deliver our requests.
What is the cause of such misunderstanding, in your opinion?
It is very difficult to say. By way of background, IREX (International Research & Exchanges Board) is a non-governmental not for profit organization with a 40-year history of international and academic people-to-people exchange programs. Our work has been highlighted by successes in Muslim-majority countries such as Egypt, Jordan, Kosovo, Lebanon and Morocco. These programs included close cooperation with appropriate authorities in those countries to the mutual benefit of the United States and people of the participating countries. Having had IREX attend meetings in Iran at the government's request before, we believed that this modest program was a proper vehicle to start reaching out to Iran in a non-controversial way. IREX never imagined that anyone could construe this program to be inconsistent with any interest of the Iranian government. In fact, since the purpose of the program was to have Iranian and American participants enhance their knowledge of best practices in this field, IREX believed this was completely consistent with Iran's national interest. Top Iranian government officials have expressed support for increased contacts between Iranians and the American people as a "useful step for better understanding between the two nations", as stated this summer by Foreign Minister Manouchehr Mottaki. IREX attempted to model the MCHEEP program on other programs, which we believed had been sanctioned by the Iranian Government.
What are your projects in Iran and how did you get permission to work there? I mean by Ministry Of Interior (MOI) or Ministry Of Foreign Affairs (MOFA)?
IREX had numerous academic programs with Iran over the years - mainly centering on issues such as the Caspian Sea and other geopolitical issues, which affected the region and it's relations with the former Soviet sphere. Most recently, IREX was invited by the Iranian Government to attend a tour with leading American university administrators to look at the university system and discuss ways to cooperate more closely. IREX was then invited back to deliver a paper in 2004 on Central Asia on related energy issues with the region. This conference was through the Ministry of Foreign Affairs. For this reason, as well as other promising overtures, IREX had no reason to believe the program Silva was working on would have been construed in any negative fashion by the authorities.
How did you find out about her arrest and what was your organization's reaction to it?
We found out about her arrest when our Yerevan office got a call from a friend of hers who said she had been picked up. Silva had been set to come back to Yerevan and asked to stay for a few extra days to see some friends. She was allegedly picked up while having tea with this friend in her apartment. IREX staff are heartbroken about this and deeply concerned for Silva's well being. We immediately reached out to the family and have been in daily communication with them to try and bring the world's attention to this matter.
Popular in the Community