Model Irina Shayk is reportedly suing GQ Spain for Photoshopping her to be completely nude in its latest issue. ARC NY Talent PR (that's Lorenzo Martone's agency) sent to us the following statement from Gael Marie, Managing Director of Elite Model Management Spain:
Supermodel Irina Shayk is the victim of "photoshop" and breach of contract over photo approval in GQ SPAIN.

Model Irina Shayk is a victim of photoshop and GQ's Spain negligence in her recent cover, editorial and feature in the magazines December issue. The intimissimi ambassador dawns the cover in an Intimissimi lingerie body suit but unfortunately was photoshopped to appear naked in 3 images of the 14 page spread.

In every image photographed Ms. Shayk was dressed in lingerie in the artistic and tasteful shots done by famed photographer Vincent Peters but due to negligence on GQ's part it seems as if Ms. Shayk "poised" for pictures entirely nude, which is false. A contract was signed on behalf of Ms. Shayk by Elite Model Management where she was to have approval of the interview, cover and images and was refused that right by the publication. Ms. Shayk was not nude and did not approve these images. Irina Shayk NEVER saw the images, cover or caption that was used in GQ Spain.

Futhermore, in an effort to sell more magazines SPAIN GQ printed "Want to see Animal Irina Shayk nude?" these kind of statements are not only not true but also defamatory towards Ms Shayk's persona and image this lack of professionalism and neglect towards the future of Ms Shayk's modeling career in an effort to sell magazines is not only shocking but unacceptable from such an established and prestige publication as GQ.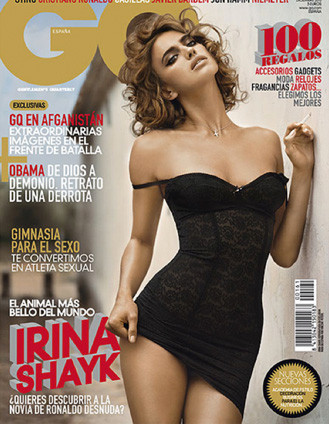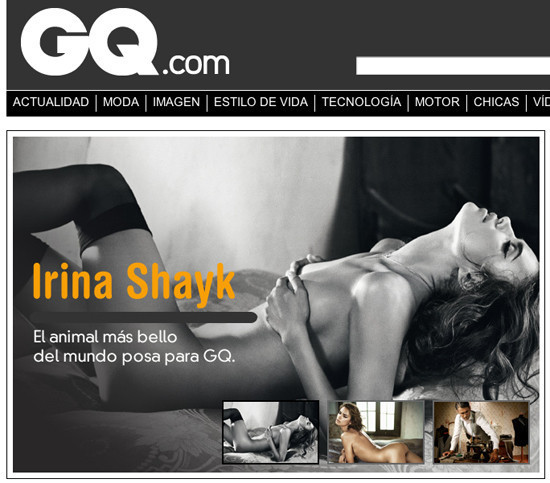 WATCH footage of Irina from the shoot. She spends a lot of time talking about how tasteful she expects it will be:
Related