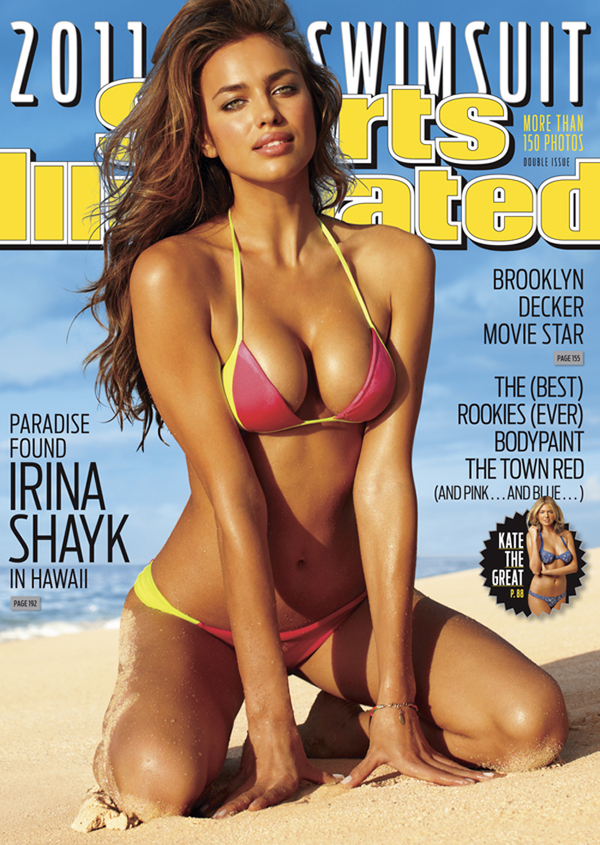 (Bjorn Iooss/Sports Illustrated)
Shayk appeared on "The Today Show" this morning. When Matt Lauer asked about her relationship with Cristiano Ronaldo, she said "You can ask, but I wouldn't respond. We Russian, we keep secrets." She also explains that her last name is actually Shaykhlislamova, but she shortened it.
WATCH:
Last night some of the swimsuit models, Irina among them, appeared on "The Late Show with David Letterman" to do the top ten list. On his show Monday night, Letterman revealed the billboard of the cover near Times Square...except that the taping happened in the afternoon, and a nearby office worker had already taken a photo and tweeted it. See that story below. But when the taping happened and it was still a surprise, Shayk burst into tears.
WATCH:
Last year Shayk sued GQ Spain, claiming that they photoshopped her to appear nude when, she says, she was actually wearing lingerie. Her agency, Elite Models, also took issue with the cover lines: "In an effort to sell more magazines SPAIN GQ printed 'Want to see Animal Irina Shayk nude?' these kind of statements are not only not true but also defamatory towards Ms. Shayk's persona and image."
Previously, on 2/14:
Even though it's not technically going to be announced until tonight at midnight on the "Late Show With David Letterman," this year's Sports Illustrated Swimsuit Edition cover girl is Russian beauty Irina Shayk.
Here's the photo Rana Wardlaw took of the billboard outside her office and then tweeted. "I saw it from my office window," Wardlaw says. "I work at a media agency called Starcom Worldwide. They unveiled the billboard for a few minutes to tape it for the Letterman Show and then covered it back up. I guess they didn't cover it fast enough!"
*SCROLL DOWN FOR VIDEO AND MANY MORE PHOTOS*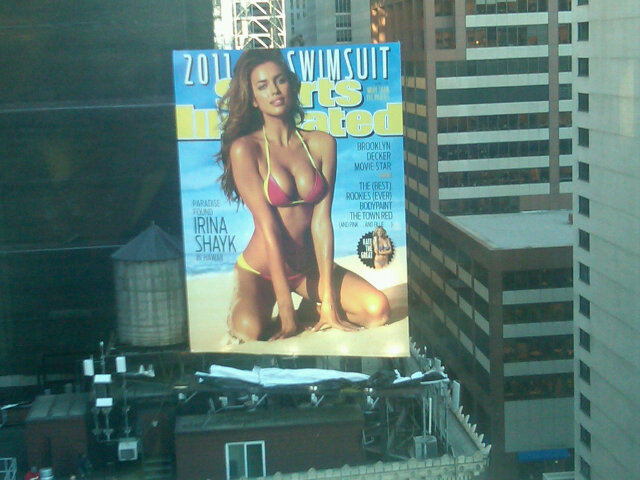 The 25-year-old is dating soccer superstar Cristiano Ronaldo. Here are some other photos of the suddenly very super model.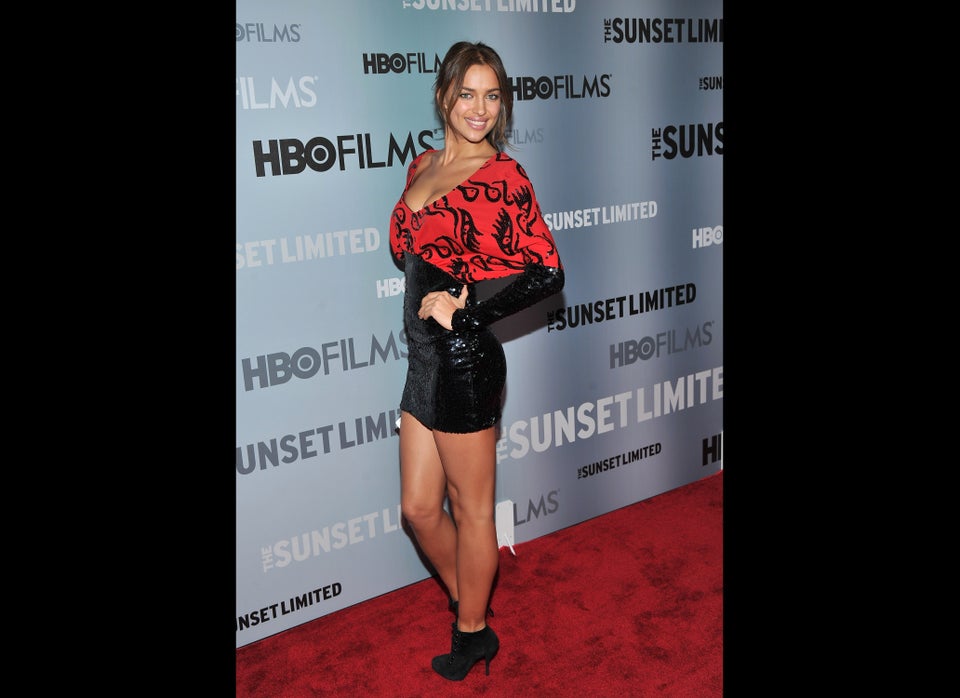 COED Magazine took this photo with Irina outside the Letterman studio this afternoon.
Irina Shayk was born on January 6th in a small town called Emanzhelisk in Russia. A village so small its not even found on the map. After attending a modeling class in 2007 Irina became the face of Intimissimi lingerie. "Irina is perfect fit for the brand with her body of a goddess and Mediterranean looks."

The same year Irina received international recognition when she appeared in the prestigious Sports Illustrated Swimsuit Edition of 2007. Since 2007 she has appeared every year in the SI swimsuit issue. Irina's work has been featured in major ad campaigns for La Perla, Lacoste, Paciotti 4US, Guess, Germaine de Capuccini, Beach Bunny and Armani Exchange.

She was a "Guess Girl" for 3 seasons, embodying its philosophy "Sophisticated. Feminine. Unapologetically sexy."

In 2010 Irina became the face of Armani Exchange for 2 seasons, appeared on the covers of over 10 international magazines is currently a brand ambassador for Intimissimi and was named the Top International Model of the Year by Conde Nast in Spain.

Irina currently divides her time between New York and Europe while spending time donating to her charity that helps children and families in need in her homeland of Russia.
Get ready to see a whole lot more of her.