"I don't live to get dressed," Iris Apfel told me at the launch of her handbag line Tuesday evening, "I have other things to do." These are surprising words from a woman revered as one of the fashion world's hippest senior citizens. After designing makeup for MAC Cosmetics, jewelry for HSN, Alexis Bittar, and Yoox, and eyewear with Eyebobs, the irreverent 90-year-old decided that she did, in fact, have other things to do and designed a line of purses. "I'm crazy at 90 to be starting all of these new things," she said, "I don't make plans though."
Apfel celebrated her latest endeavor at The Empire Room, an oddly appropriate location for a woman who always delivers the perfect combination of contemporary and classic throwback in her looks. The collection, cheekily entitled "Extinctions," was inspired by Iris' own wardrobe, an amalgamation of bright colors, exotic prints and ornate accessories. She added another personal touch by including her favorite color, bright turquoise, in the lining of each bag. "I'm an accessories freak," the designer told me while wearing bejeweled plastic bangles on each arm, orange leather gloves and her signature thick-framed glasses. "My mother worshiped at the altar of the accessory and I adhered to her teachings."
Despite her devout words, don't think the trend setter is a dogmatist when it comes to fashion. "What would be too much for you may be not enough for me," she explained. "I don't like rules and regulations. Everybody's outlook should be individual. Some people are phenomenally minimalist and some people can carry a hat. You just have to experiment and spend some time at it. If somebody's going to tell you what to do, it's going to be pretty boring."
To make sure that each lady can find a bag that suits her personal tastes, her collection includes 12 styles available in Mongolian lamb, haircalf and snakeskin. "Some are wilder than others," she said. "I think they give pop to an outfit." But that's just one woman's opinion, according to Iris. "It's a philosophy," she explains, "I can't tell anyone else how to do anything because I don't know how it works for them."
Iris did have one general word of advice about when to purchase an accessory: "When you see it and fall in love with it. And you can afford it."
Check out some of Iris Apfel's fabulous looks and selections from her "Extinctions" handbag line below.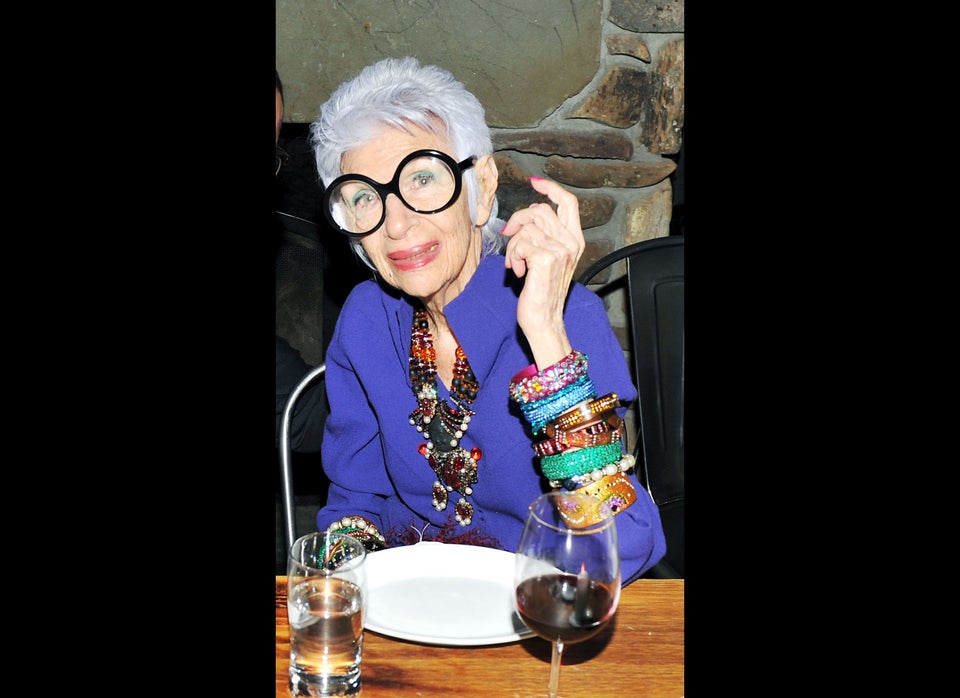 Iris Apfel "Extinctions"