But despite her status as a self-professed "geriatric starlet," there is one very modern trend that she has yet to master: social media. She doesn't go on Facebook or Twitter (which makes us wonder who we've been following all this time) and says "I swear on everything holy I do not know what's on the Internet about me." Anyone that does go on the internet knows that Iris is quite a star but this was never her intention. She says: "I never thought anything like this would happen to me, it's like insanity."
For someone who had "no [set] plans [for her career]," Iris has done well for herself. Though she started out in the fashion business (working for WWD briefly), she then discovered a love for textiles, which lead to her forming (with husband Carl Apfel) Old World Weavers, in 1950. (The company has one of the most impressive client lists ever, including nine different presidents.) Fast forward a few decades later, when she rejoined the fashion fold with an exhibit at the Costume Institute in 2005, then a MAC makeup line, a costume jewelry collection for HSN and a handbag collection. She even added "runway model" to her impressive resumé when she and Loehmann's hosted a joint 90th birthday celebration (in true diva fashion she requested two beefcake male models to walk her down the runway). Basically, her social life is much more thrilling than ours.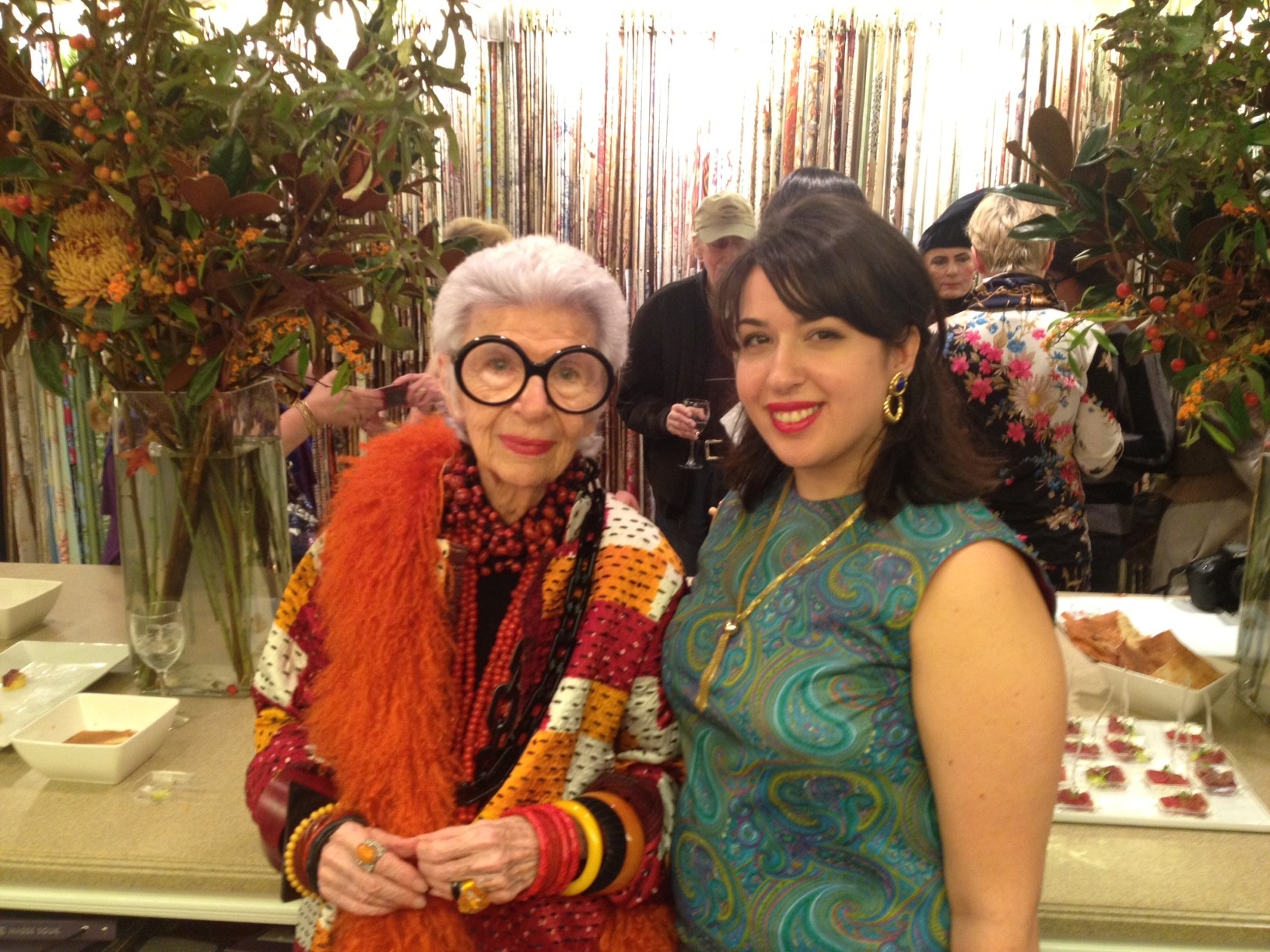 Iris and Brie
But for this "oldest living teenager" none of it is work. From a young age fashion has always been akin to a giant playground for her to play in and explore. This is a woman who believes getting up at 4 AM to scour flea markets is fun (and we can't argue with her there).
So how can you find your inner 'Iris'? No you don't have to don a pair of giant "O" shaped glasses to emulate the style icon. Actually, that's exactly what Iris doesn't want you to do. She says: "Great personal style is an extreme curiosity about yourself." Curiosity, after all, leads to confidence, which is one's best accessory.
Related