On Friday, the usual six o'clock crowd at Henri Bendel (read: well-heeled New Yorkers in head-to-toe black, with a smattering of tourists in sweatshirts) gave way to one in bright colors, bold glasses and even bolder jewelry.
Iris Apfel, the nonagenarian designer/model/documentary subject whose dynamic approach to style inspired that very moniker, was there to debut the fall/winter collection of her handbag line. Called "Extinctions by Iris Apfel," the purses come in a range of silhouettes constructed from leather, Mongolian lamb, snakeskin and haircalf, all with her trademark turquoise lining. The bags, which can be found at Henri Bendel and Bloomingdale's, retail from $370-640.
We spoke with Apfel about the her favorite hue, the story behind the line's name and, of all things, how to avoid looking like a...lady of the evening.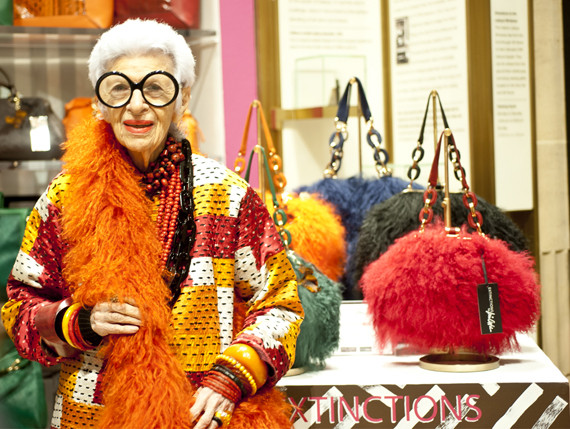 Photo by Raydene Salinas
We see that you're wearing that bright tangerine-hued purse from your collection. Is this your favorite model?
"That's what I would say!"
It almost looks like a boa! Can you tell us more about the material it's made from, Mongolian lamb?
"It's a beautiful material. The fur is gorgeous, long and shaggy. You can just shear the lamb and dye the fur."
How would you style this bag?
"Oh I would wear it with almost anything. It would be spectacular with jeans."
"Oh I always like flats. I don't like heels. With skirts or even some pants, heels can feel kind of...hookerish."
Can you tell us more about the design features of your handbags?
"There are plenty of pockets inside, so there's room for everything, even your cell phone. Each bag is lined in turquoise. It's my signature -- everything I do, that's my lining."
[As Iris shows us the logo fob on one of the handbags -- a sumptuous jade horsehair number -- she asks us if we know the story behind the line's name, 'Extinctions.']
"I met a designer [Lisa Nunziata] who was making bags that were inexpensive, but were so beautifully made -- right down to the lining -- that you would think it was a $3,000 handbag. So I rang her up and we started talking.
She explained that it was like that [so beautifully made] because she's passionate about what she does and creates. She said to me, 'As a matter of fact, we had a sales meeting and I was telling my people that I'm the last of an old breed.' So I said to her, 'Well, if you're the last of an old breed, I must already be extinct!'
We laughed and she asked me if I would do a collection for her, and I thought it would be fun. I said, 'Well, if we do a collection, then I think we should call it Extinctions!' So she mentioned it to a few of her friends, and everybody loved it.
Then if its called 'Extinctions,' and you need a logo, the person that comes to mind is a dinosaur. So we thought we'd do a dinosaur. We got about every book where we could find a picture of a dinosaur, and we couldn't find one that was pretty and we couldn't find one that was sexy! I didn't know what to do. So I went to dinner one night with Alexis Bittar, who's a great friend, and a friend of his. And the friend said 'You must be crazy, you're supposed to be the rare bird, what about the dodo?' And I said 'My God, that's brilliant.' So now, we have the dodo bird. You can take [the fob] off, you can put it on a keychain, you can hang it around your neck."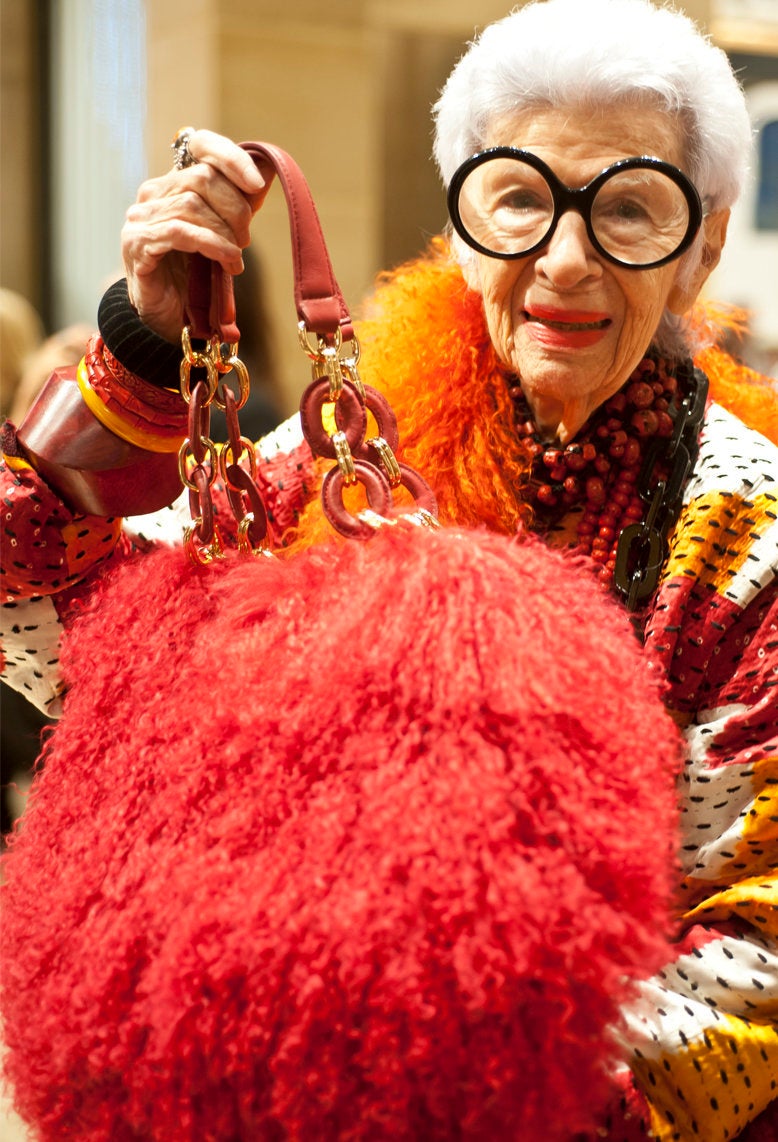 Iris Apfel's Handbag Collection
Popular in the Community