"Hoofing it" has now taken on a literal meaning, thanks to a German shoe designer and artist who practices fashion taxidermy.
Iris Schieferstein creates shoes out of the hooves of horses, stuffed doves and snake bodies (head included). The shoes have become quite controversial over the last couple of years, but supposedly they have support from the queen of extreme: Lady Gaga.
So how exactly does one make shoes out of dead animals? Well, Schieferstein first obtains carcasses from her Berlin butcher and spends a week removing any meat and bones from the animals. She then sets the skin around a shoe model, and from that point on, it's all Schieferstein's creativity: a zipper up the front of a horse hoof or the body of a dove atop a thin strap.
According to the Daily Mail, the designer, who has been doing this for 12 years, thinks combining fashion and taxidermy makes perfect sense:
"I love horses and I love shoes so I thought this would be perfect. Horses have a beautiful walk and I wanted to recreate that with my footwear."
Schieferstein's shoes go for about $5,500 (or 3,900 euros) but can only be worn a couple of hours at a time, because, surprisingly, wearing a horse's hoof can be a little uncomfortable.
While Schiferstein has gotten both negative and positive attention for her work, she isn't the only designer who practices fashion taxidermy. Reid Peppard has made hair accessories out of guinea pigs and mouse cufflinks.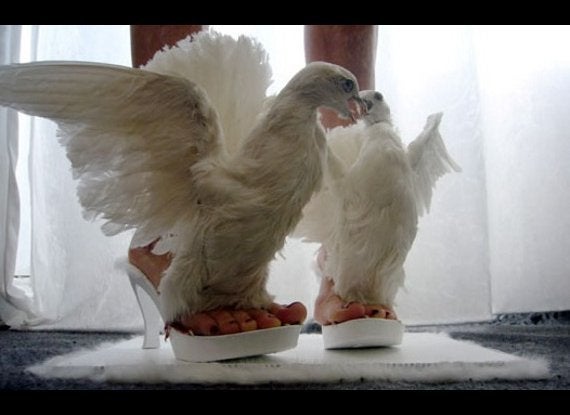 Related