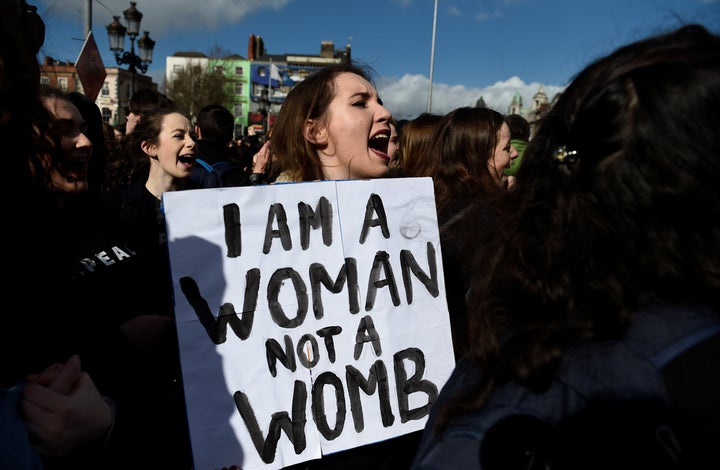 One anti-abortion group in Ireland is taking a new approach to shaming women who try to access the procedure. 
Because of the country's extreme regulations on abortion, many Irish women are forced to travel to the U.K. for their procedures, making the expensive and difficult appointment all the more arduous to access. According to the BBC, more than 3,000 Irish women a year make the trip to the U.K. to get abortion care.
Now, the Irish Centre for Bio-Ethical Reform (ICBR) has announced that it will protest at the Cork and Dublin airports, as well as in the Cork city center, with anti-abortion signage in an attempt to stop women from getting on the plane to have their appointments. This campaign is a part of the anti-abortion organization's "Abortion Education Project."
Representatives for ICBR told the Independent that the signs are meant to be "non-judgemental and non-polemical."
"This Public Education Display will consist of medical images of aborted foetuses displayed on vinyl banners with brief, content-neutral, identifying captions," ICBR said on Wednesday. "They are non-judgemental and non-polemical and offer no negative commentary concerning abortion, or the people who choose abortion, or the people who perform abortion." 
The group will also work with local crisis pregnancy centers, and try to convince women to seek support from a center instead of getting on their flights. Crisis pregnancy centers are known for using misleading tactics to convince women to keep their pregnancies, and recent research has found that when women decide to have an abortion, they are certain about the decision.
ICBR is planning the protest from July 29 to August 13, but airport officials in Cork and Dublin have both said that protests of any kind on airport property are not allowed.
However, the group still has every intention of protesting.
ICBR Director Jean-Simonis Engela told the Independent that he hopes the Irish police will protect ICBR's freedom of speech.
"It is our hope that [the police] will do what they can to ensure that we, the volunteers, are free from unlawful interference with our Constitutional right to freedom of speech," he said.  
Calling all HuffPost superfans!
Sign up for membership to become a founding member and help shape HuffPost's next chapter
BEFORE YOU GO
PHOTO GALLERY
23 Empowering Images From Poland's Huge Abortion Rights Protest