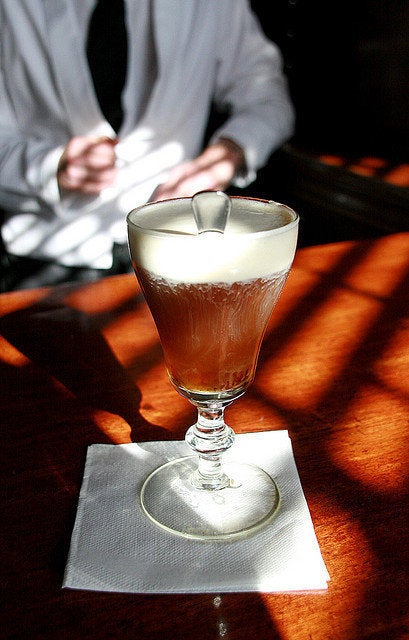 On Saturday, St. Patrick's Day, I will -- as always -- prepare a dinner of corned beef and cabbage, eaten with a fresh loaf of Irish soda bread smeared with Irish Kerry butter. Then I will light a (Cuban) cigar and sip a tall glass of Irish coffee and think back to the time when I helped to introduce this luscious drink to America.
In the mid-50s, when I returned to New York from my Korean war adventure, I opened a public relations firm. And my first client was a distinguished white-haired businessman named Col. Henry Kaplan, who lived in the posh Waldorf Towers. Among other things, he distributed several liquor brands... mainly White Heather Scotch and Bushmill's Irish Whiskey, neither of which I had ever drank or even heard of. I got the scotch off to a fine start when I learned that Joe E. Lewis, the raunchy stand-up comic, only drank that. When he opened at the Copacabana night club we had a huge party for him and the brand and it got tons of press. The Irish whiskey (which has an 'e' in the spirit name) was a tougher task. So Col. Kaplan suggested that I get on a plane and go to Ireland to visit the Bushmill's distillery there. When your top client suggest something, you do it... so I soon found myself at a small distillery in Ireland watching the whiskey being made. I wrote lots of notes, but no brilliant ideas sprang forth, and I headed home.
We made a stop at Shannon International Airport in Western Ireland because of bad weather, and I distinctly remember entering the bar with the other pasengers, all of us cold and miserable. In need of a drink, of course. The bartender smiled and said he had just the thing to make us feel better... and proceeded to make a dozen glasses of... Irish coffee. I had never seen or had one of these before, and naturally I was intensely excited... because he was using our Bushmill's Irish whiskey in the concoction. He told me that it was a drink invented by the former bartender there, a guy named Joe Sheridan. One of the passengers asked if it was Brazilian coffee, and the bartender said no... it was Irish coffee.
When I got back to New York, I told Col. Kaplan about this wonderful drink... and he informed me that a bar in San Francisco called the Buena Vista had been serving it for a few years and was their biggest retail user of the whiskey. I got on a plane and went to San Francisco with a thousand 'table tents' -- cards touting the drink and prominently displaying the Bushmill's name.
The bar owners told me that a travel writer named Stanton Delaplane had brought it there from Shannon and they had been serving it since November of 1952. They told me a secret to preparing it which made it even more magnificent. All I knew is that it was a tall glass of piping hot coffee, a jigger (or two) of Bushmill's Irish Whiskey, some brown sugar, and then topped with whipped cream. But the bar owners said that when they first tried it, it fell flat... until the then-mayor of San Francisco, George Christopher, who also owned a big dairy, told them to age the heavy cream for 48 hours and then drizzle it on top. Not whipped cream, aged heavy cream which would then float onto the brew and not dissolve into it. Strong black coffee, whiskey and one level teaspoon of brown sugar stirred into the coffee. Pour the aged heavy cream over the back of a spoon held over the glass... then you drink the coffee through the cream. Heavenly.
But I earned my hefty fee from the colonel with my next move, a phone call to a friend at Time magazine telling him about the drink. They sent a reporter and photographer to the Buena Vista, and the story about Irish coffee ran the following week. Pandemonium. We went from 15,000 cases of Bushmill's sold the previous year to 62,000 cases in the next six months. Bars and restaurants all over the country had taken up this delectable after-dinner drink... and I was a hero, for the moment. (A friend wryly said to me that the problem with Irish coffee is that it ruined three good drinks... coffee, cream and whiskey. I paid him no heed.)
The New York Times Food section on Wednesday ran an article which said that Irish coffee is something worthy of a toast..."the boggy funk of whiskey rising through an equatorial brew to meet a cool cloud of whipped cream... take care to sip your coffee through the cream, savoring the communion of cold and warmth, stimulation and intoxication. Ireland and America. Slainte." Begorra, yes!
To subscribe to Jay Weston's Restaurant Newsletter ($70 for twelve monthly issues), email him at jayweston@sbcglobal.net.

Popular in the Community