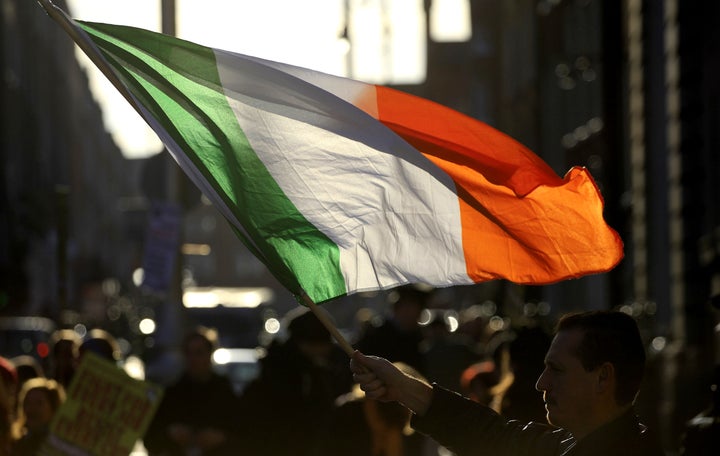 I will return to Ireland from my home in Singapore this week to attend the second Global Irish Economic Forum on Friday and Saturday. The Forum is an Irish government initiative to engage with the Irish diaspora in developing Ireland's global business and trade relations and to explore ways in which they can contribute to Ireland's economic recovery.
Like many Irish people abroad I am acutely aware of the difficulties Ireland is now facing. I am mindful of the urgent need to identify and take actions that address both the short and long-term needs of the country. We should remind ourselves that long-term planning and investing in particular were critical in transforming Ireland into a modern, affluent economy in a single generation.

Before deciding to travel to Dublin this week I spoke to several invitees to the first Forum two years ago. One such person was Trina Vargo, founder of the U.S.-Ireland Alliance. Having spent 11 years as a foreign policy advisor to the late Senator Edward Kennedy, Trina is one of the best connected Americans where Ireland is concerned and has dedicated much of her career to strengthening Ireland's relationship with the U.S. in education, business and the arts.
Although she made no public comment at the time, she declined the invitation to the first Forum for reasons similar to those expressed by Ryanair CEO Michael O'Leary -- that too much time is wasted on conferences and reports. Trina felt that there was no shortage of ideas on how to involve the diaspora, they simply need to be prioritized and funded.
There are two things that I hope will come from the gathering at Dublin Castle this week.
My first hope is that the Forum will not get lost in a search for exclusively new "Forum" ideas, at the expense of existing ideas and programs that can make an even greater difference, if supported properly. Consider this: Billionaire Warren Buffett has enough money to recreate any 'wheel' he might choose and put his name on it. Yet he has pledged to donate some $31 billion to Bill Gates's foundation! When asked why he was giving the bulk of his fortune to a foundation bearing someone else's name, Buffett said: "What can be more logical, in whatever you want done, than finding someone better equipped than you are to do it?"


The George J. Mitchell scholarship program is one existing initiative I will encourage my fellow Forum attendees to support. As the flagship program of the U.S.-Ireland Alliance, for 10 years it has been sending up to 12 of America's highest achieving young individuals to the island of Ireland for a year of postgraduate study.
It has been an unqualified success and such is its prestige that applicants have dropped out of the famous "Rhodes" competition to pursue the "Mitchell" instead.  The 'oldest' Mitchell scholars are now in their mid-thirties and entering senior positions in their careers. They are already an incredible asset for Ireland in terms of influence, access to decision makers and the conveyance of a contemporary, forward-looking understanding of Ireland in the circles in which they move.
The previous and current Irish governments recognized the value of the scholarship and legislation was passed last year whereby the government will match up to €20 million in funds raised by the Alliance, to create a permanent endowment for the program. The Mitchell presents an obvious public/private partnership opportunity for the long-term betterment of this country and I hope that in the spirit of Warren Buffet other visionary philanthropists might stand up at Dublin Castle and pledge the matching funds, or better yet, pledge the full €40 million and let the government keep its money!


But we can and should go further and expand the Mitchell worldwide. The Rhodes scholarship sends people to Oxford from 14 countries and its value to Britain is incalculable. There are now more than 7,000 Rhodes Scholars (including Bill Clinton) who have gone on to great things and who have lifelong ties to Britain because of their Rhodes experience. Imagine the long-term value of creating that kind of network for Ireland!


From my base in Singapore I also hope that Ireland will significantly increase its diplomatic, trade and investment focus in Asia. The region is home to some 60 percent of the world's population and accounts for over 35 percent of world GDP, a number that is forecast to reach 50 percent by 2050. The Irish government strategy for Asia has delivered good results in terms of exports, foreign direct investment and the number of Irish companies establishing Asian operations.
However the size of Ireland's investment through its embassies, Enterprise Ireland and the IDA is insufficient compared to the opportunity and to that of other countries with which we compete. The majority of such Irish resources are still dedicated to Europe and North America and Ireland is heavily outnumbered on the ground in Asia by countries such as Denmark, the Netherlands and New Zealand.
Furthermore Ireland should support and multiply the value of its investment in Asia with an increase in visits by ministers, senior civil servants, the Taoiseach (Prime Minister) and the President. Long term personal relationships and seniority matter greatly in Asian cultures. The goodwill and tangible opportunities generated for Ireland and Irish companies by such visits, can be enormous.

I believe the gathering at Dublin Castle this week can make a difference and I hope we will prove Trina and others wrong, by giving as well as taking and by embracing existing ideas as much as new ones.
REAL LIFE. REAL NEWS. REAL VOICES.
Help us tell more of the stories that matter from voices that too often remain unheard.