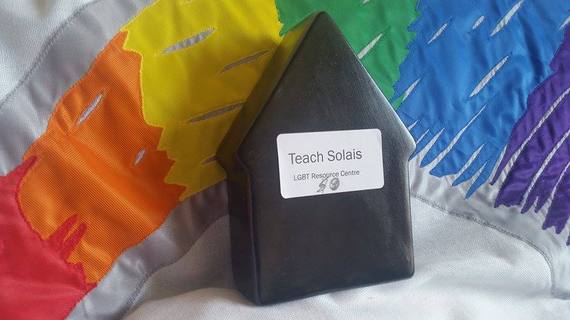 Teach Solais (Source: Amach LGBT Galway via Facebook)
In July of this year, I was back in my West of Ireland hometown of Galway to attend a film festival and my trip coincided with a fund-raising event for the town's first ever LGBT resource centre, Teach Solais (translated as 'Lighthouse' in English), held by a community group called AMACH, which is the Irish word for 'Out.'
The board of AMACH is made up of some of my hometown's longest and hardest working campaigners for LGBT rights and visibility in the West of Ireland. Notably, one of its members, Nuala Ward, organized the first ever Gay Pride parade in Galway over twenty-five years ago.
In mentioning Galway's first 'Pride parade' however, you would have to understand that we're talking about fifteen people and a tense five-minute walk down Shop St. in the summer of 1989. Assuredly, that's an intimidating and gutsy walk to take at a time before homosexuality was even decriminalized in Ireland, in 1993.
In summer, 2015 though, attending a fundraising quiz for the new LGBT resource centre was very exciting. Contemporary queer culture categories were mixed up with questions on Irish LGBT history, politics and iconography, all illustrating strides that the wider Irish LGBT community had made over the decades.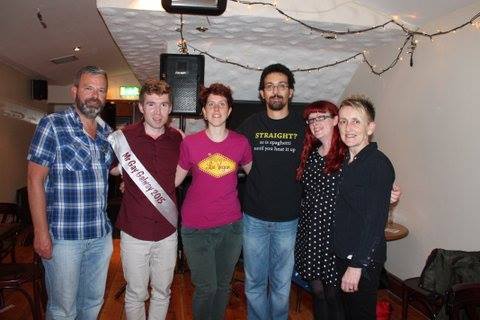 My team members enjoyed hearing the answers to the history questions that may not have been milestones from their own life perspectives, and I loved that. It's hard to describe the feeling of finally finding a sense of public belonging in the city of my birth in contrast to the experiences that preceded it.
What I *can* describe, however, is that I had finally stumbled into something tangible in my town that it had always been lacking, oftentimes to my despair -- an inclusive atmosphere for my family, friends and allies, that offered a focused activity which celebrated diverse knowledge, and harnessed a drive to maintain vital and accessible community outlets for LGBT people, who are often pushed to the fringes via a veritable revolving door of gay bars that open and then go out of business with routine and inexplicable regularity.
Teach Solais proposed to fill this chasm and provide vital supports and services which would benefit the overall health and well-being of LGBT people, as well as their families and friends. It would be a safe space open to the wider community to access information and participate in relevant events. It seemed like a LGBT-grounded resource that would not only work, but would also be of immense community value. It was exciting.
Ward claims that the City Council's instance that "[AMACH's] allocated financial support to the resource centre was intended to be capital support towards the long-term provision of a centre and not for rental purposes," are verifiably untrue due to minutes documented at the November, 2014 meeting, and an accompanying 3-year cost projections report, in which rental provisions were indeed specified.
Social Democrat candidate for Galway-West/South-Mayo, Niall O'Tuathail, who was a visible campaigner for the Yes vote in the Irish Marriage Equality referendum, surmised, "Everyone knows that public funds are tight but a council trying to lie its way out of commitments is not the way local government should work. The council must release this funding as soon as possible so that AMACH can continue its work."
Crushingly, the phantom funding issue is a potential death blow to the Teach Solais project if Galway City Council are unable to account for this apparent 'mismanagement' of funds that they had previously allocated to the much needed resource centre. And now, more than ever, Irish localities need councillors that can show that they are capable of adequately serving diverse communities, such as that with which Galway is so blessed.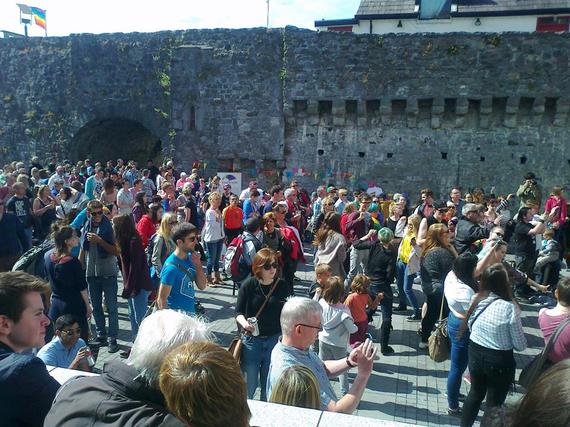 Galway Community Pride (Source: Amach LGBT Galway via Facebook)
Perhaps this question of misrepresentation points to a larger problem that everyone in Ireland simply has to become very aware of -- this misconception that in the wake of the Yes vote in the Marriage Equality referendum, that there is simply no more everyday LGBT discrimination because there is no more legal discrimination, and that allocating funding, resources or platforms of agency to LGBT initiatives is simply no longer needed.
This incorrect, dumbing down of the Irish LGBT experience, in that all we want is to just marry each other -- "isn't that enough for the gays?" -- well that has to be demolished, for a start.
Gary McMahon, SEO, Arts, Culture & Communications at Galway City Council responded to a request for clarification, stating:
"The issue of the grant to AMACH LGBT group was raised at the last meeting of Galway City Council held on 12th October and the Elected Members will revisit the issue at its next meeting to be held on Monday next, 2nd November."
Despite a continuing lack of absolute clarity on the precise nature of the funding issue, Galway City Council member, Pearse Flannery made himself available for comment.

Flannery expressed that he believes that Council will work toward a resolution on the issue in the November 2nd vote.
All Photo Credits: Amach LGBT Galway via Facebook
REAL LIFE. REAL NEWS. REAL VOICES.
Help us tell more of the stories that matter from voices that too often remain unheard.