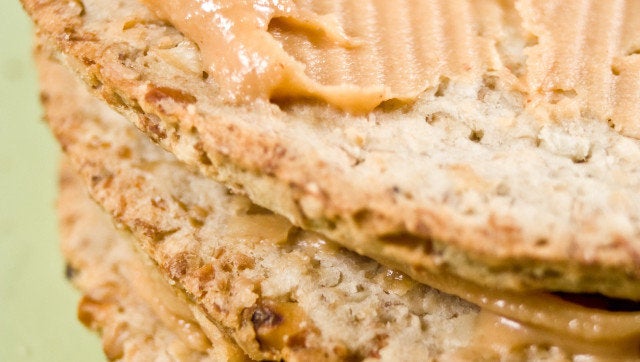 Here's to baking up a healthier new year!
I know most of us (well, somehow I still have room...) have had our full of desserts after the holidays and new year parties. But, the new year is a great time to be inspired by new recipes, and to start incorporating whole ingredients for a healthier you! I have a love for traveling and have recently been inspired by Ireland and its amazing (and sometimes unknown) good food.
I was lucky enough to learn more about Irish specialty food through Good Food Ireland and I discovered one of the most delicious baked goods I have come across -- something I believe just about everyone will enjoy, no matter what age and no matter if you are a salty or sweet kinda person. Irish Oatcakes!
Irish Oatcakes are a terrific, hearty cracker-bisquit that are made from oats and flour. They are light and nutty with a just-baked crispness that works well with savory or sweet accompaniments. These Irish delicacies are a mix between sweet/savory and biscuit/cracker. I just couldn't get enough and remade one of their famous recipes using the whole food ingredients I just love. I replaced their usual margarine, white sugar, and white flour -- with Irish brand Kerrygold grass-fed butter, Organic Valley buttermilk, and whole wheat flour. Great for breakfast with almond butter and chia seeds; perfect alongside a cheese platter with quince paste; or a nice addition to a bowl of refreshing sorbet. Using the best quality dairy products I could find, I tried many variations, but these just kept disappearing. Super simple recipe, with not much butter or sweetener. Dig in to healthier baking and a healthier new year inspired by none other than the Irish!
Irish Oatcakes
- 1 ½ cups rolled oats
- 1/3 cup whole wheat flour
- ½ cup oat flour
- 6 tablespoons unsalted grass-fed butter (Kerrygold brand recommended), melted
- ¼ cup buttermilk (Organic Valley brand recommended)
- 3 tablespoons evaporated cane juice
- ¾ teaspoon sea salt
- ¾ teaspoon baking powder
1. Preheat oven to 300 degrees F.
2. In a food processor or blender, pulse the rolled oats until finely ground. Put in a large bowl and add the rest of the dry ingredients, including the whole wheat flour, oat flour, evaporated cane juice, sea salt and baking powder. Whisk the dry ingredients together very well.
3. Melt butter in a sauce pan over low heat. Add the melted butter to the dry ingredients along with the buttermilk in a standing mixer and mix until just incorporated.
4. Make a ball out of the dough and flatten to less that ¼ " thick. Cut into triangles or circles and put on a baking sheet. Bake for 45-50 minutes until lightly brown, but -- most importantly -- dry all of the way through the bisquit so it becomes a crunchy cracker. Let cool completely. Store in an air tight container for up to three weeks. Makes 12 cracker-bisquits.
To learn more about Ireland's specialty foods, goodfoodireland.ie is a great resource. Here's to baking up a healthier new year with these versatile oatcakes -- great for any meal or any time of the day. I hope you enjoy!