St. Patrick's Day should not be an excuse to knock back an "Oyrish" whiskey or as an additive to hot coffee; it should simply be another occasion to do so. And with worldwide sales soaring in the red-hot spirits market -- right along with Single Malt Scotch, bourbon and Asian whiskeys -- a lot of people apparently agree.
The Irish themselves only consume about 6 million bottles, with France the next largest consumer. According to Bord Bia (Ireland's Food Board) sales of Irish whiskey in the U.S. topped $167 million over the past two years, and although Irish whiskey accounts for just 5 percent of all whiskey sold in the U.S., it makes up over 13 percent of the revenue.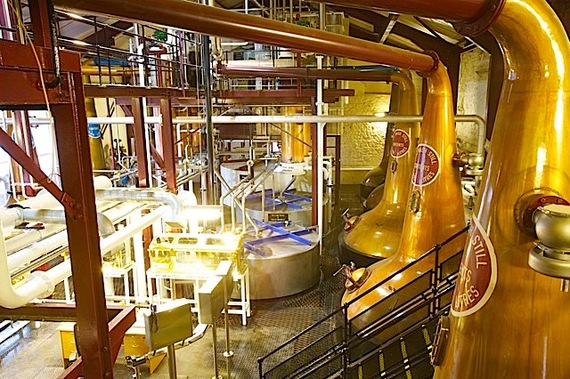 The number of labels now in the market now can be dizzying, even though all Irish whiskey is made in just three distilleries -- Midleton (owned by Pernod-Ricard) in Cork, Bushmills in Antrim, and Cooley in Louth (the only one Irish owned). A century ago there were 150 distilleries making 400 brands, but the industry was crippled by the onset of Prohibition in the U.S. A big boost came with the popularity of Irish coffee -- unknown in Ireland or anywhere else until 1942 when first created at the bar at Foynes Dock, where the flying boats docked during World War II. The hot beverage was promoted as a welcoming drink at Shannon Airport and debuted in the U.S. at the Buena Vista Bar in San Francisco in 1952.
Today, prestigious small-batch labels costing upwards of $200, yet the average price for a bottle of Irish is still below $25, making them far more affordable than Single Malt Scotch. The key to marketing now is to offer small supplies of special bottlings that have varying degrees of depth, complexity, woodiness, peatiness, and smokiness. Since most Irish whiskeys are distilled in copper stills (above photo) and then blended, those with vintage dates on them are often more novelty than innovation.
Tullamore Dew makes a good basic label, a 12-Year-Old ($37); Cooley's Connemara brand alone now makes four small batch whiskies--a 12-Year Peated Single Malt ($100), a Single Cask ($47), a Cask Strength ($80), and the heavily peated Turf Mor labels ($100-$15); a 16-year old Knappogue Castle 14-Year-Old "Twin Wood" single malt at $100 caused some excitement when released three years ago, with most sold in the U.S.; Midleton Very Rare ($125) comes in an oak wood box labeled as "Supreme Selection"; Redbreast 12 ($60) claims to be the "only 100% pure pot still" example on the market today.
But the dominant brand over all others in Bushmills, which at any given time may have half a dozen different whiskeys for sale, some destined for specific markets like Asia. It also has its own distillery (below).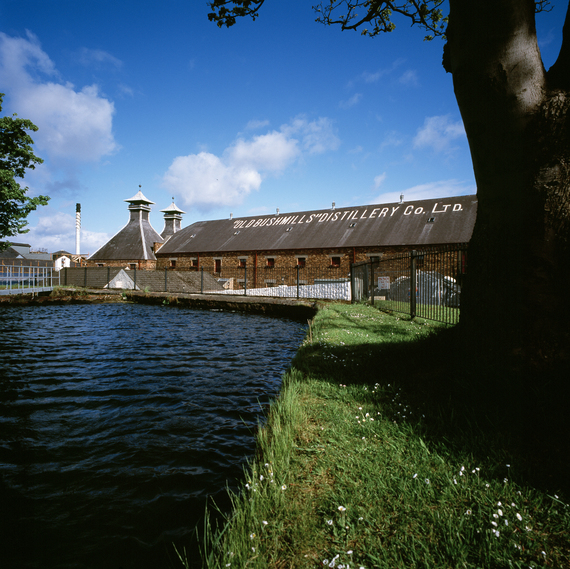 Bushmills standard "White Label" ($24) was once the favorite of Czar Peter the Great. Its Black Bush ($30), aged in old sherry casks, has long been a big seller in the U.S., with a more pronounced maltiness and a near Sherry-like, soft finish. Bushmills' colored labels have different flavor profiles and ages. Green Label 10 Years, aged in bourbon barrels, has a lighter, almost genteel virtue, very smooth, with a honey finish and very little heat at the end. (They also make a whiskey that actually contains honey, but that's a special taste, best as a mixer.)
Their 10-Year-Old Single Malt ($40) competes easily with fine Scotch Single Malts. Made from 100 percent malted barley, distilled three times, and matured in bourbon barrels for at least 10 years, this has a lively smokiness in the bouquet, with level after level of complex spices and fruit, finishing like velvet on the back of the throat. The 16-Year-Old ($75) is a brawnier whiskey, quite nutty, with a dark chocolate and dried fruit component.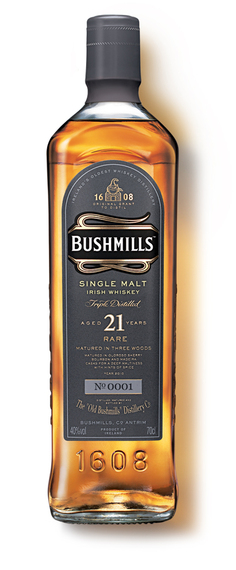 The 21-Year Old ($125) is aged for 19 years in oloroso sherry casks, then in bourbon casks, then in Madeira casks -- all imparting nuances to the boldness of the end result. There is also a good deal of maltiness in this bottle and an expression of how and why Irish whiskey is not for an idle tot or celebratory swig. It is for pure, slow enjoyment.