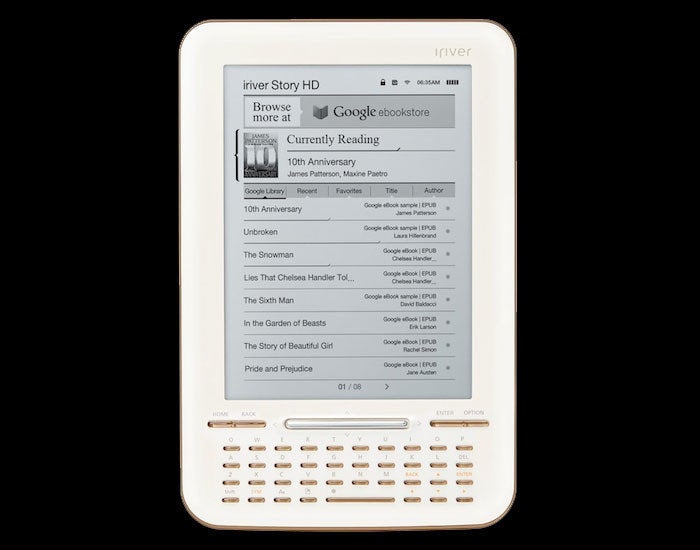 The iriver Story HD, the first ereader device featuring integration with Google eBooks, will be available in the United States exclusively at Target on July 17.
The Story HD features a 7.3-ounce bodyweight, a six-inch high-definition (768x1024 pixels) E-ink display, a QWERTY keyboard and a $139.99 price tag. Customers can pick them up at Target's website, or at retail locations nationwide.
The new reader lets customers download content via WiFi from Google's cloud-based library of over 3 million free works. Thousands more eBooks are also available for purchase on Google's platform.
According to a post on the Google Blog by Google Books Product Manager Pratip Banerji, customers can also access Google eBooks on over 80 compatible devices. However, the Story HD skips the step of having to download titles to a PC and sync up the reader to access the books.
"We built the Google eBooks platform to be open to all publishers, retailers and manufacturers," wrote Banerji. "Manufacturers like iriver can use Google Books APIs and services to connect their devices to the full Google eBooks catalog for out-of-the-box access to a complete ebookstore. You can also store your personal ebooks library in the cloud--picking up where you left off in any ebook you're reading as you move from laptop to smartphone to e-reader to tablet."
USA Today outlines some of the challenges the Story HD faces, including "stiff competition from Amazon, Barnes & Noble and Sony, the most established players in the dedicated reader market," as well as the device's lack of a touch screen and its relatively high price tag (when compared to devices like the $114 Kindle).
Take a look at the new gadget (below) and see why Gizmodo calls it a "classier but blinged out Kindle."

Popular in the Community