Just ask Matt Varga, a resident of Kendall, Florida who said he was denied boarding on a plane fleeing Hurricane Irma because he didn't have the proper carrier for his dog, Meeka.
At Miami International Airport, Varga told CNN's Randi Kaye that he had visited 10 stores attempting to find a carrier, but all were sold out.
"It's not a huge dog, you think they'd make an exception," he said after the interview.
Social media users also pointed to the example of the Fort McMurray wildfire in Canada last year, when a pilot for energy company Suncor went against policy in order to save 36 pets from the blaze — including cats, dogs, hedgehogs, a chinchilla and frogs. In that instance, pilot Keith Mann said he had to bend some rules, including how many animals are allowed on a flight and what parts of the plane they can occupy, in order to do what was right.
Varga's sister wrote on Facebook that her brother's ticket was with American Airlines. American Airlines was not able to immediately confirm to HuffPost whether this was accurate.
After a devastating number of animals died when their owners were forced to leave them behind during Hurricane Katrina in 2005 ― and some people remained in harm's way to stay with their pets ― Congress passed the 2006 Pets Evacuation and Transportation Standards Act. The bipartisan bill mandates the Federal Emergency Management Agency to ensure that evacuation plans in federal disasters include pets.
While that's a huge improvement, it doesn't mean evacuating with pets is always easy. For one thing, contrary to rumor, the PETS Act does not require private companies like hotels to make special accommodations for pets. It also doesn't change regulations around air travel.
As for Varga, he told CNN he's going to be riding out the storm in Kendall with his dog.
"'Cause you're not going to leave her behind?" Kaye asked.
"No, of course not," said Varga, laughing as Meeka tried to lick the microphone.
Related
Before You Go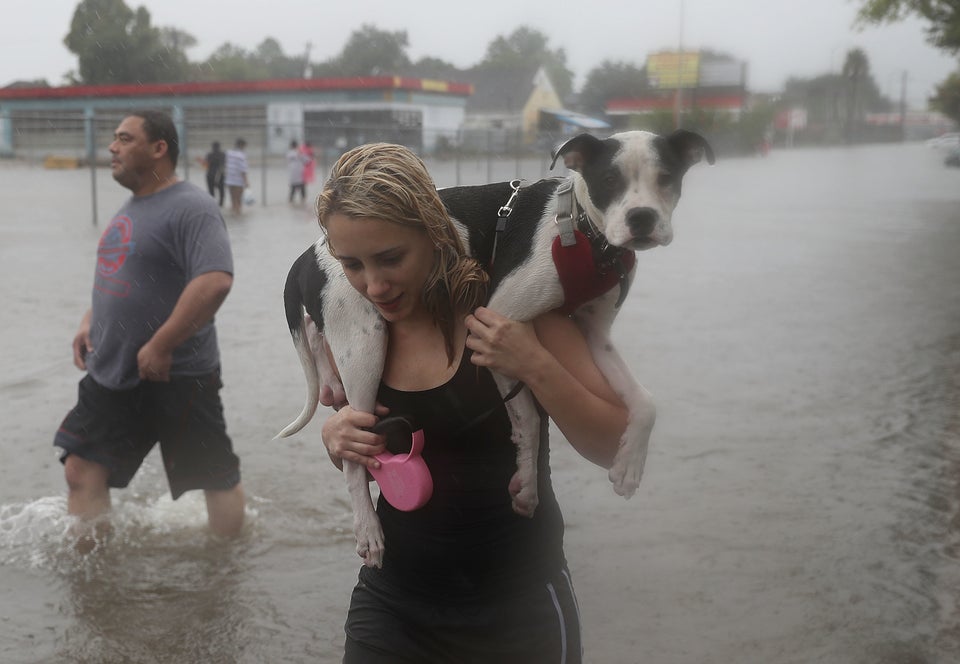 Animals Of Harvey