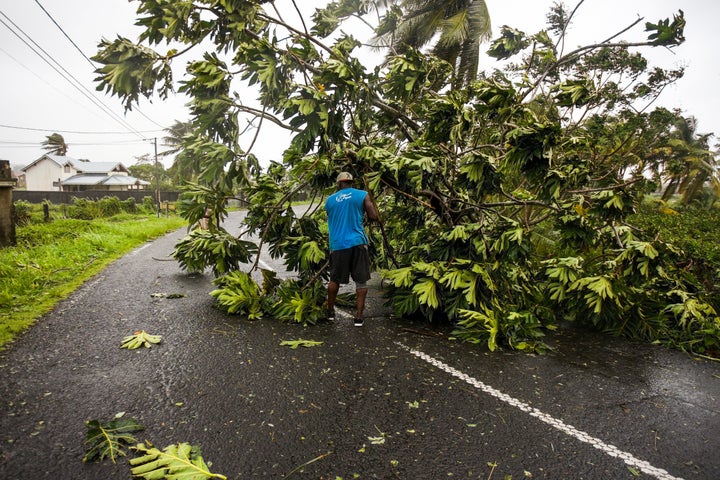 Once again, we see killer hurricanes in the Caribbean. The monster scope of damage defies anticipation, with 95% of structures damaged on Barbuda and once green islands turned brown zones. Yet we must use this moment of utter devastation as an opportunity to turn toward deliberate strategies of transformation. This means we must expand the region's resilience and strengthen prevention. We can, and there is no excuse not to.
The Caribbean must take the lead. Still bewildered, the people's spirit of resilience is nevertheless at the fore. Already, the key strategy has emerged. Surrounded by near-unimaginable destruction, speaking to the BBC, a woman on Tortola said, "This is the very, very worst ever, but we have no choice but to get up and rebuild." That spirit of ownership and resilience has catapulted the disaster victims into action as well as Caribbean people everywhere, as they head up relief and reconstruction campaigns on other islands and in every metropolitan area.
The political leadership is already responding with strategies that looking inward as well as outward. In the Bahamas in February, leaders show-cased their desire to use Agenda 2030 and the Sustainable Development Goals (SDGs) to guide and transform their development to the next decade, as stable, progressing, middle income countries.
The Prime Minister of the Bahamas understood that when he said in February that "…the Sustainable Development Goals are transformative…that "no man is an island" [and] Sustainable development requires connections and interdependent relationships."
The devastation wrought by Hurricane Irma is a reminder of how utterly vulnerable small, low-polluting islands are and the high cost of that vulnerability. Rebuilding the Caribbean to be stronger and more resilient will require global support alongside the region's Herculean efforts. And that effort will mean many positive things. First, that millions will not slip back into poverty and that a fresh wave of large-scaled migration and refugees might yet be avoided. Second, international support for a Caribbean that re-builds sustainably in the framework of Agenda 2030 will show that multilateral development agreements do work. Third, it could mean that a cycle of debt may be avoided. Lastly, it will bring people and a range of institutions closer together, at a time when trust and credibility can be strengthened.
Rebuilding the Caribbean requires a holistic approach. It's an opportunity to reduce poverty and need, to rectify gender and other inequality gaps, and improve the region's consumption and production patterns. Agenda 2030 and the SDGs reflect global recognition and acceptance that humankind's progress requires that we simultaneously strive for ending poverty and achieving environmental sustainability and equality within and between communities and countries. This is the vision laid out in multilateral agreements to which our leaders have committed to take all necessary actions to reach a bright, sustainable future.
The strongest suspicions in the region are that climate change is amplifiying these killer hurricanes and their frequency, and the science points in that direction. So the biggest support for the Caribbean is climate action to reduce the risk and severity of climate change. And climate action is the only way we can secure the Caribbean and other small island developing states and nations, so they can have a lasting future.
Prevention is at the heart of it. Large emitting countries must firmly adhere to the Paris Agreement, reduce their carbon emissions and meet the other provisions of the 2016 Agreement, including the financing.
Because of work already done, the region is ready to use the SDGs as its guide to rebuild more resilient infrastructure as well as more robust social institutions. In short, even as we meet the urgency of now, sustainability must be the guide. The region must build back better, leaving no one behind. Outside of food and nutrition emergency, food security must be based on the region's agriculture plan. All children, especially young girls and vulnerable women must be protected in this crisis. Schools will be destroyed, but learning must not stop. Access to medical care and family planning remain vital for stronger, long term success and economic prosperity. Intellectual, computer-based and manual jobs are waiting to be found in the response to the rubble of land and shore and in the decimated ecosystems.
All this requires robust financial bridges from destruction to a flourishing region once again.
A study in Nature found that by 2100 climate change could reduce incomes in the poorest 40 percent of countries by a debilitating 75 percent when compared to an un-warmed world. This must be prevented.
As it did in Grenada following Hurricane Ivan in 2004, it will likely take a long time, billions of dollars invested on the ground with and for people, and unrelenting leadership to recover.
Let us hope it is not too late to prevent catastrophic planetary unraveling that climate change, debt and increasing poverty induce; even so, we cannot give up or give in. Our lives are carried on optimism, vision and determined action for a sustainable future. Caribbean people have started. The world must join them.
Dessima M. Williams is a Caribbean diplomat, development specialist and educator.