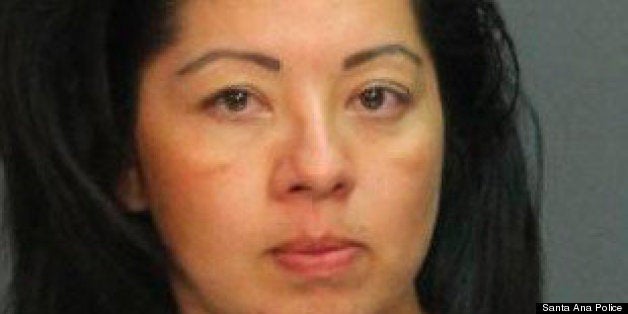 A California mother shackled chains around her 10-year-old son's ankles out of apparent concern he'd get involved with gangs in his neighborhood, cops said.
Irma Navarro, 37, was arrested in Santa Ana, Calif. and charged with child abuse after neighbors found the boy lying next to a tree outside the family's apartment with a chain wrapped around his legs, ABC News reports. Two neighbors reportedly walked by the complex and saw the boy crying next to the three, both of his legs crammed into one leg of a pair of shorts.
Navarro allegedly shackled her son because she didn't want him "running the streets and getting into trouble or mixed up with the wrong group of kids while she was at work," the Santa Ana Police Department wrote in a statement to CNN.
When police arrived Thursday afternoon, they had to remove the locked chain with bolt cutters. Officers took the victim and two more of Navarro's children -- one of whom had a babysitter and another who was in school -- into protective custody.
"She was having a problem with her 10-year-old, who takes off and doesn't come back until 9 or 10 at night. She's afraid he's getting tied up into gangs," Police spokesman Cpl. Anthony Bertagna told ABC News. "It was a matter of frustration on her part, but it doesn't justify committing a crime. That doesn't justify shackling your kid."
Navarro was booked into the Santa Ana Jail on $100,000 bail. She's expected to be arraigned today.
BEFORE YOU GO
PHOTO GALLERY
Questionable Parenting