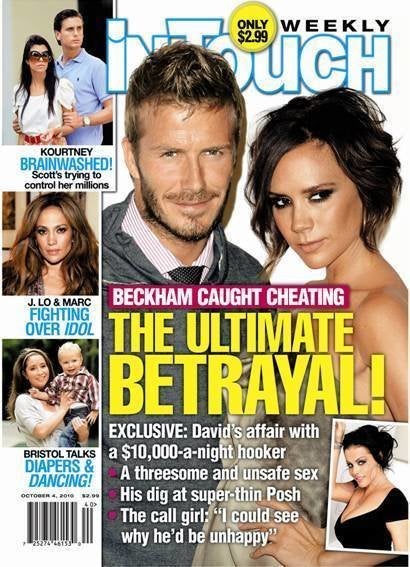 Irma Nici, a 26-year-old former prostitute, claims to have carried on a steamy affair with soccer superstar David Beckham, In Touch reports. The brunette beauty tells the magazine that Beckham agreed to pay her $10,000 for one night of passion.
After an hour of foreplay, Nici says the two had sex for 15 minutes. Nici claims the sex was "nothing freaky," and she rates Beckham's lovemaking as a 7.5 out of 10.
Scroll down for more from In Touch, including a picture of Nici, and check out the magazine's latest issue for even more details.
In a worldwide exclusive interview with In Touch, Irma Nici, a former high-class call girl, claims she's slept with the world's most famous soccer star, David Beckham, five times in 2007 and spills every dirty detail of their affair. "It was a high," Irma, 26, tells In Touch. "All of these women dream of being with him, and I got to hook up with him. It was very exciting."

Irma claims that after agreeing on a price of $10,000 to stay the night, the two spent the next hour engaged in steamy foreplay. Irma says she then "whipped out" a condom and the two had sex for 15 minutes, but it was "nothing freaky," she remembers. "He was very gentle and kind." On a scale of 1 to 10, Irma rates David a 7½ as a lover. "He knew what he was doing." She also recalls that David used lotion from the hotel bathroom to pleasure himself. "It was perfumed, so it kind of burned him!"

During their initial sexual encounter, David even opened up about wife of 11 years, Victoria. Irma says that David told her he preferred Victoria's old curvier body. "He was saying that he liked her body more before," she says. David also revealed to Irma that he is "more of a butt man than a breast man."

For more of In Touch's exclusive cover story about Beckham's affair, pick up the latest copy of In Touch, on newsstands now.
UPDATE: Beckham's rep denies the charge and says, "We are taking legal action against the magazine."