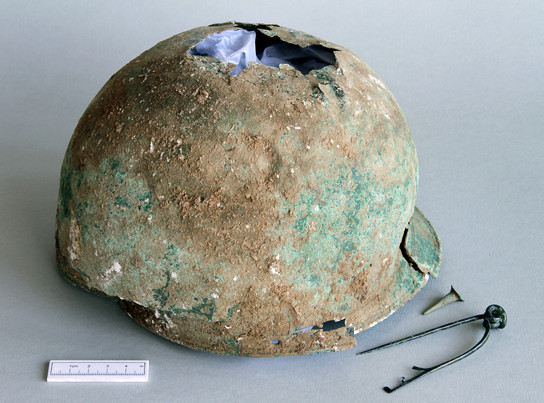 A rare find in England has riveted the British archeological community.
"Even for Britain as a whole, I knew such a find would be incredibly rare," Andrew Richardson, the Finds Manager for the Canterbury Archaeological Trust, recounted on the organization's website. "But the finder seemed very confident and I knew he was an experienced detectorist."
The man who made the find has chosen to remain anonymous.
The Iron Age helmet was found with bone fragments, as well as a brooch that would have been used to fasten a bag after a cremation ceremony, researchers said. The items have been registered as treasure, according to the University of Kent.
Julia Farley, Iron Age curator at the British Museum, told the BBC that the find was one of a handful of Iron Age helmets found in Britain, but added that "no other cremation has ever been found accompanied by a helmet."
"The owner of this helmet, or the people who placed it in the grave, may have lived through the very beginning of the story of Roman Britain," Farley said.
However, as Richardson explains on the Trust's website, "Further study, of the helmet, the brooch, the cremated remains and perhaps the area around the immediate find spot, is needed to try to refine the dating and character of this unusual discovery."
While the details of these artifacts make them special, they are not the first Iron Age artifacts uncovered in Great Britain this year.
In August, the BBC reported that several Iron Age artifacts, including green marble from Greece, bronze pins from Ireland and ivory from Greenland, were unearthed at Viking sites at Bornais in South Uist, an island off the coast of Scotland.
The Iron Age of the British Isles covers the period from about 800 B.C.E. to the Roman invasion of 43 C.E. The archeological record suggests that trading and exchange between Britain and mainland Europe that had developed in the Bronze Age continued throughout the Iron Age.
REAL LIFE. REAL NEWS. REAL VOICES.
Help us tell more of the stories that matter from voices that too often remain unheard.
BEFORE YOU GO