New York's skyline is going to start looking a little different. Beginning today (March 9) and continuing over the next two weeks, 31 life-sized statues will be placed on rooftops and sidewalks around the Flatiron District as part of Antony Gormley's Event Horizon public art installation.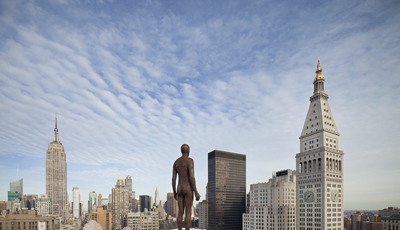 The figures, cast in iron and fiberglass, are set up at different heights and locations throughout the area. The goal is to surprise and delight viewers, drawing their attention to the architecture of the city and enriching their daily routine. After several years of preparation, the first statue goes up today.
"The nexis between architecture and art is one of the exciting elements of the show," said Debbie Landau, president of Madison Square Park Conservancy, which is presenting the exhibit in partnership with the City of New York. "You see there's one up on a building and you turn even further and see there are more of them...and it appears that they go on forever."
The northernmost statue will be placed on the Empire State Building, with a figure on the 25th floor. Four of the other figures will be at ground level--at the Flatiron Triangle, Madison Square Park, 26th and Fifth Avenue, and Madison Avenue and 24th.
While Event Horizon originally premiered in London, this version has been tailored specifically for the Manhattan skyline. Gormley, a British sculptor who has been doing work for decades, is most famous for his public sculptures Angel of the North, a steel sculpture of an angel on a hill, and Another Place, featuring 100 cast-iron figures located on Crosby Beach.
"I want to play with the city and people's perceptions," said Gormley, in a statement. "The gaze is the principle dynamic of the work; the idea of looking and finding, or looking and seeking, and in the process perhaps re-assessing your own position in the world. So in encountering these peripheral things, perhaps one becomes aware of one's status of embedment."
There will be an opening event on March 26th in Madison Square Park, with Gormley in attendance from 2pm-4pm. The exhibit will be up through August 15, 2010, which may offer some interesting variations for an exhibit about perception.
"We wanted the show to overlap two seasons," said Landau. "There's a different discovery you make in early spring before there is any canopy at all, and you can see through the park, as opposed to when the leafing has occurred toward the end of June and it's a much different experience."
Full details about the installation and the locations of the statues are available at the exhibit's website, www.EventHorizonNewYork.org.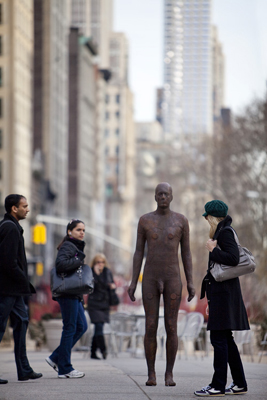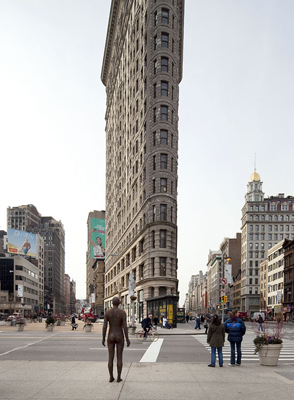 REAL LIFE. REAL NEWS. REAL VOICES.
Help us tell more of the stories that matter from voices that too often remain unheard.