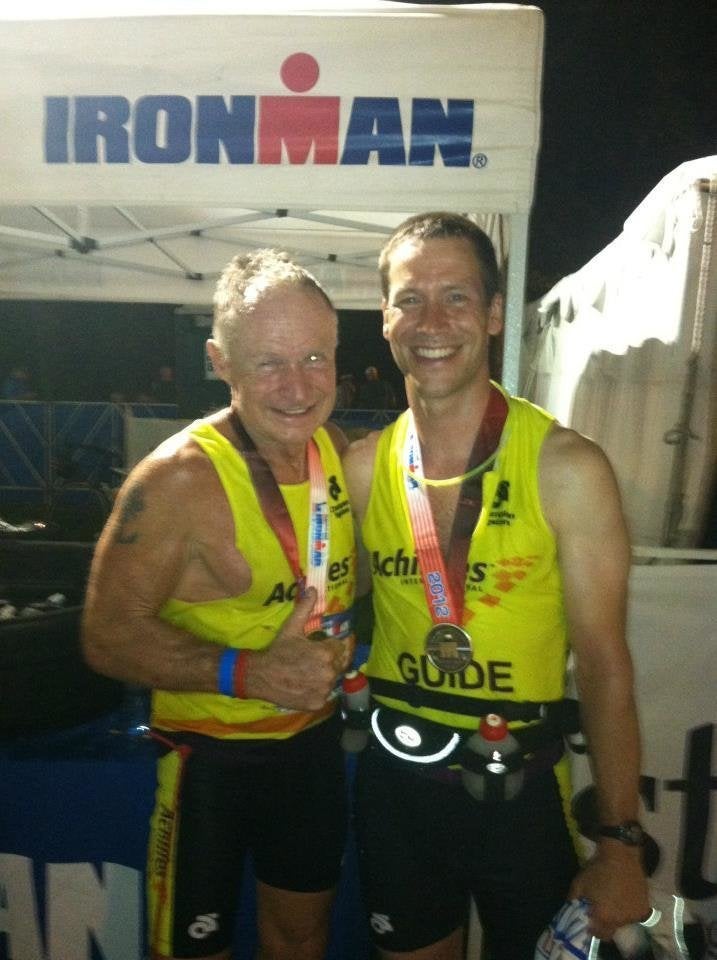 Competing in an Ironman triathlon is a challenge. But imagine doing the race without being able to see. Charlie Plaskon, 69 years old and legally blind since birth, has completed eight Ironman races. His most recent was last month's inaugural New York City Ironman, where I served as his guide.
The Ironman triathlon was first conceived as an event that combined three existing long distance races into one extraordinarily demanding challenge. In February 1978, 15 male athletes in Hawaii swam 2.4 miles, cycled 112 miles and ran a marathon -- 26.2 miles -- consecutively. The winner of that first race, a soldier in the U.S. Navy, was declared the "Iron Man." Since then, the race has become a worldwide phenomenon with thousands of male and female athletes participating in dozens of events held around the globe each year.
Charlie was born with Stargardt macular degeneration, but that did not stop him from earning a master's degree and teaching for more than three decades. He is married with three grown children and took up marathons and Ironman triathlons in his 60s. I met Charlie through Achilles International, (www.achillesinternational.org), an organization that helps disabled athletes participate in endurance events. Its founder, Dick Traum, lost his right leg at age 24 in a car accident. With the help of a prosthetic, he finished the 1976 New York City Marathon, becoming the first amputee to run that distance. Since then, Achilles has helped disabled athletes participate in races in more than 70 countries.
When I agreed to guide Charlie, I already had completed five Ironman triathlons. In those events, I attempted to finish the race as quickly as possible, eventually working down to a personal record of 10 hours and 43 minutes. But serving as a guide fundamentally altered my experience of the Ironman. Instead of competing against other athletes and my previous results, my job was to make sure that Charlie made it to the finish line safely. The Ironman suddenly felt more like a celebration of our bodies' potential than a competition. But I also felt pressure from the responsibility. What if I urged him on to do more than he could do? After all, he was not only blind, but almost 70.
As I trained with him in advance of the Ironman, I saw that Charlie was in excellent shape and not daunted by what ifs. We met in New York City several times before the race to practice riding on a tandem bike and to attend pre-race events. He rode the train in alone from his home on Long Island, and we met in a crowded concourse in Penn Station. I always worried that he might get lost on the way from the train platform to our meeting spot, but he had memorized the route and always showed up at the right place and on time.
On race morning, we left my apartment at 3:30 a.m., planning to ride a taxi to the ferry terminal on 39th Street, where athletes would be taken by boat to the swim start north of the George Washington Bridge. The ferries left at 4 a.m., and the race organizers emphasized that, "If you miss the ferry, you miss the race." The terminal was a 10-minute ride from my apartment, but with Charlie holding my arm as I guided him to a street corner, I was dismayed to realize that the late night taxis were changing shifts. The lighted sign on top of every cab I saw read "off duty." I finally flagged down an off duty cab that was already carrying another athlete to the race. He made room for us, and we took off.
The driver explained that, although he was off the clock, he wanted to help us in the spirit of the Islamic holy month of Ramadan. I asked if he fasted during the day, and he said, "Of course!" Then he showed me a sack of food under his seat. "I'm going to eat this as soon as I drop you off. The sun will rise soon and I need the energy to make it through the day without food or water." We arrived at the ferries just as they started to board.
The race started at 7 a.m. with a 2.4 mile swim down the Hudson River. Charlie and I -- along with several other disabled athletes and their guides -- started just behind the professionals at the very front of the field. The Ironman swim is often harrowing, with thousands of athletes jammed together and sometimes elbowing and kicking one another in an attempt to get the most advantageous position. But the organizers of the NYC event avoided this by staggering the swim start, sending off small groups at short intervals. And the route down the Hudson River was broad enough that Charlie and I stayed out of the way of the faster swimmers who caught us from behind. We were connected by a tether around our waists. Sometimes my hand snagged the tether in mid-stroke, and sometimes Charlie and I bumped into one another. But we managed to hold a solid rhythm and covered the 2.4 miles in less than one hour, thanks to a tidal assist from the Atlantic Ocean.
Charlie held tightly to my arm as we emerged from the water and jogged to the transition tents. An Ironman transition area is a chaotic scene with people rushing around, often frantically, trying to change into their bike clothes as quickly as possible. But Charlie maintained a calm demeanor in the chaos, carefully working through his transition bag to identify each item by feel: bike shoes, socks, jersey, sunblock, lubricant, food, etc. After we had changed, he asked me to look on the ground for anything he might have missed. Accidentally dropping something without realizing it, he explained, is a constant worry for blind people.
The bike course consisted of two 56-mile loops on the Palisades Parkway, which was closed to automobile traffic. The route was beautiful but hilly and treacherous in spots. I passed an athlete seated beside his bike, whose front wheel was bent from crashing into the rumble strips along the shoulder. And I saw another athlete being attended to by medical volunteers. Blood streamed down her arms and legs, and she had a dazed expression, no doubt from slamming her head on the asphalt. Her race was over, but her helmet had likely saved her from a far worse outcome.
Because of the extra weight, a tandem bicycle picks up speed quickly on down hills, but that weight worked against us going back up. We regularly passed other riders on the down hills, only to see them zip by us later on a climb. Also, it's easy to topple over during stops or turns if the tandem riders don't communicate. As we reached the first turnaround point on the Palisades, Charlie and I needed to make a tight 180-degree turn. I slowed down and told him what was coming. When we began to make the turn, he repeated, "Talk to me! Talk to me!" so that he would know when to lean into the curve and when to straighten up. We made it through the curve upright and made it through the rest of the 112 miles of cycling without incident. Six and a half hours after starting to ride, we pulled into the transition area once more. Only 26.2 miles of running to go.
It was a muggy day, and the marathon course was hilly. Charlie and I ran next to one another holding a short tether between us. We ran the flats and walked the uphills and stopped at aid stations every mile or so to drink and eat. The hours steadily ticked off and soon daylight faded. Volunteers handed us plastic necklaces that glowed in the dark. Sometimes we walked, sometimes we jogged, but Charlie did not falter. We set mini goals of making it to a mile marker sign ahead or to the next aid station. As soon as we reached our goal, we set another one. I felt the exhaustion of so many hours of exercise but did my best to remain alert. Still, I missed a few obstacles in the dark -- a crack in the pavement, a tree root hidden in shadow -- and sometimes Charlie stumbled, grabbing my arm to avoid a face plant. "Sorry," I said.
"Don't worry about it," he responded good-naturedly. "We're still making forward progress, right?"
Spectators and athletes encouraged us throughout the race and said things like, "You guys rock!" or "Charlie, you're amazing!" The positive energy was infectious and helped to counter the negative thoughts that so often accompany exhaustion. And just before 10 p.m., 14 hours and 56 minutes after starting the race, we crossed the finish line hand in hand. The loudspeaker announced, "Charlie Plaskon, you are an Ironman." We learned later that he had taken third in the 65 - 69 age group and that only two other finishers were older than him. Charlie beamed and, although covered in sweat, he appeared remarkably strong. And resilient. And hopeful. What else would you expect from a 69-year-old blind Ironman?
For more success and motivation click here.
Popular in the Community