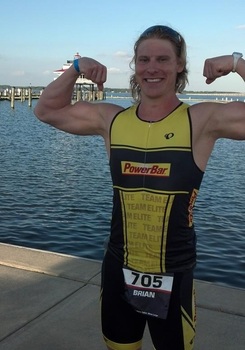 This past weekend I participated in the Inaugural Ironman Maryland, which took place in Cambridge, Maryland. This race was special because there are a little over a dozen Ironman triathlons in North America and it was exciting to have an Ironman take place in the state that I was born and raised in. There were athletes representing 49 states and over 17 countries.
This race also carried a lot of significance for my family and I. Ironman Maryland was my 36th endurance event that I've competed in, which is very symbolic because I'm the national volunteer spokesman of the Red Cross and I received 36 blood transfusions that saved my life when I was in the hospital. This year also marks the 10 year anniversary of the car accident that changed my life forever.
When the race began on saturday morning, I instantly started to reflect back on the past 10 years with a big smile because in September of 2004 I was in my Baltimore rehab center learning how to transition from a hospital bed to a wheelchair. The recovery process took three years and the healing was finally complete when I crossed the finish line of the 2007 Hawaii Ironman -- my very first full distance Ironman triathlon.
Over the past seven years, I've competed in 4 Ironman triathlons, 7 Ironman70.3's, 12 marathons, and 1 ultramarathon. Ironman Maryland was my 5th Ironman, and from start to finish, the race was an incredible experience. I've raced on this course three times before during the Eagleman70.3, but that was only half of the distance of the full Ironman. The swim went really well, I was familiar with the bike course so I was prepared for the flat terrain with some windy sections, and the spectators during the run course really gave me a well needed boost to finish strong. A special thanks goes out to all the amazing volunteers who helped with the race. The schedule of events and overall logistics for this triathlon were top notch. Whether it is your first Ironman or your 50th, I highly recommend adding Ironman Maryland to your race season in the future.
I finished the race in 10:34 (10 hours and 34 minutes) and placed 12th in my age group of close to 100 guys, and finished 123rd overall in a field of 1,500 registered athletes. I'm thrilled to have the Ironman event come to Maryland, and I was truly honored to participate in this race and represent our great state, the sport of triathlon, my 36 blood donors, and everyone who has supported me over the past 10 years.
Anyone who participates in endurance events knows how it takes a team effort to finish a race like this, and I'm so thankful for the daily encouragement from my wife, my family, and my friends over the past few months/years. This sport is much more than a race, it is a journey of the human spirit, and it's been a privilege to continue this journey with so many incredible people in my life.
These are a few news segments that aired about my preparation and participation in Ironman Maryland:
Popular in the Community