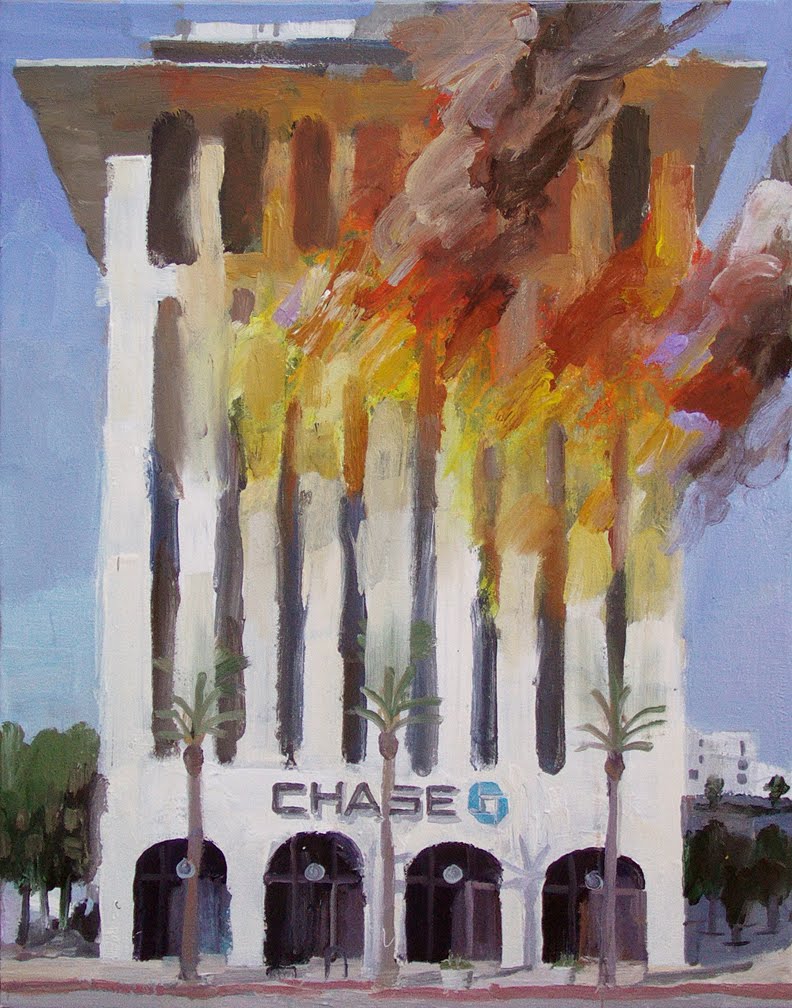 Alex Schaefer: Irrational Exuberance | Investigating issues of excess, criminality, and history, Schaefer's paintings work together as expressive and documentary evidence of the current financial crisis, its sources and place in history. Very recently, he gained notoriety for his plein air paintings of various Los Angeles Chase Bank locations, which he painted being consumed by fires. As performative works, the banks aflame series was successful in drawing the ire and concern of actual Chase bankers, who had Schaefer rousted by police both during the act of painting and later at his home. Like most aburdist overreactions, Schaefer's treatment as a criminal suspect also resulted in a considerable spike of press attention, and an auction sale of the first burning bank painting for over $20,000 dollars.
For Irrational Exuberance, Schaefer expands on the burning banks, constructing scenes of contemporary and historical excess that link directly to some of America's leading corporate interests. Schaefer's source material draws from a wide range of inputs, from the aforementioned "landscapes" of the bank buildings themselves, to historical photographic imagery, art historical scenes, and found photographic content lifted from public photo sharing sites.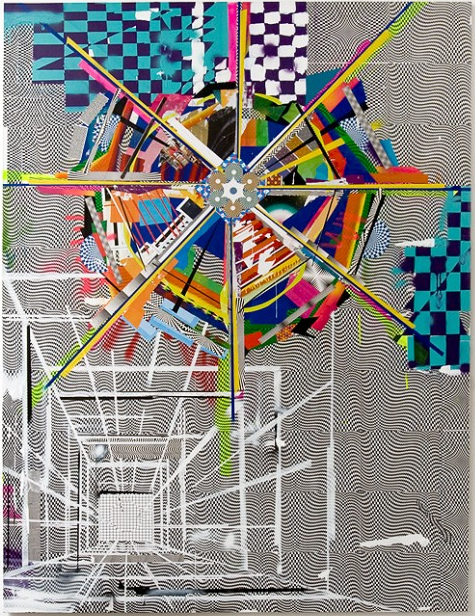 Brian Porray: -(\DARKHOR5E/)- | -(\DARKHOR5E/)- is a convoluted universe of spaces/atmospheres/images; conversely, made with economic means: painted, drawn, slashed and pasted together. This work is sort of like the psychedelic memory of a psychedelic memory. "All of these pieces are focused solely on the Luxor hotel in Las Vegas, an enormous black pyramid shaped mega-resort that was built during my first year of high school," reveals Porray. "Since I wasn't old enough to party on The Strip, my experience of Las Vegas at night was as a neon backdrop for chemically enhanced desert parties. I vaguely remember standing in the dirt staring up at the beam of light shooting out of the Luxor's peak -- after a minute my eyes adjusted and I could almost make out what looked like huge black bats swarming around the top of the pyramid. The light didn't dissolve the way a flashlight does -- it was so much brighter. It felt solid, like I could climb up through it. I hadn't really looked at the light until that night, and I remember being terrified -- psychologically it totally fucked me up."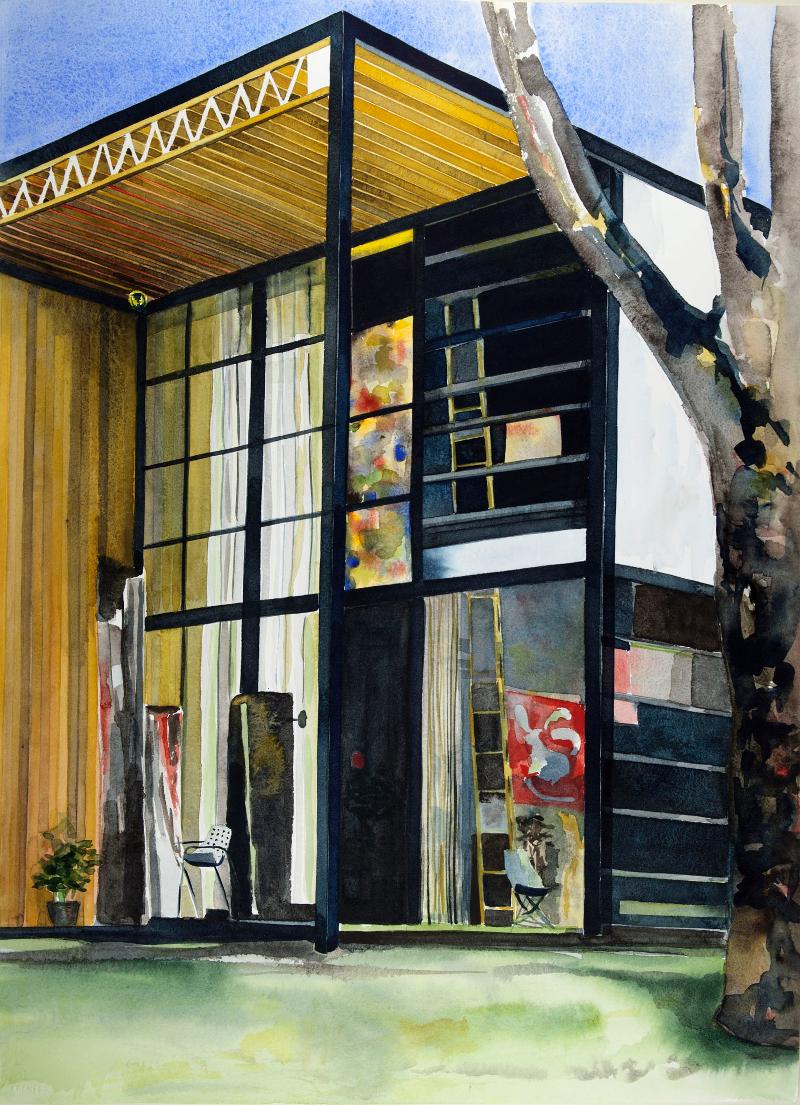 Amy Park: California Experimental Architecture | Park's watercolors push the medium beyond it's usual constraints with large scale, hard-edged, geometric compositions. Her new series, titled California Experimental Architecture, is inspired by the immense collection of photographs Julius Shulman took of the modernist architecture movement that developed in California during the mid 1900s. Park's work is another take on the architecture as well as Shulman's photographs of that architecture.
Park's love of experimental architecture developed from spending years in a cabin that her father designed and built himself. Today, she and her family spend much of their time in a solar and wind powered studio in upstate New York designed and built by her partner, artist Paul Villinski. Park's interest in California architecture began when she was a student learning about Richard Neutra's Kaufmann House in Palm Springs. Shulman was the photographer of the first images she saw, and they were seared into her memory.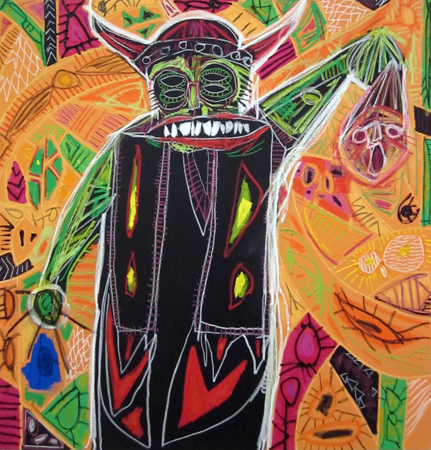 Adam D. Miller: Rise of the Minotaur | Painting, drawing, collage and sculpture, all of which portray humans or animals in states of aggressive or violent behavior. Miller's technique of drawing with oil stick on canvas, using jagged lines, dense patterning and vibrant colors, is well suited to depicting the snarling faces central to his expressionistic compositions.
The artist incorporates imagery from Greek mythology, pre-Columbian art, metal culture, horror movies, textile design, fantasy illustration and comics to investigate man's unchecked destructive instincts. The minotaur, as well as the human-animal hybrids found throughout the exhibition, symbolizes the conflict between human nature and animal behavior, suggesting that man must confront his own violent nature in order to free himself from its controlling presence.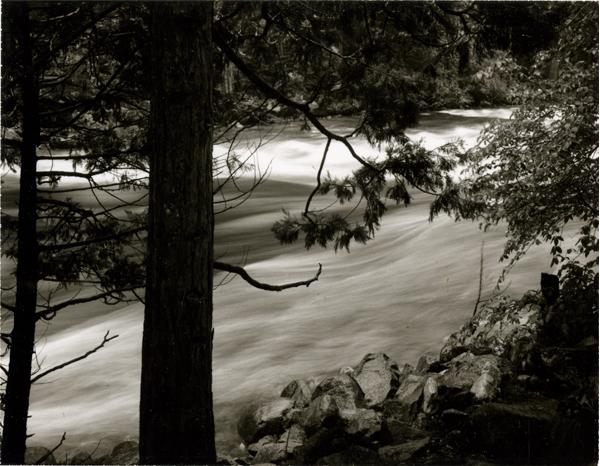 George Schumacher: Polaroids | The artist's first exhibition in over forty years. These original 4x5 Polaroid Land photographs, created from the late 1950's to 1970, and drawn from the artist's estate, represent a rare trove of pristine, exemplary prints.
Schumacher's avid interest in photography was fortuitously enhanced and broadened by a happenstance meeting with Ansel Adams in the mid-1950s, and led to Schumacher's participation in several of the Yosemite Workshops led by Adams. Adams thought so highly of his protégé's work that he featured his images in the 1963 publication: Polaroid Land Photography Manual. This technical handbook served to acquaint and instruct photographers on the creative use of this revolutionary new photographic process. It included works by Adams, as well as such early Polaroid practitioners as Paul Caponigro, Minor White, Marie Cosindas, Philippe Halsman and Schumacher.
For the most comprehensive calendar of art events throughout Los Angeles go to Artweek.LA.
Support HuffPost
The Stakes Have Never Been Higher
Related
Popular in the Community