Offensive. Irreverent. Lurid. Debased. Risky. Obscene. Indecent. Degenerate. Vulgar. Debauched. Depraved. Lewd. These are just some of the words critics used to describe art that, well, just doesn't cut if for mainstream audiences.
For example, some of these words were used to describe the late Robert Mapplethorpe's photography, a kind of image making that leaned heavily on the side of explicit homoeroticism. In 1988, Washington, D.C.'s Corcoran gallery showed a collection of more than 150 of Mapplethorpe's works in a retrospective dubbed "The Perfect Moment." Unfortunately, contrary to the title, some saw the depictions of sex as nothing more than "dirty pictures." Former Republican Senator Jesse Helms was among them. He especially didn't care for the fact that funding from the National Endowment for the Arts had helped launch the Mapplethorpe exhibition.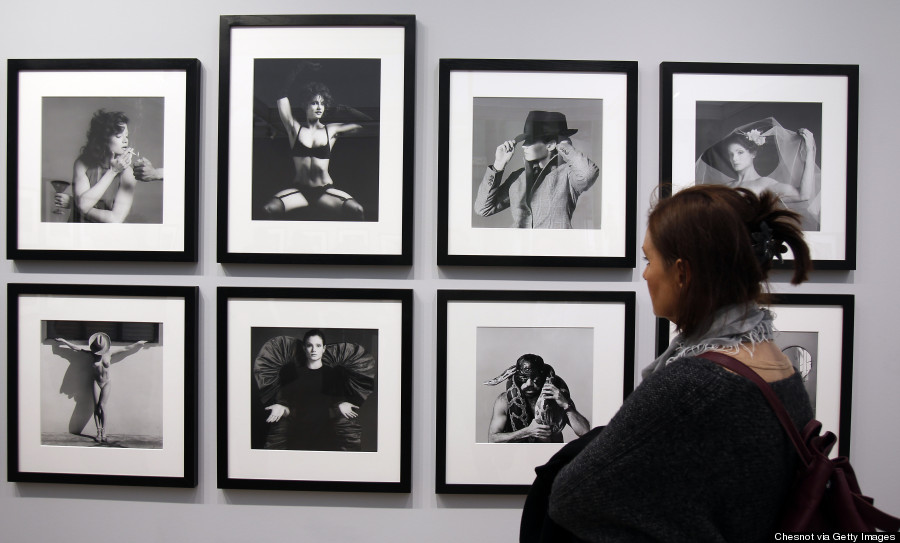 A visitor looks at photographs by US photographer Robert Mapplethorpe during the Paris Photo Fair held at the Grand Palais on November 12, 2014 in Paris, France. (Photo by Chesnot/Getty Images)
Flexing his political muscles, Helms moved to support an amendment that would prevent NEA money from being used to "promote, disseminate or produce obscene or indecent materials, including but not limited to depictions of sadomasochism, homoeroticism, the exploitation of children, or individuals engaged in sex acts; or material which denigrates the objects or beliefs of the adherents of a particular religion or non-religion."
The amendment didn't hold. But the Corcoran canceled the show. Mapplethorpe had already died, but his work was censored without him.
"In this current climate of confusion, exaggeration and hyperbole, it would be very difficult for an artist like Mapplethorpe, who is very controversial, to have a good viewing of his work in Washington," the late NEA chairman Livingston Biddle explained in 1989. (Yes, his name was Livingston. Biddle.) "I think the decision [to cancel the show] is beneficial to arts."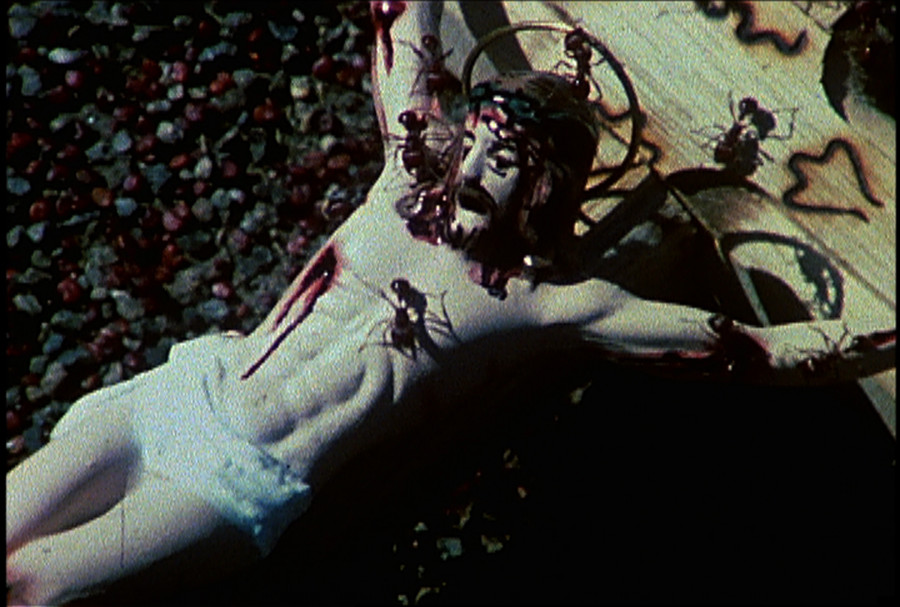 David Wojnarowicz, Still from A Fire in My Belly (A work in progress), 1986-87, Color and b&w, silent, Super 8mm film on video, 20:55 minutes. Courtesy of the Estate of David Wojnarowicz and P.P.O.W.
Fast forward to 2010, and David Wojnarowicz (that's pronounced voy-nah-ROH-vitch) suffered through similar posthumous denigration. His work -- a four-minute excerpt from a 1987 video piece titled "A Fire in My Belly" -- was included in an exhibition at D.C.'s National Portrait Gallery. Until it wasn't. The Catholic League took issue with a certain eleven seconds contained within that excerpt that showed ants crawling over a crucifix. Once the phrase "hate speech" was tossed into the wind, the damage was done. Wojnarowicz's work was removed from a show equipped with yet another curious title: "Hide/Seek."
"Wojnarowicz believed, as have many artists, that the outsider position is a valuable one, and with difference comes responsibilities," Holland Cotter defensibly declared in a review of "Hide/Seek" in 2010, "resistance to acceptance at any cost being one."
In an exhibition titled "Irreverent: A Celebration of Censorship," Leslie-Lohman explores how condemnations like "too risky" and "offensive" have affected the trajectory of LGBTQ art. The pieces on view next month will showcase the multimedia work of 17 artists that toy with queer content including South African artist Zanele Muholi, feminist pioneer Harmony Hammond, Native American artist Kent Monkman and Mexican-born Queer Chicana artist Alma Lopez. The late Mapplethorpe and Wojnarowicz will lead the pack.
"The exhibition draws inspiration from the innovative responses to watershed moments in the history of censoring LGBTQ art in Canada, England, Ireland, the Netherlands, South Africa, Sweden, Turkey, and the United States," exhibition curator Jennifer Tyburczy explained in a press release. "In concept, the show is principally drawn from two events: the censorship of Robert Mapplethorpe's art in the 1980s and 1990s and the more recent withdrawal of David Wojnarowicz's 'A Fire in My Belly' from the National Portrait Gallery in 2010. In practice, it seizes on the international fame of these controversies to delve deeper into the many ways that censorship functions in queer artistic life."
Sex, Tyburczy further asserts, is the point upon which the show pivots. Because hidden behind all the synonyms for obscene is an implicit bias against minority sexual preferences. "The exhibition shows how the defamers of queer life have consistently used sex as a political tool to silence all kinds of minority voices on issues that range from immigration to religion, to race, gender, and disability, to globalization and capitalism."
This exhibition will be the featured exhibition of the Queer Art Caucus of the College Art Association 's 2015 national convention scheduled in New York in February. A panel will be presented on the exhibition at the conference.
Calling all HuffPost superfans!
Sign up for membership to become a founding member and help shape HuffPost's next chapter
BEFORE YOU GO
PHOTO GALLERY
A Brief Guide To The NSFW History Of Penis Art