WASHINGTON -- The head of the Internal Revenue Service's exempt organizations division apologized on Friday for the inappropriate targeting of conservative groups during the 2012 election. The apology by Lois Lerner, first reported by the Associated Press, revealed that groups with the words "tea party" or "patriot" in their applications for tax-exempt status had received greater scrutiny.
"That was wrong. That was absolutely incorrect, it was insensitive, and it was inappropriate. That's not how we go about selecting cases for further review," Lerner said at a Washington conference sponsored by the American Bar Association.
To deal with a massive uptick in filings for 501(c)(4) social welfare status in the last few years, the IRS had centralized its review of those seeking such tax-exempt status in a Cincinnati office.
On a conference call with reporters later on Friday, Lerner explained that the inappropriate screening of conservative groups occurred after employees reviewing applications found that a number asserted that they would partake in some amount of political activity and were missing key information, including applications from some groups using "tea party" or "patriot" in their names.
According to Lerner, the employees then inappropriately designated for closer review groups using the words "tea party" or "patriot" in their names. Those groups constituted approximately 75 of the 300 organizations that received the extensive questionnaire sent out from the Cincinnati office.
"What they were doing, they were short-cutting," Lerner said. "They saw applications with these names. Every time they looked at those applications, or for a significant number of them, they said, 'Oh, we need further information,' so they short-cutted and said, 'If we see those names, we probably need further information,' and put them in that bucket," Lerner said.
Lerner said that her office took action after seeing media reports about conservative groups complaining that they were being politically targeted with demands for greater disclosure.
"That was when we went down and took a look," Lerner said. "We said we need to know the details, we need to know the facts. It was after I knew what the facts were, I notified my bosses and we put the changes in place."
Of the full 300 groups that received the extended questionnaire, 130 have been approved for tax-exempt status and another 150 are still under review, according to Lerner.
She would not put a timeline on when her office determined that conservative groups were targeted or when she told top IRS officials about those inappropriate actions. She did state that they "did not know about this at the time that they were testifying" before a congressional committee examining the potential targeting of conservative groups.
In March 2012, IRS Commissioner Douglas Shulman told a congressional panel, "There's absolutely no targeting. This is the kind of back and forth that happens to people" applying for tax-exempt status.
A statement released by the IRS hours after Lerner's apology stated, "Mistakes were made initially, but they were in no way due to any political or partisan rationale. We fixed the situation last year and have made significant progress in moving the centralized cases through our system."
But conservative groups and Republican lawmakers are calling for further action, including hearings, firings and further explanations about who in the IRS, the Treasury Department and the White House knew about the targeting.
Tea Party Patriots national coordinator Jenny Beth Martin dismissed the IRS apology in a statement: "We reject a simple apology that does nothing to alleviate the danger of this happening again. Only immediate and public actions on the part of the IRS and the president will suffice. We demand the immediate resignation of all complicit in this activity and insist Congress investigate."
Lerner said in the conference call that she would not comment on whether the IRS had taken or would take any disciplinary action.
Toby Marie Walker, president of the Waco Tea Party, one of the groups that complained they were targeted in 2012, told The Huffington Post, "I don't believe for a minute this was low-level, and I never received an apology so I don't feel apologized to."
"If they apologize, they ought to apologize to the groups first and foremost that they put through the stress and the amount of money and time that we had to put into defending something when we did not do anything wrong," Walker said.
Eric Wilson, president of Kentucky 9/12, another conservative group that contended it was targeted by the IRS, said in a statement, "While we should feel vindicated for our principled stance against the government's use of the IRS as a weapon against liberty groups, we also feel there are many still unanswered questions," including "who was requesting this information, why, and for what purpose."
Senate Minority Leader Mitch McConnell (R-Ky.) issued a statement calling on the White House "to conduct a transparent, government-wide review aimed at assuring the American people that these thuggish practices are not underway at the IRS or elsewhere in the administration against anyone, regardless of their political views."
Jay Sekulow, chief counsel at the conservative American Center for Law and Justice, claimed victory after Lerner apologized. Sekulow had provided legal counsel to conservative groups that complained about extensive questioning when they applied for tax-exempt status.
"We knew from the very start that this intimidation tactic was coordinated and focused directly on specific organizations," Sekulow said in a statement. "This admission by the IRS represents a significant victory for free speech and freedom of association. There was never any doubt that these organizations complied with the law and applied for tax exempt status for their activities as Americans have done for decades. And for the many tax-exempt groups we represent, this is an important day -- and underscores the need to stand up and defend your constitutional freedoms."
Before You Go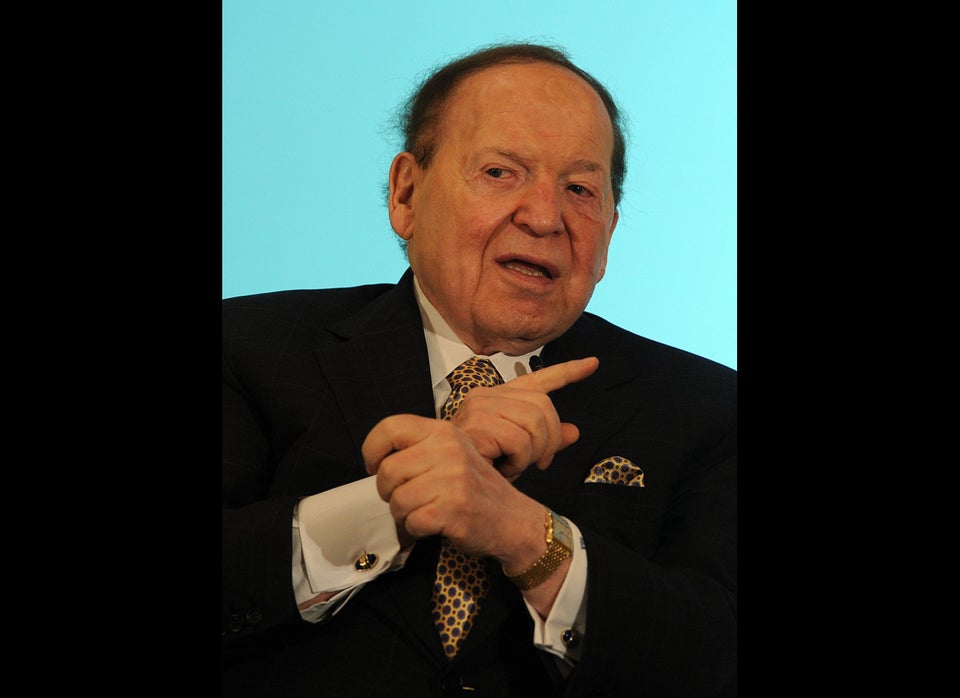 Donors Giving $500,000-Plus To Super PACs
Popular in the Community