WASHINGTON -- Republican efforts to punish the Internal Revenue Service for its alleged partisan targeting of political social welfare groups may have accidentally produced several revelations this month, including how poorly the IRS enforces its rules, how many of those groups actually want to ignore those rules, and how much it really is all about Karl Rove.
Last year, the IRS was found to have singled out a number of political nonprofits for additional scrutiny, improperly flagging the organizations, many of which were Tea Party groups, based on their names. Democrats -- who agree that the IRS bungled its selection process -- pointed to last week's Ways and Means Committee vote for a criminal prosecution of Lois Lerner, the former head of the IRS Exempt Organization division, as evidence of the importance of the Rove-launched American Crossroads and Crossroads GPS, which latter group Lerner named in emails as an organization the IRS should consider denying tax-exempt status.
For instance, in Chairman Dave Camp's (R-Mich.) 97-page report making the case for prosecution of Lerner, several conservative groups are mentioned, but only one gets explained in detail -- Crossroads.
In a closed-door debate last week on whether to send that report to the Department of Justice, Democrats tried to press the Crossroads point with the only witness called to answer questions, the Republican committee staff director, Mark Epley. But Camp didn't let Epley answer, according to a transcript eventually released by the committee.
"Did Ms. Lerner have proper cause to deliberate on the Crossroads application?" Rep. Bill Pascrell (D-N.J.) asked Epley.

"I am sorry?" Epley said, before referring Pascrell back to the report, and forcing the congressman to ask again.
"Did she have reason to do that, Mr. Epley?" Pascrell pressed, before Camp cut him off, declaring, "Time has expired."
"Well, can't he even answer the question?" Pascrell protested.
"We have been answering questions for several hours now. Time has expired," Camp said. "I have been very generous with the clock."
"Baloney," Pascrell said.
Rep. Lloyd Doggett (D-Texas) argued that for all the report sought action on Lerner, Camp's highlighting of one group was a clue as to what really set off the showdown.
"When you say it is about Lois Lerner and whether she has violated federal law, it is also about ... Crossroads GPS, which is throughout this, and Karl Rove," Doggett said, according to the transcript. He later told reporters that Camp's report might as well be called the Karl Rove letter.
Camp noted that several other groups were mentioned, albeit briefly.
But there is a reason Lerner had such concern about Crossroads GPS, regardless of how she and the IRS handled it.
The outfit is organized as a "social welfare" group under section 501(c)(4) of the internal revenue code. Such groups are supposed to be exclusively devoted to doing good, although the tax agency has defined that to mean only that they must be primarily devoted to social welfare. And by "primarily," the agency has further watered down the prohibition against doing politics to mean that politicking must comprise less than half an organization's activity.
Crossroads GPS raised some $200 million in the 2012 election cycle, and spent at least $145 million on television advertising, blanketing viewers with "issue" and political ads. The group was by far the biggest spender of partially disclosed or undisclosed "dark money" in the election.
Camp's report revealed, apparently for the first time, that Lerner was alarmed Crossroads hadn't been flagged for an audit over the course of two separate reviews, even though 25 complaints had been filed against it since 2010 and it was clear from press reports that the group was spending heavily on elections.
"I reviewed the information last night and thought the allegations in the documents were really damning, so wondered why we hadn't done something with the org," Lerner told an examination official in a Texas office early last year, according to an email included the report.
She was seeking information -- well after the alleged targeting began -- ahead of a meeting with two watchdog groups that were seeking answers, and which had filed complaints against Crossroads.
The GOP's report cites IRS rules against an official like Lerner interfering in ongoing reviews, and says that's what she was doing by asking an examination official about Crossroads -- and by letting on that she would like to deny the group tax-exempt status.
While Republicans expressed outrage that Lerner would be interested in denying Crossroads its tax breaks, the watchdogs who filed many of the complaints, the Campaign Legal Center and Democracy 21, say she was simply doing her job. They point to an opinion by lawyers at the Federal Election Commission who deemed Crossroads to be a political organization. (The FEC is evenly divided between Republicans and Democrats, and they have deadlocked over taking action on the lawyers' recommendation.)
Still, if Lerner was "targeting" Crossroads, then so was the FEC, which got a formal complaint about the group from Public Citizen, said CLC senior counsel Paul S. Ryan in an interview with HuffPost.
"One of the things that really struck me as odd is that Republicans on the Ways and Means Committee were critical of Lois Lerner for looking at Crossroads GPS as if that were a bad thing, when in my opinion, that is her job," Ryan said.
He also found it odd that Camp's report claims Lerner was "targeting" Crossroads on the grounds that she did not seek similar treatment of the Democratic-aligned social welfare group Priorities USA, which CLC also complained about to the IRS.
"We filed our complaint after each of these two groups were formed, early on," Ryan said.
"As a factual matter, Crossroads GPS went on to spend $85 million, while Priorities never really got off the ground," he added, referring only to spending that Crossroads reported to the FEC, not its entire portfolio of disclosed and undisclosed ad expenditures.
The fact that Crossroads still has its tax break in spite of all the complaints and activities revealed in Camp's report suggests not targeting, but rather an agency that does not enforce its own rules, even in the case of the single largest spender of dark money in the last two elections.
"From the 30,000-foot view, this group looks to the Campaign Legal Center like a group that was formed to influence elections and avoid disclosure," Ryan said, noting that a prime benefit of retaining 501(c)(4) status is that such groups do not have to disclose their donors.
The GOP push to punish the IRS also recently revealed how alluring the idea of becoming another unchecked Crossroads-style group is to other conservative groups. According to testimony by IRS Commissioner John Koskinen at the Committee on Oversight and Government Reform, the agency offered all of the would-be 501(c)(4)s awaiting approval for tax-exempt status an easy way to earn their tax break. They simply had to promise that politics would account for no more than 40 percent of their activities. Several dozen of the groups agreed. But 19 of them refused.
Paul Blumenthal contributed reporting.
Michael McAuliff covers Congress and politics for The Huffington Post. Talk to him on Facebook.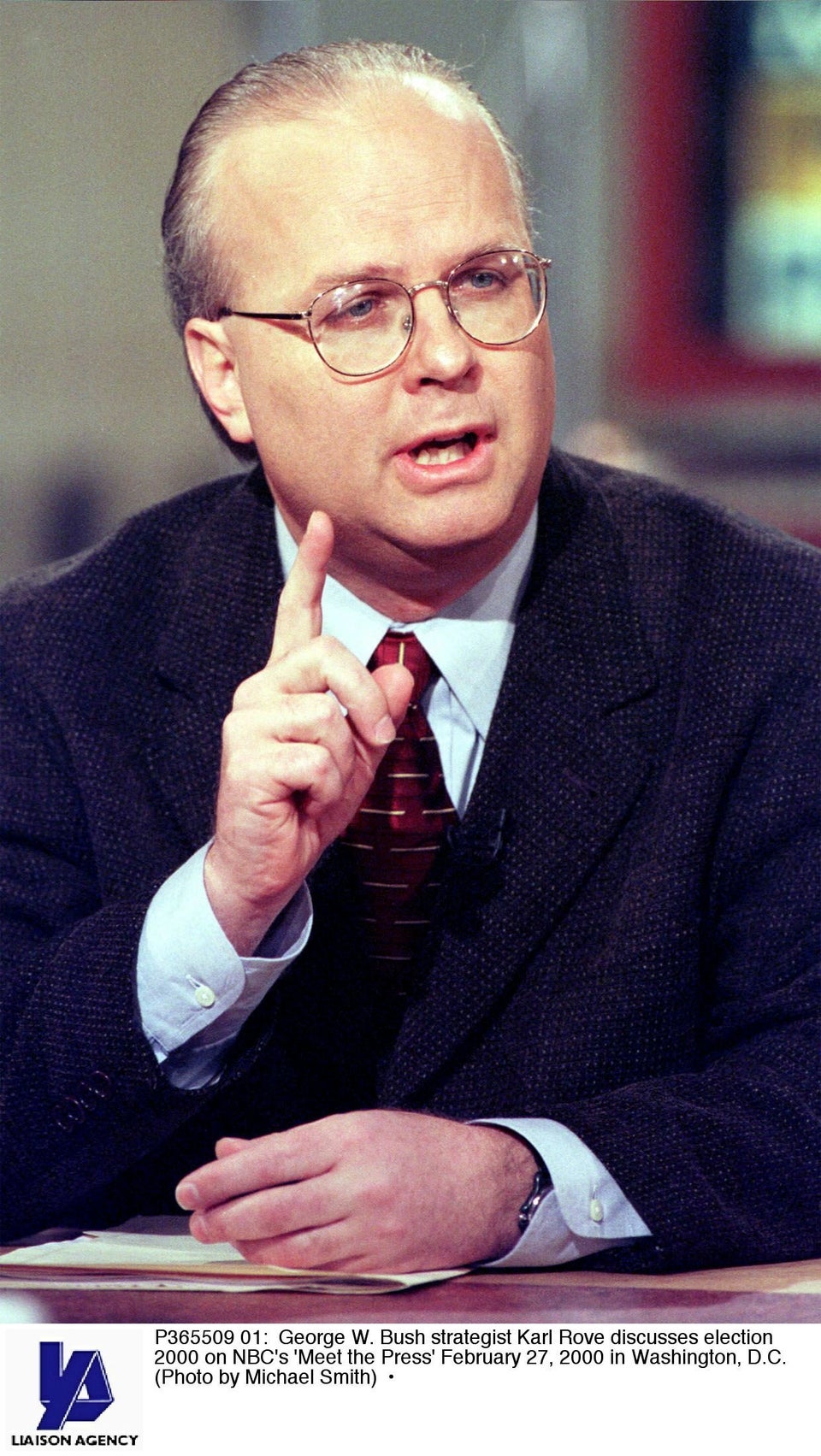 Karl Rove Through The Years
Popular in the Community