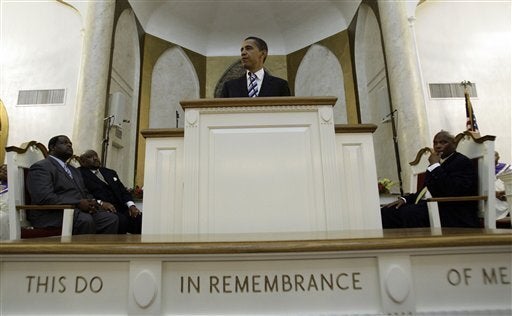 The national United Church of Christ is under attack from the IRS, the AP reports, because the church invited one of its members, Barack Obama, to speak at the church's national conference last summer. The invitation came before Obama had decided to run for president. What's at stake here is not just religious freedom, but the freedom of speech of all nonprofit groups. The danger is that when nonprofit groups are silenced, corporate America will be able to dominate even more thoroughly the public debate.
The IRS letter to the United Church of Christ is particularly disturbing, threatening to revoke the church's tax-exempt status. The sole basis for the letter is that Obama gave a June 23, 2007 speech to the church's members (he was invited before he decided to run for president), and Obama campaign staffers had tables outside the building promoting him. Inside the building, the church actually banned all Obama signs and literature, and announced that it was not a campaign speech.
If this rule is taken literally, it might ban all politicians from speaking at any nonprofit location. The IRS rules would have required the church to give the same speaking opportunity to every single candidate for president. Since Obama spoke more than six months before anyone voted in the 2008 elections, this rule would put no time limit on a ban. So far, that campaign for presidency has included nine Democrats, 13 Republicans, four Constitution Party candidates, three Green Party candidates, eight Libertarian Party candidates, and a half-dozen smaller party candidates, plus any potential challengers to Obama's Senate seat. Altogether, a nonprofit organization would need to invite nearly 50 people to speak for an hour at any event if they wanted to hear a candidate speak. This kind of logic would effectively mean that every nonprofit organization in the country is now banned from having any politician speak at an event at any time. These groups cannot afford to provide an outlet for every nutcase candidate to speak, and they cannot risk the legal liability of failing to invite every possible speaker.
Such repressive IRS actions are already causing fearful reactions from nonprofit organizations. As I noted last month, the School of the Art Institute in Chicago banned its Gene Siskel Film Center from showing a documentary about Barack Obama out of an exaggerated fear that it might be seen as violating IRS rules. There is a serious danger that colleges and other nonprofit groups will seek to silence political speech out of a misguided fear of what an IRS controlled by the Bush Administration might do to them.
Nonprofit groups are, correctly, banned from aiding politicians. But this law should have a narrow application that protects the integrity of the political process, not a broad interpretation that censors speech fully protected by the First Amendment. Churches and other nonprofit groups should be prohibited from funneling money to a campaign, raising money for candidates, or making membership in the organization dependent upon support for or opposition to a candidate. Beyond that, however, churches should be free to invite any candidates to speak without charge, and members of churches should be equally free to endorse any candidates they wish. When nonprofit groups violate standards of fair conduct (such as the efforts by right-wing Catholic groups to have liberal Democrats banned from speaking at Catholic colleges), the proper response is condemnation, not attempts to banish their existence as non-profit organizations.
I am a strong advocate of preventing politicians from exploiting nonprofit groups. In my 1996 book, Newt Gingrich: Capital Crimes and Misdemeanors, I criticized the IRS' lenient treatment toward nonprofit organizations run by Newt to aid the Republican Party and his personal presidential ambitions. Newt's political organization GOPAC effectively ran a nonprofit group, the Abraham Lincoln Opportunity Foundation, as a money-laundering scheme for its big donors who wanted to avoid political contribution limits and receive a tax-deduction. Corporations and foundations, which are banned from donating to campaigns, could also funnel money to Gingrich using this method, and Gingrich personally thanked donors for their commitment "to GOPAC and to ALOF." Gingrich decided to start another nonprofit group, the Progress and Freedom Foundation, to promote his videotaped college lectures where he explicitly banned "liberal ideas" and then lied about it to the House Ethics Committee. Gingrich wasn't alone. Bob Dole started the nonprofit Better America Foundation in 1994 and spent millions on polls and TV commercials before the 1994 elections that featured Dole and Gingrich asking viewers to "help turn Congress around." But these fraudulent groups can be stopped without suppressing the political speech of legitimate churches and activist organizations.
Why is the IRS so anxious to go after a Democratic Senator's church at the same time it is letting wealthy tax cheats get away with their crimes? Under the Bush Administration, the IRS has dramatically increased audits of low-income taxpayers while largely ignoring massive fraud by the very rich. This latest attack on Obama's national church by the Bush Administration closely follows the right-wing attacks on the pastor of his church in Chicago.
It might be tempting for some liberals to want to use the IRS to go after all of the right-wing churches that are deeply involved in supporting Republican candidates. But there's a principle at stake here. We should have freedom of expression for everyone, whether it's conservative or liberal groups. We have nothing to fear from the right in the open debate of ideas, but we have plenty to fear when the IRS is trying to suppress political discussions.
Crossposted at ObamaPolitics.

Note: I'm the author of a new book, Barack Obama: This Improbable Quest, but I'm not part of the Obama Campaign.
Related
Popular in the Community