WASHINGTON -- The Internal Revenue Service targeted progressive groups applying for tax-exempt status in addition to conservative ones, according to IRS documents released by congressional Democrats on Monday.
The documents and an internal IRS report being sent to congressional committees reveal that the tax agency used terms that included "progressive" and "occupy" to flag progressive organizations for extra scrutiny before the 2012 elections.
The revelations greatly complicate the political scandal that has engulfed the IRS over the past few weeks. An inspector general report in mid-May revealed the tax agency had screened conservative groups with words like "tea party" in their name when considering applications for tax-exempt status. Lawmakers from both parties quickly denounced the creation of such "Be On The Lookout," or BOLO, lists. Republicans in particular argued the finding proved the IRS was trying to tip the scales of the election during the heat of the campaign.
Now it appears the agency's BOLOs were applied to organizations across the ideological spectrum. The IRS also screened groups advocating on behalf of Israeli settlements who were applying for non-profit 501(c)(4) status -- a criterion that may on its own prove politically toxic.
John Shafer, manager of the tax-exempt division in the IRS Cincinnati office had told congressional investigators that BOLOs were applied not for purposes of punishing conservative groups, but to ensure that similar organizations were being categorized and screened by the same group of IRS officials. The concern, he said, was that two different tea party groups would get two different decisions on non-profit status. So, the Cincinnati office developed filters to make sure that everything was categorized as cleanly as possible, he said.
Democratic staffers on the House Ways and Means Committee released a copy of a BOLO list Monday that showed the word "progressive" was one of those a filters.
"Common thread is the word 'progressive,'" the document reads. "Activities appear to lean toward a new political party. Activities are partisan and appear as anti-Republican. You see references to "blue" as being 'progressive.'"
The document released by House Democrats shows that the IRS was grappling with a wave of difficult-to-define organizations looking for tax-exempt status. The BOLO document notes that 176 applicants for 501(c)(4) status had used the same address in their applications.
Under a section titled "Watch List," the agency put "health care legislation" as an "issue name," advising that new applicants were subject to secondary screening. The IRS also listed "medical marijuana" as an issue name to watch, as well as "occupied territory advocacy."
"Applications deal with disputed territories in the Middle East," the document reads. "Applications may be inflammatory, advocate a one sided point of view and promotional materials may signify propaganda."
Since the scandal surrounding the IRS' targeting of tea party groups, several liberal organizations, including Progress Texas, had said that they too received additional scrutiny in their applications for tax-exempt status.
The emergence of a BOLO list substantiating those claims had Democrats demanding further explanation. The ranking member of the House Way and Means Committee, Rep. Sander Levin (D-Mich), wrote a letter to Treasury Inspector General J. Russell George on Monday asking why he had omitted information about the IRS's broader BOLO scheme when he released the findings of his audit report about tea party targeting by the tax agency on May 14.
"The audit served as the basis and impetus for a wide range of congressional investigations and this new information shows that the foundation of those investigations is flawed in a fundamental way," Levin said.
Danny Werfel, the principal deputy commissioner of the Internal Revenue Service, acknowledged Monday that other BOLOs besides tea party had existed and were operational until recently. He informed reporters that he had since ended the BOLO practice.
The main question for many Democrats, however, is why no one at the IRS revealed that progressive groups were screened in addition to tea party organizations.
UPDATE: 8:05 p.m. -- House Oversight Committee Chairman Darrell Issa (R-Calif.), who has selectively leaked portions of his own incomplete investigation into IRS wrongdoing, called the internal IRS report issued by Werfel "premature." Issa added that the review "fails to meaningfully answer the largest outstanding questions about inappropriate inquiries and indefensible delays."
As for the evidence that the IRS put progressive groups on its BOLO, Issa's office continued to argue on Monday that the scrutiny applied to tea party organizations was greater because their cases were handled with officials in D.C. An Issa spokesperson writes:
The "progressive" entry has no direction for giving such cases special scrutiny. It merely reminds screeners that such groups' "activities appear to show that (c)(3) may not be appropriate." No mention of such case being sent to a special screening unit or being worked through the Exempt Organizations Technical unit at IRS headquarters in D.C. Nothing says a screener cannot approve a "progressive" case on the spot.
UPDATE: 10:30 p.m. -- Democrats on the House Ways and Means Committee on Monday released 15 additional IRS BOLO lists dating back to August 2010. The information on those lists further suggests that the tax agency was indiscriminate (albeit tone-deaf) in its screening of groups seeking tax-exempt status.
In Feb. 8, 2012, for instance, the BOLO list included groups advocating limiting government as well as those advocating "expanding government." The full file reads as follows.
Political action type organizations involved in limiting/expanding government, educating on the constitution and bill of rights, $ocial economic reform / movement. Note: typical advocacy type issues that are currently listed on the Case Assignment Guide (CAG) do not meet these criteria unless they are also involved in activities described above.
IRS BOLO also seemed to target liberal-leaning groups starting June 15, 2012, when it listed "Green Energy Organizations" as something to flag. The concern, according to the file, was that these groups wanted 510c3 status for supplying green energy to other groups.
The IRS at the same time flagged conservative-leaning groups for screening. Starting July 11, 2012, it began spotlighting organizations dedicated to paying down the national debt. That continued until April 19.
Before You Go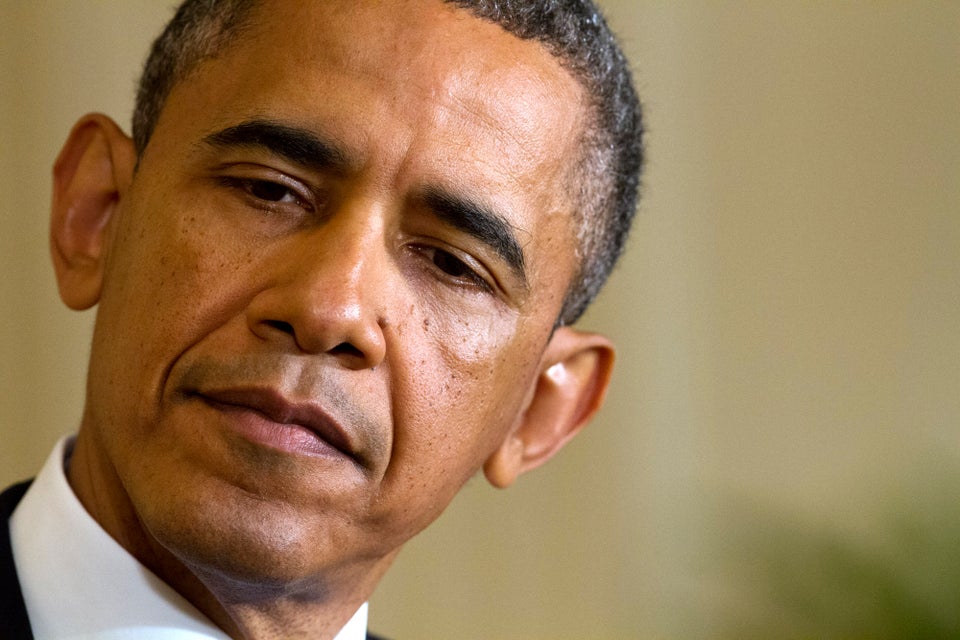 Politicians React To IRS Scandal
Popular in the Community