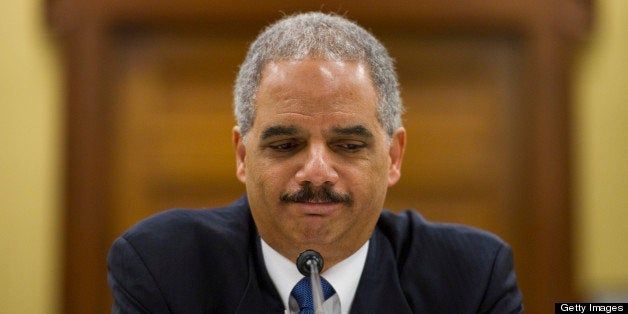 Americans say the scandal surrounding the IRS' targeting of conservative groups is more important than both the controversy over the 2012 attack on a U.S. diplomatic mission in Benghazi and the seizure of Associated Press phone records, according to a new poll.
A Quinnipiac University poll released Thursday found that 44 percent of registered voters surveyed consider the IRS scandal the most significant of the three controversies. Benghazi was more important to 24 percent of voters, while 15 percent prioritize the DOJ's decision to look into the AP's phone calls.
Amid the intense national focus on both the IRS and AP cases, public opinion is turning against Attorney General Eric Holder. The Quinnipiac poll found 76 percent of voters would prefer a special prosecutor to take over for Holder on the IRS investigation, while Holder himself received a job approval rating of a rather low 23 to 39 percent.
"There is overwhelming bipartisan support for a special prosecutor to investigate the IRS," said Peter Brown, assistant director of the Quinnipiac University Polling Institute. "Voters apparently don't like the idea of Attorney General Eric Holder investigating the matter himself, perhaps because they don't exactly think highly of him."
Holder's reputation has taken a hit from both the IRS investigation and his department's seizure of reporters' phone records in the course of leak investigations. While Americans surveyed by Quinnipiac underscore the significance of the IRS controversy, a report from The Daily Beast suggests Holder himself is feeling more pressure from the government's dealings with the press. Holder's view of himself as a progressive, liberal lawyer is at odds with public opinion, the report said.
"Sources close to the attorney general say he has been particularly stung by the leak controversy, in large part because his department's -- and his own -- actions are at odds with his image of himself as a pragmatic lawyer with liberal instincts and a well-honed sense of balance -- not unlike the president he serves," The Daily Beast reported.

Holder hoped to discuss the leak investigation in a meeting this week with the Washington bureau chiefs of several major publications, but both The New York Times and Associated Press have said they will not attend the meeting because the discussion will be off the record. So far, only Politico and The Washington Post have confirmed they will attend.
REAL LIFE. REAL NEWS. REAL VOICES.
Help us tell more of the stories that matter from voices that too often remain unheard.
BEFORE YOU GO
PHOTO GALLERY
Eric Holder In The Hot Seat