WASHINGTON -- The inspector general behind the critical report about the IRS' targeting of tea party groups acknowledged Thursday that the information in his report was not complete.

J. Russell George, the IRS inspector general, told the House Oversight Committee that only in the past few weeks has he become aware of documents showing that the IRS screened progressive groups in addition to conservative ones. George said he was "disturbed" by the fact that these documents were not provided to his team of investigators prior to the audit's release and that he was continuing to investigate the issue.
"I am concerned that there may be additional pieces of information that we don't have," he said. "I'm very concerned about that sir."
George placed the blame on the IRS itself, which he said had not provided the full set of documents to him and his team to review. At one point, in fact, he questioned whether the tax agency withheld the information intentionally.
"We looked at the criteria they gave us, that only had tea party on it," said George. "The moment I was made aware of the fact that other groups were similarly spotlighted by the IRS, I dispensed my staff to review that."

George's comments further complicate the storyline surrounding the IRS' screening of groups applying for tax-exempt, 501(c)(4) status. What at first appeared to be a scandal squarely surrounding the tax agency's review of Tea Party groups has become a controversy about the report and its author. It also has become increasingly partisan, with Democrats left fuming about being misled and at least three Republicans on the committee apologizing to George for the criticism he endured.

George spent his testimony and statement defending some of the original findings. He noted that of the 298 cases provided by the IRS for his office's review, 96 of them involved tea party or conservative groups. Seven involved ones with "progressive" or "progress" in their name. He also insisted that he had not deliberately left out information in his initial report. Asked why he didn't report that one of his investigators found no evidence of political motivation by the IRS after reviewing 5,500 emails, George responded that he couldn't have known "if there was an email that was destroyed."
George also lashed out at the attacks against the members of his staff, who he said helped save taxpayers billions of dollars during prior investigations into IRS activities.
"I'm a political appointee. I expect this heat," he said. "My career people neither deserve it nor should they have to expect it."
But Thursday had a markedly different tone than George's first appearance before Congress in May. Back then, his report on the IRS was treated as sacrosanct, with Republicans and Democrats alike quickly condemning the tax agency for singling out conservative groups.
George himself did not label groups by political affiliation, but when lawmaker after lawmaker -- on both sides of the aisle -- slammed the IRS for targeting conservative groups, George did little to disabuse them of the notion, mainly noting the types of names used to single out tax-exempt applications. Asked specifically during the May 22 hearing if any group among the 298 that were flagged for scrutiny could have been progressive, George told Rep. Gerry Connolly (D-Va.): "We were unable to make that determination, sir, because in many instances, they -- the names were neutral in that you couldn't necessarily attribute it to one particular affiliation or another."
On Thursday, George said, during questioning from Rep. Matthew Cartwright (D-Pa.), that he knew at that time that progressive groups (specifically ones with Occupy in their name) had indeed been on the "Be On The Lookout" (BOLO) Lists but felt that he could not discuss the matter. Part of the problem, George said, was that he was constrained by privacy laws from revealing names. The other issue was that he had not investigated whether those groups, like those affiliated with the tea party, had received heightened scrutiny by IRS officials or were merely being sorted by name.

"The charge of the audit was not on how those were utilized," he said of the progressive BOLOs.
At one point in the hearing, George said he was unable to process at all whether progressive groups were inappropriately scrutinized because there was no clear definition of what progressive meant politically. Former United States President Theodore Roosevelt, he noted, was a progressive despite being regarded as a father of the Republican Party. Reps. Darrell Issa (R-Calif.), the chairman of the Oversight Committee, had made the same claim.
"Progress? I have no idea what that stands for," George said.
The two leading lawmakers on the House Oversight Committee -- Issa and Elijah Cummings (D-Md.) -- did, at one point, agree on one item. Each thought it would be best for George to continue looking into how the IRS treated non-conservative groups applying for 501(c)(4) status to achieve a more comprehensive picture. George said he would continue investigating the matter and suggested that it would take a month's time to find a proper answer.
In spite of the confirmation that his tax-exempt report did not present the full picture, George largely escaped the angry pounding other officials have sustained in the case -- until the hearing's end, when he criticized the Democratic members of the committee for raising questions about the audit. George said it was something that wouldn't have happened years ago when he was a congressional staffer.
"We never treated an IG office like this," George said. "To just try to suggest that an audit could have been done differently, this is unprecedented, sir, this is unprecedented."
Cummings did not appreciate the charge. (Watch the video below.)
"I was feeling pretty good until your last statement," said a visibly angry Cummings in the suddenly silent hearing room. "You call balls and strikes; we call balls and strikes. The 700,000 people who sent me to this Congress did not send me here just to sit and listen. They didn't do that. And if I have questions, I'm going to ask them."
"The mere fact that you were asked some questions about a report that even you say, looking at it in retrospect, you might have done things a little different, you know, welcome to the club," Cummings, who is usually soft-spoken, continued. "Any IG, if they present something, and I'm wondering, 'Well did I miss something, or is something not here?' I'm going to ask some questions."
He wasn't finished: "Some folks say, 'Oh you know, the IG, we should never ask, oh the IG, don't ask him a question,'" he went on, with mock fear in his voice. "Nah nah nah nah nah nah no! That's not how it operates."
"Nobody's trying to attack you or anybody else -- just trying to get to the facts," he concluded. "This is our watch."
Before You Go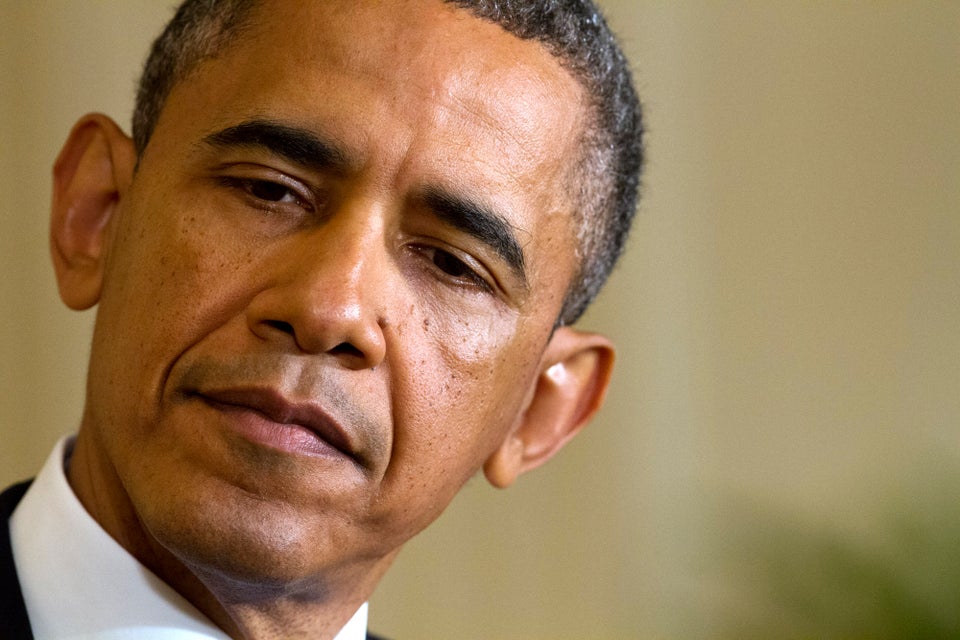 Politicians React To IRS Scandal
Popular in the Community