WASHINGTON -- The IRS Inspector General said Tuesday that incompetence, not malice, was behind the tax agency's heavy scrutiny of conservative groups applying for tax-exempt status in the lead-up to the 2012 elections.
A 48-page IG report explicitly stated that the IRS behavior was "not politically biased," that it was due to lower-level staff who did not understand their jobs and sometimes acted insubordinately, and that it was not driven by the White House.
The findings come just days after it was revealed that the IRS had singled out groups with words like "Tea Party" in their names -- a politically explosive revelation that raised concerns over government discrimination against political opponents.
All IRS officials interviewed, however, told the IG that the scrutiny of such groups was "not influenced by any individual or organization outside the IRS." Rather than a scandal, the IG said, the Tea Party probes had merely given "the appearance that the IRS is not impartial in conducting its mission."
The IG did have two outstanding issues of disagreement with the agency's top brass over how to ensure that such abuse does not happen again, and said the IRS has not yet fully resolved the issue, despite assurances from officials.
"Although the IRS has taken some action, it will need to do more so that the public has reasonable assurance that applications are processed without unreasonable delay in a fair and impartial manner in the future," said the report.
IRS management opposed the IG's calls to explicitly articulate why agents choose applications for nonprofit status for additional rounds of scrutiny, as well as to post online guidance for IRS agents on how to process applications from groups that may be political. In light of this resistance, the report said a future audit was "being considered to assess" how the IRS implemented new policies.
Despite laying much of the blame at the feet of front-line IRS employees and middle managers, the final IG report did point to "ineffective management" that allowed the mistakes. In particular, attention is sure to focus on Lois G. Lerner, who headed the agency's office of Exempt Organizations, Tax Exempt and Government Entities Division.
Lerner was the IRS official who first brought the agency's misbehavior to public attention with comments at a professional conference last Friday that were quickly picked up by news media outlets.
Lerner was given a summary of the agency's Tea Party investigation in April 2010, as HuffPost reported Monday, and after she was briefed of the improper probes in June 2011, she instructed middle managers to stop focusing on Tea Party groups. But those subordinates -- who are not named in the report -- were able to flout her instructions and to rewrite the "be-on-the-lookout" criteria to reinsert terms that encompassed some Tea Party-type organizations.
"The team of specialists subsequently changed the criteria in January 2012 without executive approval because they believed the July 2011 criteria were too broad," the report said.
An IRS spokesman said in a statement emailed to HuffPost that "there was no intent to hide this issue, but rather we waited until [the IG's office] completed their fact finding, made recommendations, and we reviewed their findings."
Tea Party groups had complained over the past two years that they were being targeted for IRS scrutiny because of their ideology or political point of view, with excessive information demands from the agency. HuffPost reported Monday that the IRS went into damage-control mode after higher-ups -- including acting commissioner Steven Miller -- expressed concern in March and April of 2012 over press attention to the Tea Party inquiries.
The IG document released Tuesday made repeated mention of IRS officials in the Cincinnati office -- which had been set up as a centralized clearinghouse for secondary inspection of flagged nonprofit applications -- who did not know how to do their jobs. "There appeared to be some confusion by Determinations Unit specialists and applicants on what activities are allowed" by 501(c)(4) groups, the report stated on page 14.
The report was more emphatic on page 18, stating, "Specialists lacked knowledge of what activities are allowed" by tax-exempt, nonprofit 501(c)(3) and 501(c)(4) groups.
Part of this, the report said, was due to unclear guidance in the law. "Regulations do not define how to measure whether social welfare is an organization's 'primary activity,'" the IG said.
In a response to the IG report, Joseph Grant, the acting IRS commissioner for tax-exempt and government entities, also pointed to confusion over how to enforce the law. "There are no bright lines for what constitutes political campaign intervention," Grant wrote.
The IG found that of 96 so-called Tea Party, Patriot or 9/12 groups that were given extra screening by the agency's Cincinnati office, 79 of showed evidence of "significant political campaign intervention." In all, 298 applications were held up for additional scrutiny, and the IG noted the fact that 202 were not from Tea Party groups as evidence the agency's actions were "not politically biased."
The IG also pointed out that some campaign intervention is allowed by (c)(4) groups, as long as promoting social welfare remains their primary purpose. IRS agents did not know how to determine whether groups applying for nonprofit status were meeting those criteria, the report said. So in May 2012, Washington officials gave "a two-day workshop to the team of specialists ... to train them on what activities are allowable ... including lobbying and political campaign intervention," according to the report.
The lack of awareness among IRS agents about what activities (c)(4) groups could engage in "created burden on the organizations that were required to gather and forward information that was not needed by the Determinations Unit and led to delays in processing the applications," the IG found. IRS agents asked Tea Party groups for lists of donors, resumes of board officials and leadership, whether members of the group or family members had run or planned to run for political office, and other excessively intrusive questions.
Republicans were not satisfied with the IG report and said they would continue to raise questions about the agency's actions at a hearing before the House Ways and Means Committee on Friday.
"We still do not know why the targeting began, how extensive it was, who initiated it and who knew about it," said Rep. Jim Jordan (R-Ohio).
House Oversight and Government Reform Committee Chairman Darrell Issa (R-Calif.) said the report "raises more questions than it answers."
"Today's report magnifies our concerns about the breadth and depth of the Internal Revenue Service's targeting of organizations for their political beliefs," he said.
UPDATE: 8:40 p.m. ET -- President Barack Obama responded to the IRS IG's findings in a statement Tuesday evening:
I have now had the opportunity to review the Treasury Department watchdog's report on its investigation of IRS personnel who improperly targeted conservative groups applying for tax-exempt status. And the report's findings are intolerable and inexcusable. The federal government must conduct itself in a way that's worthy of the public's trust, and that's especially true for the IRS. The IRS must apply the law in a fair and impartial way, and its employees must act with utmost integrity. This report shows that some of its employees failed that test.

I've directed Secretary Lew to hold those responsible for these failures accountable, and to make sure that each of the Inspector General's recommendations are implemented quickly, so that such conduct never happens again. But regardless of how this conduct was allowed to take place, the bottom line is, it was wrong. Public service is a solemn privilege. I expect everyone who serves in the federal government to hold themselves to the highest ethical and moral standards. So do the American people. And as President, I intend to make sure our public servants live up to those standards every day.
UPDATE: 9:30 p.m. ET -- Treasury Secretary Jack Lew released a statement as well:
"I was deeply troubled to learn of the Treasury Inspector General for Tax Administration's finding that IRS personnel used unacceptable terms and criteria to determine if certain groups should receive additional scrutiny when applying for tax-exempt status. While the Inspector General found no evidence that any individual or organization outside the IRS influenced the decision to use these criteria, these actions were inappropriate and did not reflect the high standards which I expect and the public deserves. Like the American people, I have zero tolerance for any action that could undermine public confidence in the impartial and non-partisan administration of the tax code.

"Although the Inspector General found that the IRS put a stop to this type of screening as of May 2012, it should never have happened and must not happen again. I strongly agree with the President about the need for accountability at the IRS, and I expect the IRS to implement the Inspector General's recommendations without delay."
Read the IRS Inspector General's report below:
Before You Go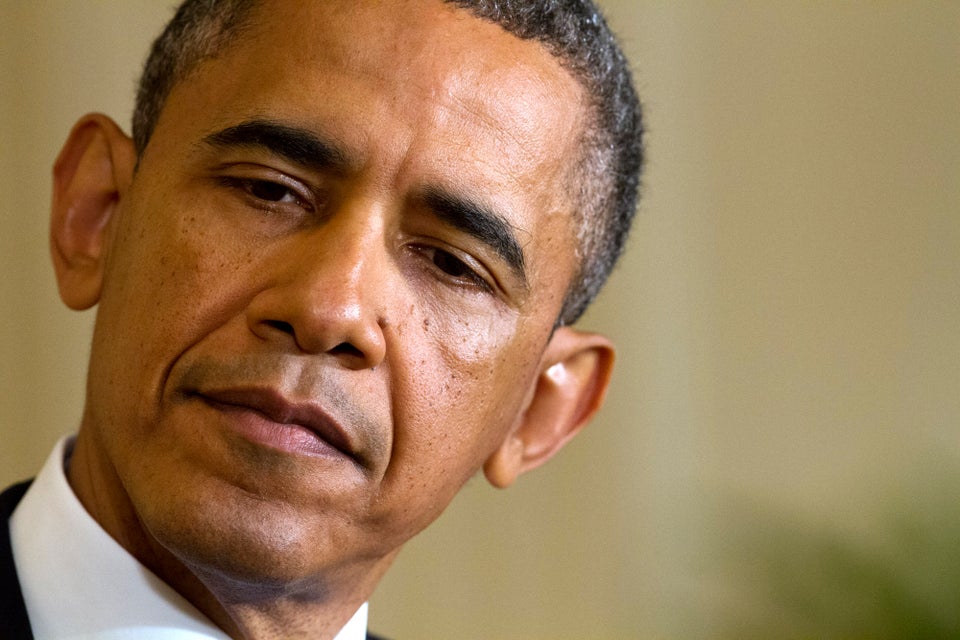 Politicians React To IRS Scandal
Popular in the Community