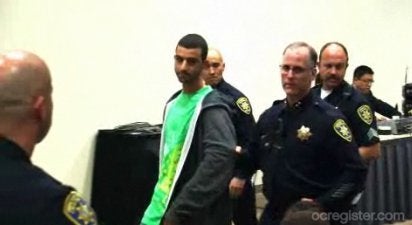 Eleven University of California students have been charged for their involvement in disrupting a speech given by Israeli Ambassador to the U.S. Michael Oren last February at UC Irvine, reports the Los Angeles Times.
The students -- 8 currently at UC Irvine and 3 UC Riverside graduates -- were charged with with two misdemeanor counts of conspiracy to disturb a meeting and disturbance of the meeting by the Orange County District Attorney's office on Friday, only a few days after a protest was staged outside of the DA's office in support of the so-called 'Irvine 11.'
The incident prompted the suspension of the school's Muslim Student Union group and sparked debates on campus regarding limitations on free speech. But Orange County District Attorney Tony Rackauckas contends that the students' First Amendment rights are not at issue in this case. He told the Los Angeles Times that the students were charged because they "meant to stop this speech and stop anyone else from hearing his ideas, and they did so by disrupting a lawful meeting," citing alleged e-mails that announced a "University of Chicago Style disruption of the Ambassador's speech." He added:
We must decide whether we are a country of laws or a country of anarchy...We cannot tolerate a pre-planned violation of the law, even if the crime takes place on a school campus and even if the defendants are college students. In our democratic society, we cannot tolerate a deliberate, organized, repetitive and collective effort to significantly disrupt a speaker who hundreds assembled to hear.
The students' arraignment will take place on March 11. If found guilty, they face up to six months in jail, fines or probation and community service.
Below, check out the Examiner's footage of Michael Oren's truncated speech.
What do you think? Were the students rightfully charged, or is this an overreaction? Weigh in below.
Related
Popular in the Community