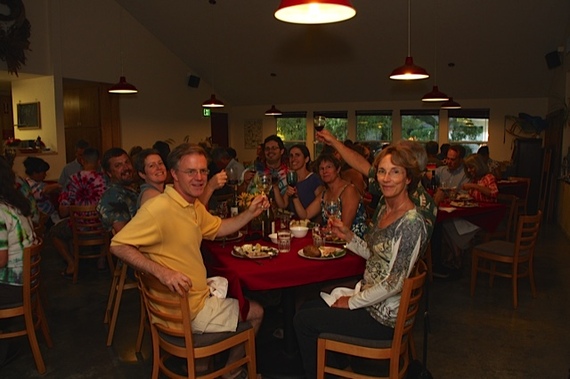 Have you spent much time thinking about where you'll be living in 10 or 15 years? Probably not. While many of us say we want to live long, active and happy lives, it's easy to avoid thinking about what that will mean. Few of us want to consider where we will live, who we will live with, and how our days will unfold when we, for whatever reason, can no longer do what we do now. Even with our aversion to following the example of our deteriorating parents as they languish in nursing homes, we tend to avoid the conversation. Fortunately, there is an alternative. Cohousing or intentional communities offer baby boomers another option to rightsize their home, increase the quality of their lives, and age-in-place. And a good time to start talking about it is today.
Now don't get me wrong. Cohousing is not just for seniors. In fact, the majority of existing cohousing and intentional communities are for people of all ages. Denmark is the pioneer of the movement with nearly 8% of their population living in a cohousing development of some sort. However, as the movement picks up steam here in the U.S., it is primarily being driven by its potential for satisfying a significant and growing need for senior housing. As baby boomers reach beyond retirement age and look firmly at alternatives, more and more senior cohousing communities are being designed and created.
What exactly is a cohousing community? The majority of cohousing communities are 15 to 35 private and individual homes built around a common area that encourages interaction. These "intentional neighborhoods" invite residents to be "neighborly" and stay socially active. Residents regularly and collaboratively plan community activities, meals and shared spaces. Nearly all have a common house with a kitchen and meeting space, while others have a garden, a pool or hot tub. What's obvious is that when neighbors know each other well, it provides a useful solution for anyone who just occasionally needs a helping hand. While not an answer for serious medical conditions, it better serves the needs of infrequent medical emergencies, often allowing a person to live in their home to an advanced age due the sharing and cooperation of close ties to their community.
Intentional communities are similar but with slight differences. According to The Fellowship of Intentional Communities these communities usually evolve around a shared religious or political view, or an environmental or social ideology. Intentional communities are made up of all types of living arrangements including cohousing as I've described, large homes with many rooms, ecovillages, communes, ashrams, condos, and mobile home parks or housing cooperatives. While intentional communities also tend toward sharing resources, ecologically sustainable lifestyles and cooperative living, membership is often more narrowly focused around particular beliefs or backgrounds.
In nearly every cohousing or intentional community, the management is non-hierarchical and handled democratically by those who live on the property with a focus on the needs and desires of those in residence. What makes senior cohousing communities different? With a smaller square footage within individual homes; amenities are geared toward the requirements and requests of older adults. Common areas often include a guest room for visiting family members, or the potential to use the space as a studio apartment for live-in caregivers. AARP explains that these senior cohousing communities allow residents to, "..define their collective approach to aging in community, including the limits of co-care that they are willing to provide for one another." Some take the time to spell out support and help in areas of shopping, meal preparation, driving or housework.
Top advantages to senior cohousing are the social and economic benefits. According to AARP, "Although the cost of a cohousing unit is often on par with or slightly higher than comparable units in the vicinity, overall costs can be lower after factoring in for energy savings, group entertainment, shared meals and amenities, and a cooperative approach to transportation." Plus a sense of safety and security is enhanced because neighbors look out for one another more closely than in a traditional community. Best of all is the idea that residents can live independently and avoid institutional care for longer than in most single-family neighborhoods. That blend of privacy and community is a priceless amenity many will appreciate.
Most homes in cohousing communities are purchased individually, with public areas owned collectively like with a condo project. However, some communities offer people the chance to "rent before they own" to make sure that they are a good fit. Nearly all communities have a "vetting" process to ensure that the new resident understands both the benefits and the commitment that living in the community requires. As Pauline Binns, a cohousing resident since 1988 says, "On a day-to-day basis each of the 12 households is self-contained, but the philosophy is you get back what you put in. It's the small things that work best. We help each other with shopping, drive each other to the station or airport instead of getting a taxi. It's real community spirit."
It's not just baby boomers that are paying attention. AARP, Harvard University, and our government are studying the idea too. Each shares the concern of a growing U.S. senior population, knowing full well that a large portion of people as they age will be ill prepared. When asked, most seniors claim they want to stay in their current home as long as possible. But unless those homes remain affordable, allow a person to live there regardless of common age-related disabilities, are well located to provide social connections and fulfill needs, and remain affordable, the residents will be eventually forced to move--like it or not.
The thing is, I like where I am living right now and am happy with the services and privacy of my current lifestyle. When I started talking to my husband Thom about the idea of cohousing, he was confused. Why bother? Unfortunately, the truth is that most of us aren't very good at anticipating our needs for the future. We also resist change until absolutely necessary. That mindset is a big part of the problem. If we as a generation put our entire focus on just maintaining the pleasant lifestyle we have managed to create for as long as possible, we ignore the possibilities and opportunities that exist to make our future even better. Plus, if any of us as seniors lose our spouse, our health or our income unexpectedly, we may be forced to make fast and sometimes drastic changes without planning. Not only do emergencies often impose drastic change, but they limit our options as well. Far better to think ahead, than leave that possibility to chance.
I've barely touched on the cohousing concept and am intrigued by some of the positive stories about people living in these communities. For that reason, during the coming year I plan to seek out some of those who are already making it work in their areas of the country and report it back to my readers. In addition, I have signed up to attend a conference in May titled, "Aging Better Together" to explore the value and benefits that cohousing might offer us all. Is a cohousing community in my future? I don't know. But what I do know is that it is SMART for all of us to start thinking where and how we want to live as we age.
Support HuffPost
A No-B.S. Guide To Life
Related
Popular in the Community