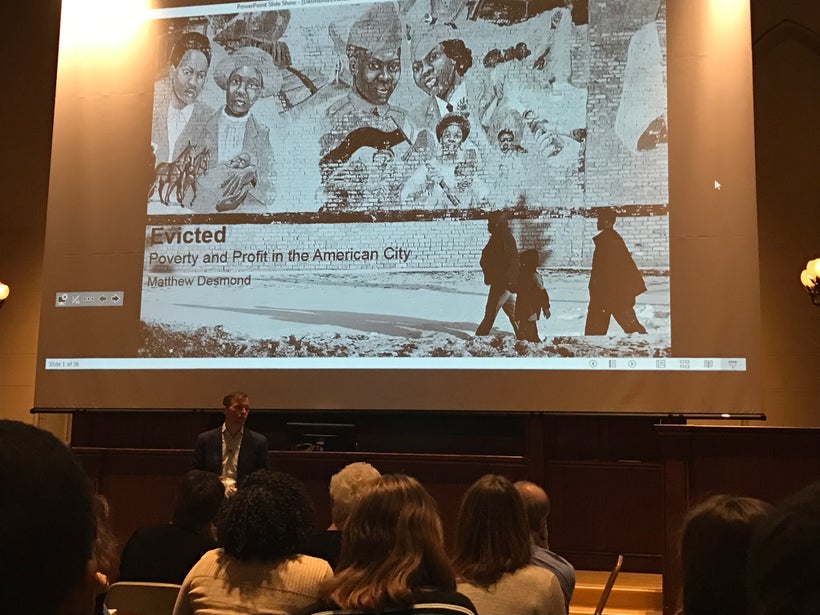 Millions of American households are living with the American Dream out of their reach. This is not new. In the 21st century it is perhaps time to rethink the American Dream of owning a house, with a front yard, a porch, and a waving flag. The feasibility of the American Dream in the 21st century was in the back of my mind the entire time I read Matthew Desmond's Evicted, the highly praised ethnography of landlords and renters in Milwaukee. Dr. Desmond, who is upsettingly young (it's challenging when the sociologist that you want to be when you grow up is basically your age), flips the relationship between poverty and housing instability on its head: eviction is a cause, not a symptom, of poverty.
To make a long, well-put, and worth-reading argument short: eviction isn't rare as many policymakers and sociologists might assume, it is actually a horrifyingly common phenomenon. Urban sociologists have missed the magnitude of the eviction phenomenon because they have traditionally used neighborhoods as the unit of analysis, studying issues such as segregation and gentrification. Because eviction is rarely studied, we don't have good data on eviction. Establishing a dataset of eviction is not a simple data collecting task, given that there are many forms of informal eviction. The consequences of eviction are devastating and have a profound, negative, and life-long impact on subsequent trajectories: worse housing, more eviction, and homelessness, all disproportionately affecting women of color with children ("a female equivalent of mass incarceration," Desmond argued at a talk at the University of Pennsylvania last week).
The solution (spoiler alert!) is a universal housing voucher program that is funded using money that currently goes to the mortgage interest tax deduction, a $170 billion program for homeowners that benefits mostly the upper-middle class.
Let's set the economics of a universal voucher program aside - Desmond and many economists on both sides of the political spectrum (including Manhattan Institute senior fellow and Harvard economist Edward Glaeser) have already addressed the effects on the market, the argument that such a program will be a disincentive to work, and the fear of the lag time that a program will create in the housing market increasing search times. At the heart of public policy are norms and values, and the existence of the mortgage interest tax deduction - the largest housing assistance program in the country - is not a reflection of an inherent American preference for the rich over the poor. Rather, it is a reflection of an inherent American preference for the homeowner over the renter.
To implement the universal voucher program that Desmond argues for, we need to rethink the way we conceive of homeownership in American culture. As I read Evicted, the work of Robert K. Merton came to mind. In 1938, Merton, one of the contenders for the title "founder of modern sociology" and Temple University grad (shout out!), published a paper titled "Social Structure and Anomie." In the paper, Merton argues that every society has cultural goals, "a frame of aspirational references," and institutionalized means, "permissible and required procedures for attaining these ends."
In American society, the institutionalized means are study hard/work hard (and maybe go to church every so often), and the cultural goals are accumulate wealth and own a house. Obviously, the vast majority of Americans don't achieve these goals and it is extremely hard to argue that the institutionalized means will actually lead them there. But that's okay. Merton defines Ritualism as devotion to the means without achieving the goals. These ritualists are everywhere in American society, or at least in the way we perceive our society. We romanticize a fictional poor person that takes pride that s/he never took welfare, no matter how tough times were. Welfare is not one of the institutionalized means, and the ritualist prefers to stay farther away from the goal than to cross the line to non-institutionalized means.
The United States is a nation of renters. According to City Lab, 71.6 percent of 18 to 34 year olds and 41.1 percent of all US households are residing in a rental unit. Renting rates are higher than ever before in the history of the country. Are 41.1 percent of all U.S. households ritualists, trying to achieve the goal but just can't with the particular means at their disposal? Maybe, but Merton offers another option - they could be rebels. The rebel may or may not conform to the cultural goals and may or may not use the means. The condition for rebellion, according to Merton, is that "emancipation from the reigning standards, due to frustration or to marginalist perspectives, leads to the attempt to introduce 'a new social order.'" If one of the American cultural goals is homeownership, the mortgage interest tax deduction is a tool to maintain this social order. The goal's support structure recognizes in a sense that, with only the purist version of the institutionalized means (hard work with no government assistance), the goal is out of reach. If that support system is taken away, if we shift funding from the mortgage interest tax credit to a universal housing voucher program, we must recognize that we are supporting a cultural rebellion.
It is time to call for a change in the norms and values that are at the heart of our public policy. That is not a simple task. When I think of the "American," I think about Ron Swanson from the TV show Parks and Recreation. In one of the show's episodes, Swanson explains America to a little girl, "Let's get started. Life, liberty, and property. That's John Locke. This is your lunch." Matthew Desmond, by calling for a universal voucher program, challenges this status quo and attempts to put habitability, stability, and opportunity at the heart of our value system and not as byproducts of homeownership and hard work. He also challenges the institutionalized means by calling for an increase in the number of people achieving this new goal - a stable home - specifically through quality rental housing, with government assistance, rather than through hard work alone.
The United States is nation of renters that views itself as a nation of homeowners. The millions of rental households deserve to be a part of the group that achieves the American cultural goal. They deserve government support; they deserve stability; and, they don't deserve to have to break away from the American institutionalized means. We must not shy away from the size of this task. The country might not be ready to think of itself as the nation of renters that it is. The United States is undergoing a housing and eviction crisis, and as Matthew Desmond said in his talk at Penn this week, "This is not us, there is nothing American about this." It is time for a new social order, for the rise of the renter class as more than ritualists and rebels.
Calling all HuffPost superfans!
Sign up for membership to become a founding member and help shape HuffPost's next chapter
This post was published on the now-closed HuffPost Contributor platform. Contributors control their own work and posted freely to our site. If you need to flag this entry as abusive,
send us an email
.